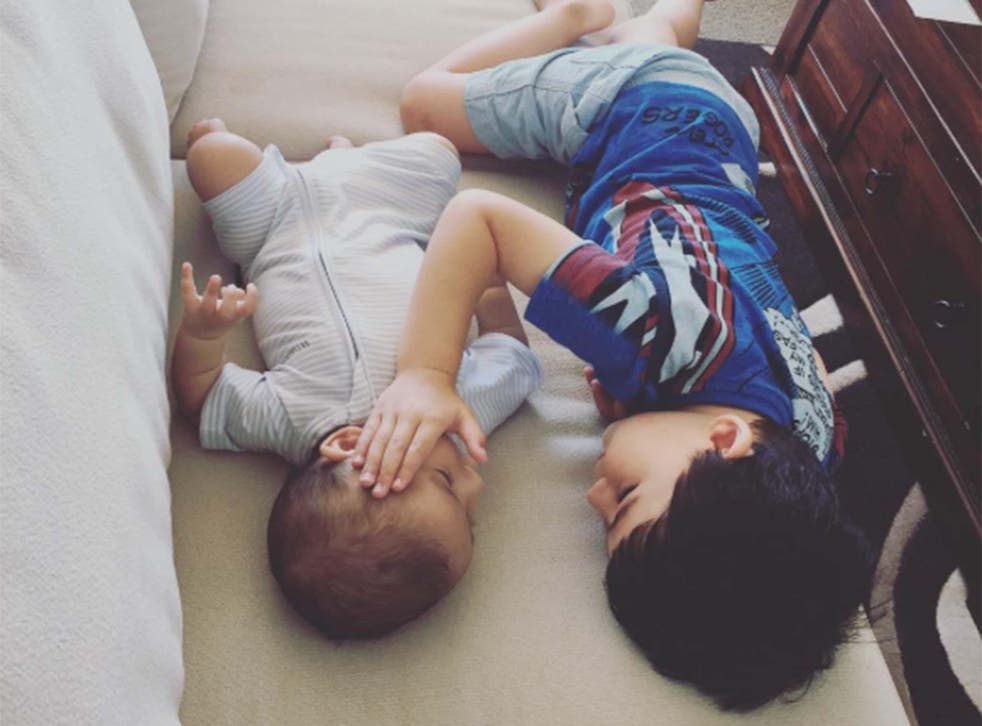 'I'm here. Everything is okay': Mum captures her son comforting his four-month old brother with terminal cancer
Thomas was diagnosed with a rare form of cancer when he was six-weeks-old 
A mother has captured a tender moment between her two sons as they lie side-by-side on the living room sofa.
When William, three, and four-month-old Thomas went quiet, their mother Sheryl Blanksby expected that they were up to no good.
But, as she walked in to the room in their homein Australia, she found them gently cuddling.
She then heard William telling his younger brother Thomas, who has terminal cancer: "Big brother is here. Everything is okay."
Now 13-weeks-old, Thomas was born with a skin lesion on his right arm. Tests later revealed that he had a lump on his abdomen, and doctors diagnosed Thomas with rare and aggressive form of cancer.
Sharing the post on Instagram Blanksby said: "I was getting ready in the bathroom and husband was in the kitchen.
"The kids were quiet, especially Mr preschooler. You know the rules about when kids are quiet.
"I tiptoed to the lounge with my camera ready to catch anything they are doing. I was expecting my baby to be covered in Nutella or something but instead I saw this.
"My preschooler is telling his baby brother "Kuya (big brother) is here. Everything is ok," he added, referring to the Filipino word for brother.
The story of Juniper, the 1lb baby - in pictures

Show all 5
The photo is one of many touching images that Blanksby has shared on her Instagram account of her children.
"We film him constantly and stare at him and kiss him. We as a family are trying to cope the best way we can, but it has been very hard," Sheryl told Mail Online Australia.
The rare malignant rhabdoid tumour most commonly occurs in infants and toddlers. Around 25 cases are diagnosed every year in the US.
Writing on her blog, Blanksy said of her son's condition: "I can't even begin to describe the pain I feel each time I look at his precious face. My heart breaks for every big smile he gives me because I know how much I will miss it when it's all gone, and when you think my heart can't take it anymore, it shatters even more when he gives his begging look when he's in pain."
She added: "I wake up wishing it's all just a bad dream and then I look at Thomas and I know it's all real. I start to cry.
"I go to bed scared and I beg for the night NOT to be our last."
Join our new commenting forum
Join thought-provoking conversations, follow other Independent readers and see their replies