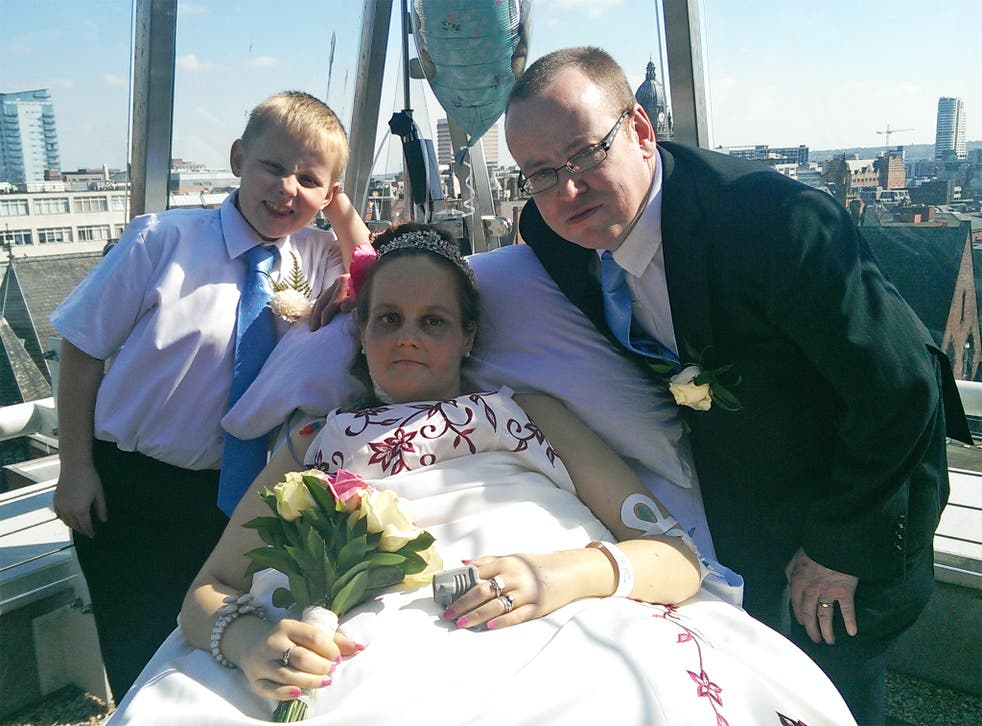 Should emergency hospital weddings be made easier for the terminally ill?
Some couples are allowed emergency hospital weddings, others are denied the right. Kate Hilpern reports on the growing case for a compassionate cutting of the red tape
When Ian Tong wed his fiancée Gemma last week, the couple's two young children were present, there was cake, cards and confetti. It sounds like an ordinary enough wedding. It was anything but. Ian, who had just hours to live, was married at 3.30am on Monday from his bed at Blackpool Victoria Hospital, where he had spent the previous six weeks being treated for a rare form of cancer called anaplastic large cell lymphoma. Nurses put on the last-minute ceremony, organising the cake, decorations and confetti made from aluminium foil, when his condition deteriorated. "The look on Ian's face when he said his vows was amazing; it was like he had never been ill. He was so happy," says Gemma, adding that she would cherish the memory for the rest of her life.
Emergency weddings tend to be covered in the press only once or twice a year. What doesn't seem to receive any attention are the couples who are denied them. But when it happens – and it does, all across the country – the consequences are often serious and far-reaching.
Mia Hilborn, the head of spiritual health at Guy's and St Thomas' Hospital chaplaincy, recounts the story of a patient in her seventies who was dying, although no one could quite predict when. "Some days, she was even well enough to leave the hospital and go shopping," says Hilborn.
"When she said she wanted to marry her partner, with whom she'd lived for 25 years, all the hospital staff wanted to help, but the doctors were unable to tick the box to say she was unable to leave hospital on the form that's legally required for an emergency wedding. The doctors even went to the registrars to see if they could find a way round it. But without the form, a wedding licence takes six weeks. Two days later, the woman died and her partner lost his home because it had been in her name. It was tragic."
Hilborn is among those who want the law changed to make last-minute weddings easier for the terminally ill. As it stands, for a marriage or civil partnership to take place on the ward, three things need to be established. First, the patient is expected not to have long to live. Second, the patient is unable to leave hospital, and third, the patient is able to give informed consent and is of sound mind. With these three boxes ticked by a doctor, the form essentially becomes a ticket to a wedding that can, and often does, happen within 24 hours.
The problem is that palliative care is not black and white, explains Hilborn. "Not only are some people able to leave hospital," she says, "but it's also not always clear when the patient will die. Some doctors tell us that they feel they have no choice but to lie on the form, thereby compromising their professionalism, while others feel they can't lie – but then have to live with knowing that the wedding won't happen."
Fiona Kellow, a family partner at Thrings Solicitors, who helped a client at the end of his life to rush through a wedding ceremony in 2012, says that it was the single most important thing for him to do before he died. "To deny him that would obviously have been wrong, yet doctors are being put in this very difficult position of having to assess people according to unnecessarily strict criteria and where the tipping point at which marriage falls away as a possibility often comes too quickly," she says.
"If you weigh up the risks, it seems to me that far more harm can come of being refused marriage, so I'd like to see greater flexibility given to both doctors and registrars to work together on a case-by-case basis."
Many staff at hospices, including those at Thorpe Hall in Peterborough, agree. "We had a recent emergency wedding where the man died six weeks after the wedding, but he could have died sooner," says Peter Stell, the hospice's chaplain. Stell says that he would welcome a reduction in red tape generally with respect to last-minute weddings. "I know as a hospice that we have had to jump through hoops to help people have their wedding in the final days or hours of life, including getting forms couriered from ex-spouses and all sorts. Anything that can take the pressure off, at what is such a stressful time for all involved, can only be a good thing."
These emergency weddings can be vital, says Hilborn. "It's often to do with legal ramifications – ensuring that the surviving partner can stay in their home or there may be pension, will or benefits issues, for instance. If there are children involved and the mother is dying, it can also tie up issues around fatherhood rights."
Then, she points out, there is the romance. "Hospital weddings are always happy occasions, even when someone may die soon afterwards. Everyone adores them, with nurses usually getting stuck in to sort out a cake, clothes or flowers."
Naomi Thomas, who also wants the law relaxed, agrees. Terminally ill with secondary breast cancer herself, she desperately wanted to marry her partner after hearing her diagnosis. Now, having tied the knot, Thomas is devoting the remainder of her life to planning weddings for others with life-limiting illnesses via her charity The Wedding Wishing Well Foundation.
"Getting married is often the very first decision that terminally-ill people make, and it's not unusual to see the whole illness take a back seat to getting married," she says. "That can be a good thing, not just for the couple but their family and friends, who have a positive focus."
Paul Wheatley, 40, knows this well. He and his partner Donna had been together 12 years, had wanted to marry abroad, but never quite got round to it. "When doctors said she didn't have long left, I immediately started organising," he tells me. "Within 22 hours, we were married and everyone at the hospital went out of their way to help make it amazing, despite it being Good Friday."
Donna, 36, was in the intensive care cardiac unit of Leeds General Infirmary with heart and kidney failure, he explains, but hospital staff moved her into a side room to fit 20 guests, including the couple's son Kian.
"They allowed us to go on the roof garden for photos and use another room as function room, putting tablecloths on the sterile tables. Donna's sister sang. It meant so much to us both that we had the special day we'd talked about and it kept her spirits up for her last six days. To hear that this opportunity is refused to some people is shocking."
Join our new commenting forum
Join thought-provoking conversations, follow other Independent readers and see their replies