The Independent's journalism is supported by our readers. When you purchase through links on our site, we may earn commission.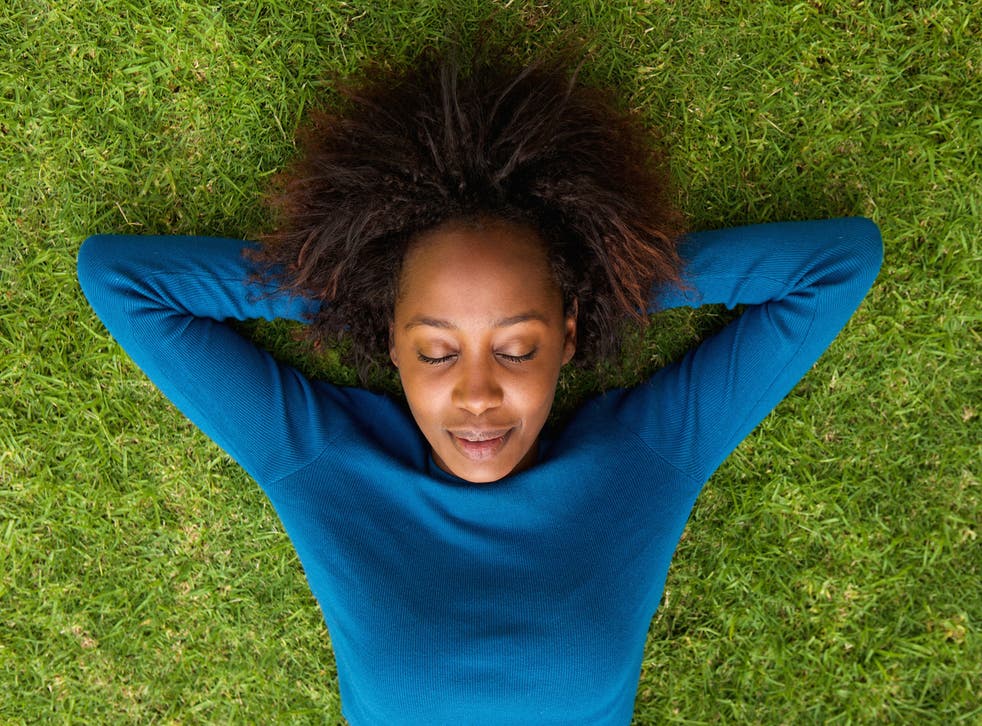 Sophrology: The basics, benefits and history of rising mindfulness trend
'It allows you to enjoy the present and move forward in a positive way'
Sabrina Barr
Thursday 15 March 2018 15:58 Comments
We each have unique ways of coping with feelings of stress and anxiety.
And while many people try and fail to reap the benefits of meditative practices, taking up Sophrology could be the key to unlocking your mind's potential.
Sophrology was first coined in the 1960s by Alfonso Caycedo, a Colombian professor who specialised in psychiatry and neurology.
The term is defined as the "study of consciousness in harmony" and involves reinforcing the connection between the body and the mind.
"It allows you to enjoy the present and move forward in a positive way," Dominique Antiglio, Sophrologist and founder of BeSophro explained to The Independent.
The discipline has been used by high-flying professionals, sports teams and students to help them to change the way in which they approach demanding situations and to achieve greater levels of contentment and happiness.
So, how what is Sophrology and how does it work? Here's everything you need to know.
What is it?
Sophrology is a practice that encourages you to become more aware of your body and mind in that very moment.
"Like mindfulness, you notably learn to be in the 'now', but you can also prepare for events e.g. competitions, presentations, interviews etc, or use it to uncover your life's purpose," said Antiglio.
"It allows you to enjoy the present and move forward in a positive way.
"We learn to acknowledge what we feel and where we are, and we use a short and effective practice to move forward and look at things differently."
Sophrology isn't just about adopting a certain kind of mindset; it also involves tuning into the way your body moves.
"Sophrology involves a physical element with gentle body movements and exercises to allow for a true mind-body connection that lets us tap into the wisdom of our bodies," Antiglio explained.
How does it work?
As the "study of consciousness in harmony", a large component of Sophrology is training yourself to respond to certain scenarios in specific ways.
For example, if you have an important meeting coming up, rather than buckle under the pressure, you can train yourself to instinctively remain calm and collected.
"One of the principles in Sophrology states that we can decide how we are going to experience certain events even when we can't change them," said Antiglio.
"We are therefore responsible for our experience and how we respond to situations.
"The ability to take control of how we handle these situations and feel about outcomes is the key differentiator to mindfulness or meditation, and why it is so appealing to so many people whose lives may have gotten ahead of them."
Of course, putting this into practise is easier said than done.
Antiglio runs a clinic in Mayfair where she helps her clients utilise Sophrology using a variety of physical and mental approaches.
"You can think of Sophrology as an evolution of meditation where you learn to tap into your resilience and strength to deal with life's challenges and create more balance and happiness," explained Antiglio.
"It is more dynamic and uses a number of techniques including breathing, relaxation, body awareness and visualisation to help you connect with your resilience and improve your mental and physical health."
What are the benefits?
While people in the UK may not be very familiar with the ideology behind Sophrology, it has already benefited a great deal of people since its conception.
"Sophrology has been commonplace in Switzerland and France for many years," said Antiglio.
"In Switzerland, Sophrology is offered to senior students to help them prepare for exams, alleviate stress and boost confidence."
In the past, the French rugby team and the Swiss ski team have used the discipline to help them focus and improve their sporting performance.
By using a 12-step method in her Sophrology sessions, Antiglio has provided lots of people with the ability to boost their productivity and sense of fulfilment in life.
"Clients usually leave feeling confident, and with a smile on their faces, in a happy, relaxed state after having had this opportunity to bring perspective to their life through the practice," Antiglio said.
"It helps them become more mindful of their needs, limits, strengths and capabilities so they can create more happiness in their lives, when they have to contend with issues such as stress, anxiety and workplace burn-out."
You can use Sophrology to your personal gain, whether you simply need to top up your energy levels or are feeling strained as you go about everyday life.
Figuring out what specific issue you would like to address is the first step.
From there, visiting a Sophrologist to find out more about how it works will enable you to incorporate small practices in your life that will improve your life in the long run.
Register for free to continue reading
Registration is a free and easy way to support our truly independent journalism
By registering, you will also enjoy limited access to Premium articles, exclusive newsletters, commenting, and virtual events with our leading journalists
Already have an account? sign in
Join our new commenting forum
Join thought-provoking conversations, follow other Independent readers and see their replies