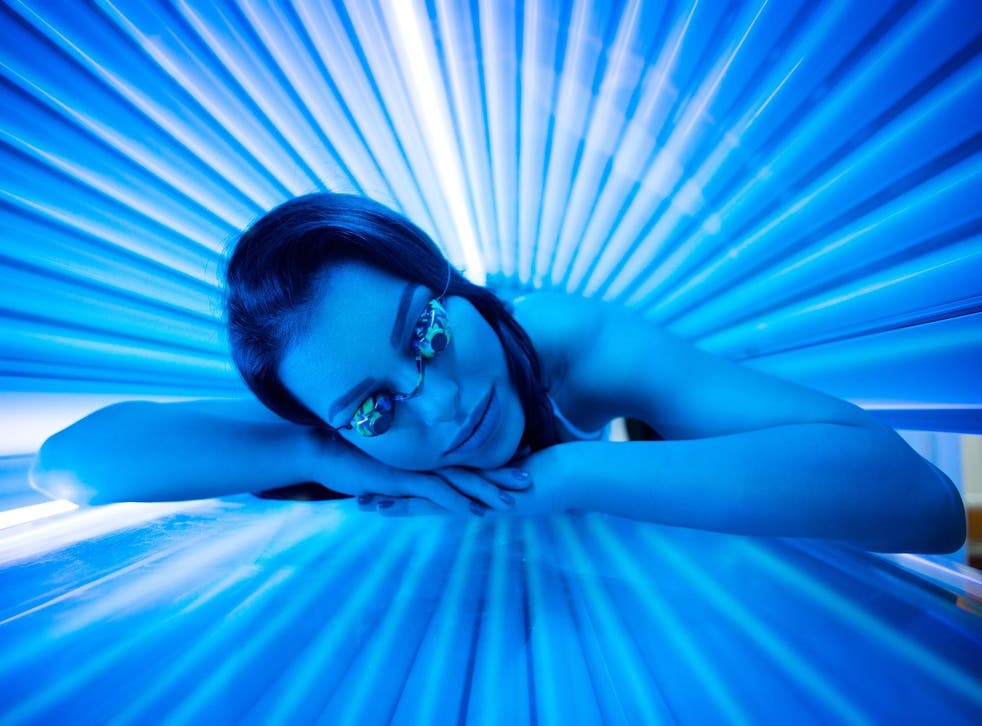 Three-quarters of dermatologists want sunbeds banned amid skin cancer rise, poll reveals
Melanoma is the UK's fifth most common cancer
Sarah Young
Tuesday 23 July 2019 16:11 Comments
The majority of British dermatologists believe that sunbeds should be banned in the UK, a new survey has found.
Earlier this week, it was revealed that there has been a 70 per cent increase in skin cancer rates for people aged 25 to 49 since the 1990s.
Now, skin experts across the country have collectively condemned the use of tanning salons, calling for a UK-wide ban.
The survey, of 245 dermatologists, conducted by the British Skin Foundation, found that 77 per cent agreed that sunbeds should be banned altogether in the UK, while 91 per cent stated that tanning salons are contributing significantly to the rates of skin cancer in the UK.
Furthermore, 94 per cent of those surveyed agreed that there should be stricter enforcement of age restrictions on sunbeds in the UK, while 91 per cent called for the age at which people are legally allowed to use them to be increased from 18 to 21.
20 swimsuits and bikinis to buy for your summer holiday

Show all 21
Lisa Bickerstaffe, a spokesperson for the British Skin Foundation, said: "The dermatologists' opinions appear to support research stating the potential to get skin cancer, including melanoma, is increased in those who have also used sunbeds.
"We know that there is no such thing as a safe tan from UV rays, therefore, the British Skin Foundation, in line with other health organisations does not recommend sunbed use."
To find out just how dermatologists feel about the use of sunbeds, The Independent has spoken to a number of skincare professionals, including Dr Emma Wedgeworth.
"I think from the body of medical evidence out there, there is no doubt that indoor tanning is detrimental to the skin and increases the risks of skin cancer," Wedgeworth, a consultant dermatologist, tells The Independent.
While Wedgeworth agrees that banning indoor tanning seems like "a sensible measure" she fears that doing so could drive the industry underground, potentially making it more dangerous.
Instead, she is calling for stricter regulations regarding the advertising of tanning salons.
"At the very least, I think there should be much greater legislation around advertising, the appearance of tanning shops and health warnings, in exactly the same way as tobacco is legislated," Wedgeworth adds.
Dr Adam Friedman, consultant dermatologist at the Harley Street Dermatology Clinic, agrees, stating that the majority of young patients (under 30) he sees with melanoma have been sunbed users at some stage of their lives.
Speaking to The Independent, Dr Anil Budh-Raja, a leading dermatologist specialising in anti-ageing treatments, says that he "totally agrees" with the survey's findings and believes that many salons are "unethical and continue to advertise sunbeds as having health 'benefits'".
Melanoma UK, a patient support and advocacy group, also supports the call for a complete ban on subeds, stating that every day in the UK seven people die of melanoma.
"Despite the threats of legal action from the Sunbed Association, we will continue to petition for a complete ban on sunbeds," Gill Nuttall, founder of the organisation, tells The Independent.
"We see the devastation of melanoma every day, and we also see how much the treatment of advanced melanoma costs our NHS. We have cross party support for a ban and we are very pleased that dermatologists are also supporting a ban".
A recent study conducted by Cancer Research UK, found that melanoma skin cancer incidence rates have risen by 45 per cent since 2004 for the general population in the past decade.
Meanwhile, rates of melanoma have increased by 35 per cent for women and 55 per cent for men.
So, what steps should you be taking take care of your skin?
Dr Budh-Raja recommends the regular use of sunscreen, avoiding sun exposure where possible and protecting the skin using items of clothing.
The skincare expert also states that sun cream which offers both UVA and UVB protection with high protection of at least SPF 30 should be used.
"Remember to apply half an hour before going out in the sun, and half an hour after being in the sun," Dr Budh-Raja explains.
"Reapply liberally at least every two hours, and immediately after contact with water . Spend time in the shade between 11am and 3pm when it is sunny."
If you are worried about a mole or patch of skin the British Skin Foundation suggests you seek help sooner rather than later.
Support free-thinking journalism and attend Independent events
It states that anyone who has moles or a patch of skin that is changing shape, growing, developing new colours, inflamed, bleeding, crusting, red around the edges, particularly itchy or behaving unusually in any way should visit their GP or dermatologist as soon as possible.
For more information on checking your skin, click here.
Register for free to continue reading
Registration is a free and easy way to support our truly independent journalism
By registering, you will also enjoy limited access to Premium articles, exclusive newsletters, commenting, and virtual events with our leading journalists
Already have an account? sign in
Join our new commenting forum
Join thought-provoking conversations, follow other Independent readers and see their replies