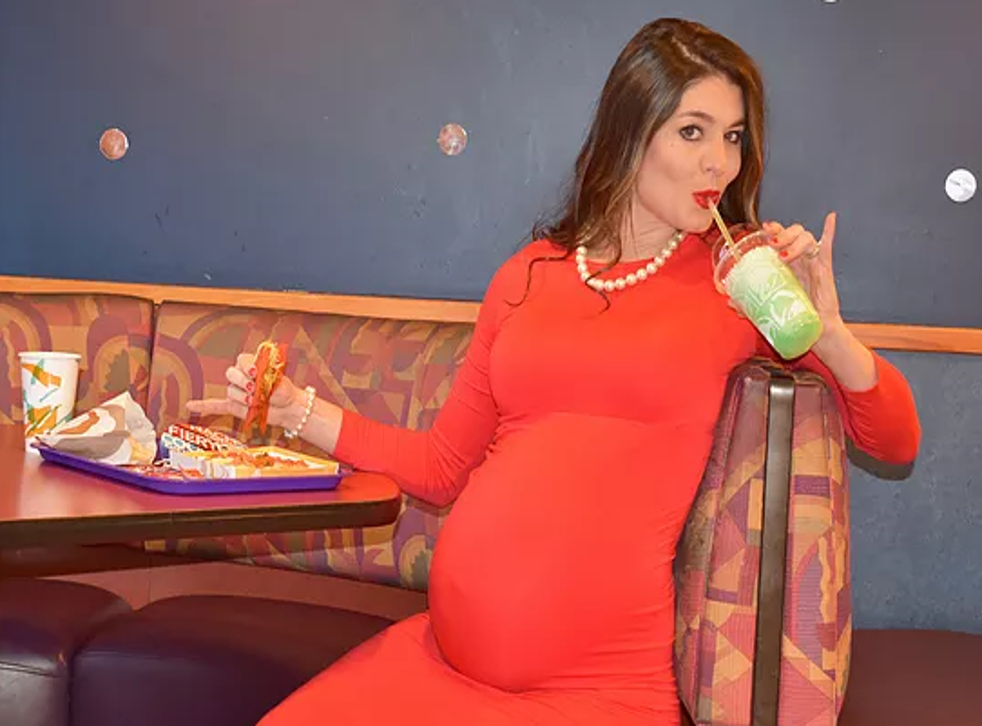 Woman raises the bar with Taco Bell maternity photo shoot
'Huge thanks to Taco Bell for always being there for me in my time of taco needs'
A woman has raised the bar when it comes to maternity photo shoots by having hers taken at a Taco Bell.
Kristin Johnston is a 33-year-old mother of one from Atlanta.
She describes herself as a lover of fashion, fitness and Taco Bell, recently taking her love of the restaurant chain to the next level.
When Johnston was trying to think of ways to make her maternity photo shoot stand out from the crowd, she wanted to show off an important aspect of her personality.
"I guess you could say that I wanted something a little different, something spicier - and that showed me in my natural state," she wrote in her blog, Strollers and Stilettos.
"I felt inspired to have my maternity shoot at one of my favourite places, a place that I can turn to anytime I get a craving or just don't have the energy to cook dinner - a place that many of us have a fondness for in our hearts - TACO BELL."
Johnston could think of no better way to show off her glorious bump to the world than with her favourite foodie spot in the background.
Donning a glamorous, red dress, Johnston is the epitome of elegance as she poses outside an Atlanta branch of the restaurant.
She then takes the photo shoot inside, indulging in a delicious taco and propping her feet up while enjoying a shake.
For Johnston, choosing Taco Bell as the location of her photo shoot was a no-brainer.
"I absolutely love maternity photos, [with] the beautiful mums-to-be standing on a beach or atop a snow-covered mountain," Johnston told Cosmopolitan.
"But after spending as much time and money at Taco Bell as I have during this pregnancy, I knew it was the place for me.
"I have always loved Taco Bell but have craved it so much, especially the last few months."
The photo shoot was taken by her friend Kelly Daniels, from Cosmic Creativ.
Johnston even revealed where readers of her blog could purchase the floor-length dress, which retails at $35 (£25) from Amazon.
The expectant mother feels eternally grateful to Taco Bell for always being there for her no matter what.
"Huge thanks to Taco Bell for always being there for me in my time of taco needs, and for helping my dream come true of having this shoot at one of your beautiful Atlanta locations!" she wrote.
Join our new commenting forum
Join thought-provoking conversations, follow other Independent readers and see their replies