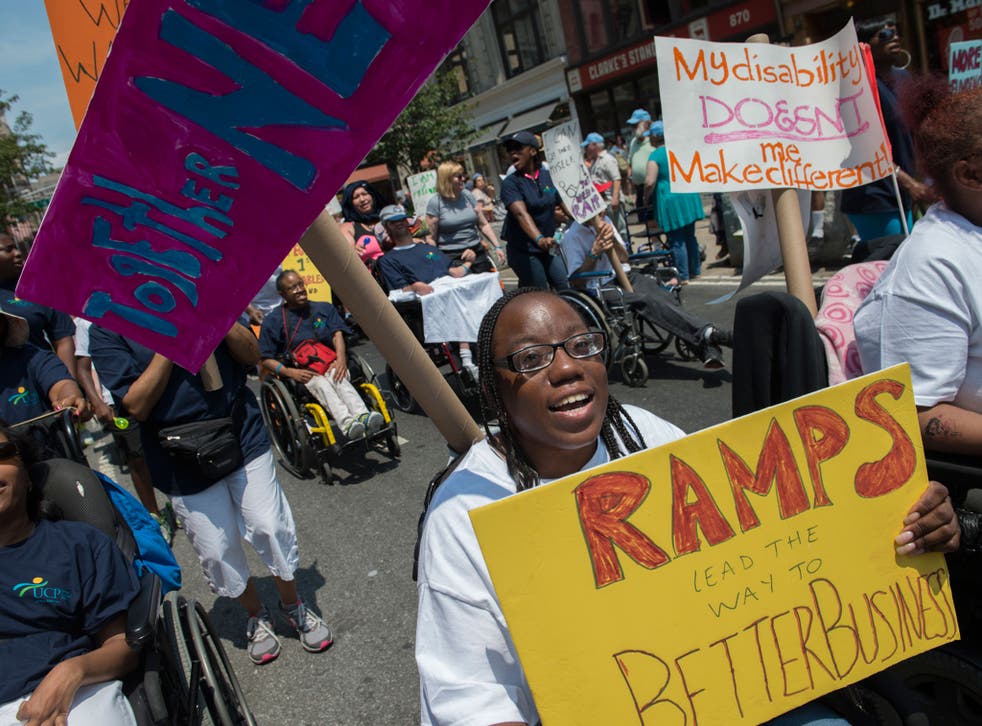 The Purple Pound: How discrimination against disabled people costs businesses billions of pounds
The battles that disabled people face in workplaces and retail spaces costs businesses billions
At the age of 32, Angela Griggs's accounting career was ticking along quite nicely. Having spent her twenties gradually rising up the ranks at a leading firm, she had become an assistant manager. But her bright future was overshadowed by uncertainty when she suffered a stroke. She lost the use of her right leg and arm. Her speech had become slurred, and her stamina shot. At a time when many people feel they finally have a foothold in life, Griggs faced countless unwelcome learning curves. But she knew that, for her, getting back to work was the only way she would regain a sense of normality.
"The thing I have always wanted, from laying in hospital, to going back to work to now, is for everything to be back to normal," says Griggs, now 38 and living in Colchester, Essex. Thankfully, her firm, Scrutton Bland, made sure that they did not lose a valuable member of their team and supported her by reshaping her previous role.
"I didn't want to be cossetted and wrapped in cotton wool, even if with the best of intentions Just the chance to succeed and fail and all shades in between, but isn't that true of everybody?" says Griggs.
However, not all firms are so accommodating, and the talents of millions of people with impairments are left untapped, according to research by Purple: a non-profit organisation launching on 12 July and dedicated to improving employment opportunities for disabled people by supporting both business and job-hunters. Aside from the obvious moral and legal obligations that employers have to not discriminate, Purple's research shows that just a five per cent increase in the number of disabled people in employment would boost GDP by £23bn in 2030: a welcome figure in an age of austerity. Yet, negative attitudes towards people with disabilities not only pervade in the jobs market, but bleed into how firms treat customers and clients. And so, businesses lose out on the "purple pound" – a market that is worth £212bn to the UK a year.
Perhaps more acutely than any other coloured pound – such as the LGBT "pink pound" or the elderly "grey pound" – the purple pound's potential relies on people with disabilities being employed in the first place in order for them to spend. The process is, of course, cyclical. Nevertheless, fewer than half of the 11.5 million people in the UK with disabilities are employed compared to almost 82 per cent of the remaining population. Some 45 per cent of UK businesses are nervous about hiring a disabled person, Purple's research found, citing concerns about the interview process, not knowing whether to help with tasks such as opening doors or pulling out chairs, and falling foul of discrimination law. A worrying 43 per cent said that candidates should disclose disabilities on their CVs, despite there being no legal obligation to do so.
As a result of discrimination, whether intended or subconscious, disabled people pay around £500 a month more than everyone in transport, care, shopping and specialist goods, according to the charity Scope.
Health news in pictures

Show all 40
Yet, catering to the needs of people with disabilities needn't be complex nor expensive, stresses Beth Grossman, head of policy and public affairs at the disability charity.
"Most adjustments businesses need to make are straightforward. For example, disabled people rate friendly and helpful staff and good accessibility as the most important factors when shopping." As for firms interested in hiring people with disabilities, she highlights that the despite the Access to Work scheme – a fund for specialist equipment, workplace adaptations and transport - 74 per cent of disabled adults feel they have lost out on a job opportunity because of their impairment.
Gradually, the retail landscape for people with disabilities is improving, says Grossman, citing firms including M&S, which has a clothing range for disabled children, and Uber - with its wheelchair accessible vehicles in London - as having taken notice of the purple pound and improved their services.
But the overall picture remains bleak. Some 75 per cent of disabled people and their families have left a shop or business because of poor customer service, according to Scope's year-long independent inquiry the Extra Costs Commission.
Amy Oulton, a disability blogger, says she regularly cannot access shops or toilets because she uses a wheelchair. Oulton says an incident at a basement bar in London, where she walked down four flights of stairs with a stick while her friend carried her chair, was among the most shocking examples of discrimination she has faced.
She was told "people like you just can't come down here" because the barman was worried about her being trapped in a fire.
"I didn't point out that there is one tiny staircase for about 400 people to exit from as I was so shocked," says Outlon. "He then gave us a free beer to apologise. I felt embarrassed and it was the most awkwardly chugged beer of my life. Then I went home and cried."
"I would pick a place that was less accessible but with very helpful staff than a place that was more accessible but with rude or unhelpful staff on most occasions. People with disabilities are just normal people, so treat them like that."
Karen Dempster, a 29-year-old media and communication student at Kingston University with mobility issues meanwhile hopes that more fashion retailers will follow M&S's lead and latch onto the purple pound.
"I love clothes and fashion, but shopping is difficult and some clothes I like have buttons or zips that I can't manage," says Karen, who wishes other shoppers wouldn't use the disabled changing rooms as a social space to try on clothes together. "There are lines for petite people, maybe there should be lines for disabled people too?" she argues.
Addressing the idea that some shop assistants and bosses may fear upsetting those with disabilities, she goes on: "Just ask if you don't know something. No one is offended if you say you don't know something and ask. It's worse if something is clearly bothering someone but they don't ask. Speak up more. Offering help is welcome, but never grab a wheelchair or manhandle someone."
Unless, of course, you're pressing the flesh to seal the job offer.
Register for free to continue reading
Registration is a free and easy way to support our truly independent journalism
By registering, you will also enjoy limited access to Premium articles, exclusive newsletters, commenting, and virtual events with our leading journalists
Already have an account? sign in
Register for free to continue reading
Registration is a free and easy way to support our truly independent journalism
By registering, you will also enjoy limited access to Premium articles, exclusive newsletters, commenting, and virtual events with our leading journalists
Already have an account? sign in
Join our new commenting forum
Join thought-provoking conversations, follow other Independent readers and see their replies