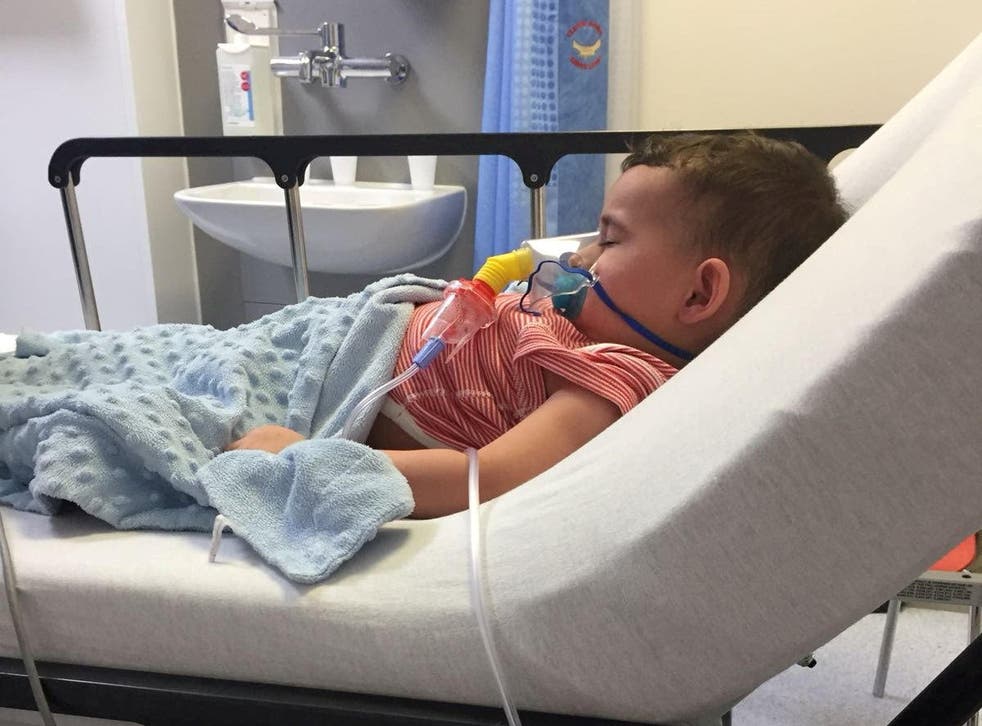 Toddler with dairy allergy left fighting for life after eating 'vegan' pizza
'We could have lost our son that day'
A toddler with a dairy allergy was left fighting for his life after suffering a severe reaction to a "vegan" pizza that his family had been assured was dairy-free.
On April 8, two-year-old Zayaan Hussain went to a branch of Pizza Hut in Blackpool, Lancashire with his parents and seven-year-old sister Amara.
Zayaan's father, 33-year-old Sajid Hussain, made a point of repeatedly informing the staff of his son's dairy allergy.
When the family ordered Zayaan a child's Margherita pizza, they checked once again with the server that the pizza was definitely dairy-free when it arrived at their table.
"Even when we received the pizza, I wouldn't let him eat it before re-confirming that it was definitely dairy-free," said Sajid, from Bradford, West Yorkshire. "They said it was, so he ate the pizza."
However, it wasn't long before Zayaan's parents realised that something wasn't right.
"Ten minutes went by and Zayaan just started shutting down," explained Sajid. "He wasn't responding to me or my wife."
Sajid and his wife, 33-year-old Samia, immediately gave Zayaan a dose of antihistamine tablet, Piriton, and his inhaler in addition to calling an ambulance over the fear that their son was suffering from a severe allergic reaction.
"While I was on the phone Zayaan was violently sick everywhere and when the paramedics arrived his oxygen levels were really low," Sajid said.
"It actually got worse as we got to the hospital. There were talks of him having to be resuscitated."
Zayaan was rushed to Blackpool Victoria Hospital where he spent two days in care.
"It was absolutely horrific," Sajid said. "We could have lost our son that day.
"There are no words to truly describe what we were thinking. It was a very, very traumatic experience and not one I would ever want to go through again."
Sajid has spoken to Pizza Hut bosses and Environmental Health about the situation in the hopes that no one else goes through a similar tribulation in future.
Pizza Hut has revealed that Zayaan was mistakenly given a pizza containing dairy and has apologised for the grave mistake.
"We are in contact with the family involved and are very sorry for what happened," a Pizza Hut spokesperson said.
"We realise it was an unacceptable situation and have already completed an internal investigation with the Hut, which found that the wrong pizza was given to the family as a result of human error.
"We will share the full investigation findings with the Hussain family and are taking appropriate action at this restaurant to make sure it doesn't happen again."
Register for free to continue reading
Registration is a free and easy way to support our truly independent journalism
By registering, you will also enjoy limited access to Premium articles, exclusive newsletters, commenting, and virtual events with our leading journalists
Already have an account? sign in
Register for free to continue reading
Registration is a free and easy way to support our truly independent journalism
By registering, you will also enjoy limited access to Premium articles, exclusive newsletters, commenting, and virtual events with our leading journalists
Already have an account? sign in
Join our new commenting forum
Join thought-provoking conversations, follow other Independent readers and see their replies