Tom Daley discusses healthy living, diet mistakes and body image pressures
Olympic diver tells The Independent how he finally found the lifestyle that worked for him and the biggest diet mistakes he has made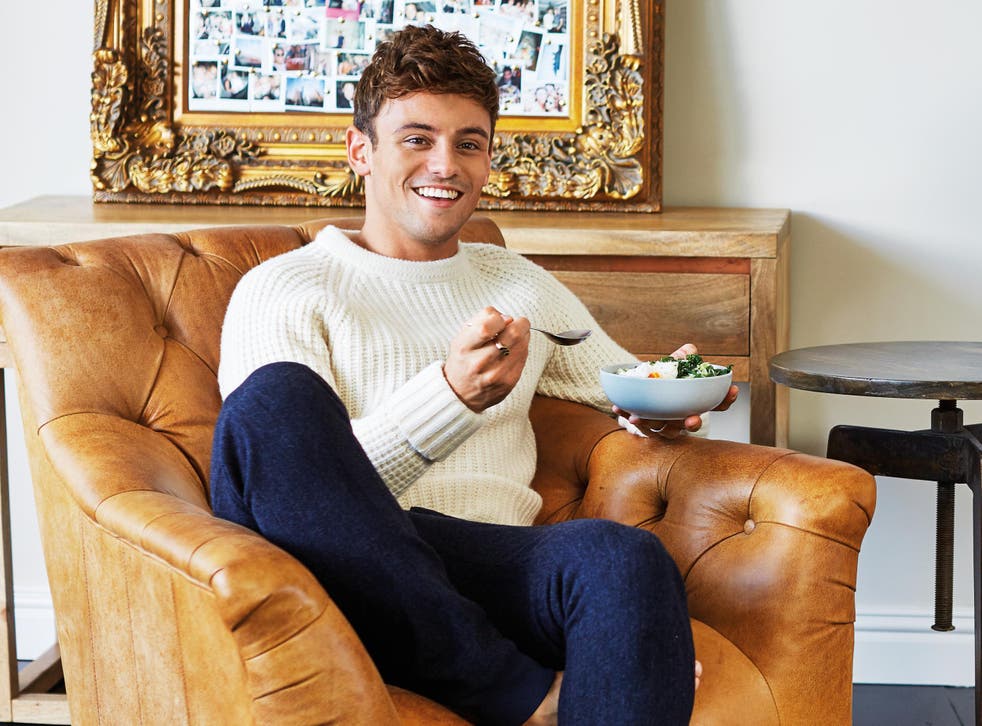 Merely listening to Tom Daley's daily routine makes me feel lethargic: "I wake up at 6.15am, drink some lemon water, wash my face, have a protein and carb-based breakfast to fuel me for training. I start training at 8.30am, spending one and a half hours in the gym doing weights and stretching then an hour in the pool. At 11am I have a protein snack like a shake or energy ball then lunch at 12.30, I train again at 1.30 spending an hour and a half in the gym and an hour in the pool then I snack again before doing either yoga, spinning or a massage. I have dinner at 7pm before going to bed at 9.30pm," he tells The Independent over the phone.
We speak straight after Daley, 22, has come from training which he does six days a week for five –to – six hours per day.. At the moment, his schedule involves balancing promotion for his new lifestyle book: Tom's Daily Plan, which offers recipes, exercise techniques and stress-busting and mindfulness advice.
"If I'm not diving or sleeping, I'm usually eating," Daley, who began diving at the tender age of seven, says of his reasons for wanting to write the book. The recipes in the book, which includes harissa prawns as well as his grandmother's broccoli pasta bake, are meals he cooks for himself, usually after training to unwind.
The best diets: according to the experts

Show all 10
While the plan is, of course, healthy (what else would you expect from an Olympic athlete) Daley admits it took him a while to fall into the pattern of healthy living. He had to recognise that from when he made his first debut in an OIympic pool in Beijing aged 14, his body has now caught up with him.
"Boys growing up can pretty much eat what they like to a certain extent. It got to a certain point where that didn't become the case anymore and I got to figure it out myself. I made mistakes with my nutrition and I had to figure out the best way for me to get into shape and best way for me to fuel my body. After a few ups and downs trying to figure that out, by the time I was 16, I was that interested in food I went to cookery school and now I've definitely got much more of an idea of what works for myself and for others, whether they're athletes or not, because food is fuel not only for the body but the brain too."
One of the biggest mistakes he made when figuring out his nutrition plan was cutting out carbs when he had to lose weight. "It is the worst idea you can do for an athlete or for anyone really, you need carbs to be able to have the right amount of energy and function. It is just learning about being smart with carbs and making sure you eat them when you need them."
The pressures of putting yourself on a diet is also an area Daley advises against, saying it is better to adopt a new lifestyle – like the one set out in his book.
At this time of year, many have pledged to adopt healthier lifestyle changes as new year's resolutions. Daley's one key piece of advice? Stick to just one.
"People tend to have a list of about five resolutions… just choose one and focus on doing that really well. If you cut so many different things out very quickly it can become harder the more you try and spread yourself thin. Focusing on one goal in particular can help massively."
Despite being an Olympic athlete, often associated with his washboard abs, Daley says he still gets body conscious and believes men can also experience the body image pressures which women often face.
"I think it is kind of different [to what women experience] but I feel guys would have the same issues girls do when it comes to worrying about going into a pool or going on holiday, especially with social media being so accessible all the time and camera phones and photos being put up. People do get conscious about it and that's why it's so important for people to live healthy lifestyles so they can be healthy and happy.
"Once I finish with the Olympics and you have time off and you can feel yourself letting go and you think 'I used to look like this or 'this is what I want to look like'. Everyone has their own things they would like to change about their body. It's normal to think that but it's about embracing who you are and being happy with who you are."
As for now, Daley is firmly back training in the diving pool, "gearing up" for Tokyo 2020.
Tom's Daily Plan by Tom Daley is published by HQ Harper Collins.
Cheesy Ricotta and Herb Pancakes (makes 8 pancakes, 79 calories per pancake)
Ingredients
2 medium eggs, separated
100g ricotta
20g Parmesan cheese, finely grated
1 tbsp wholemeal flour
2 tbsp freshly chopped herbs, such as chives, dill or parsley – or use a mixture
1 tsp olive oil
salt and freshly ground black pepper
Method
1 Put the egg yolks, ricotta, Parmesan, flour and herbs into a bowl. Season with salt and black pepper and mix everything together well.
2 Whisk the egg whites in a scrupulously clean, grease-free bowl until the mixture stands in soft peaks.
3 Fold a spoonful of the beaten egg whites into the ricotta mixture to loosen it, then fold in the remaining egg whites.
4 Heat half the oil in a frying pan over a medium heat. Using a dessertspoon, drop 3 or 4 spoonful's of the batter into the pan. Once the pancakes are golden on one side turn them over and cook for 1–2 minutes on the other side. Remove the pancakes from the pan and keep them warm.
5 Heat the rest of the oil and cook the remaining mixture – you should have 8–10 pancakes. Serve them with a salad of tomatoes or avocado and some rocket.
Vegetarian Pad Thai (serves 2, 400 calories per serving)
Ingredients
2 tbsp good-quality tamarind paste
35ml hot vegetable stock
2 tsp soy sauce
1 tsp chilli flakes
2 tsp light brown soft sugar
10g peanuts, chopped
1 tsp coconut oil
1 shallot, roughly chopped
2 garlic cloves, roughly chopped
75g mangetout or sugar snap peas, finely sliced lengthways
½ red pepper, deseeded and finely sliced
75g baby corn, halved
1 carrot, cut into strips with a Y peeler
100g rice noodles
small handful of fresh coriander, stems chopped
75g bean sprouts
175g (about ½ pack) silken tofu, roughly chopped
Method
1 Mix the tamarind paste, stock, soy sauce, chilli flakes and sugar in a small bowl and set aside. Toast the peanuts in a dry frying pan for a few minutes, then set them aside.
2 Heat the oil in a wok and add the shallot and garlic and cook for 1–2 minutes. Add the mangetout or sugar snap peas, red pepper, baby corn and carrot strips, then 2 tablespoons of water. Stir-fry the vegetables over a medium heat for 4–6 minutes until they are just tender.
3 Meanwhile, prepare the rice noodles, cooking them until just tender (not soft). Drain them well.
4 Add all but about a tablespoon of the tamarind mixture to the vegetables, along with the noodles, chopped coriander stems and half the bean sprouts. Toss everything together, then divide between 2 bowls. Spoon the remaining bean sprouts and the tofu on top, then drizzle over the rest of the sauce. Scatter some fresh coriander leaves and toasted peanuts on to each bowlful, then serve.
Register for free to continue reading
Registration is a free and easy way to support our truly independent journalism
By registering, you will also enjoy limited access to Premium articles, exclusive newsletters, commenting, and virtual events with our leading journalists
Already have an account? sign in
Register for free to continue reading
Registration is a free and easy way to support our truly independent journalism
By registering, you will also enjoy limited access to Premium articles, exclusive newsletters, commenting, and virtual events with our leading journalists
Already have an account? sign in
Join our new commenting forum
Join thought-provoking conversations, follow other Independent readers and see their replies