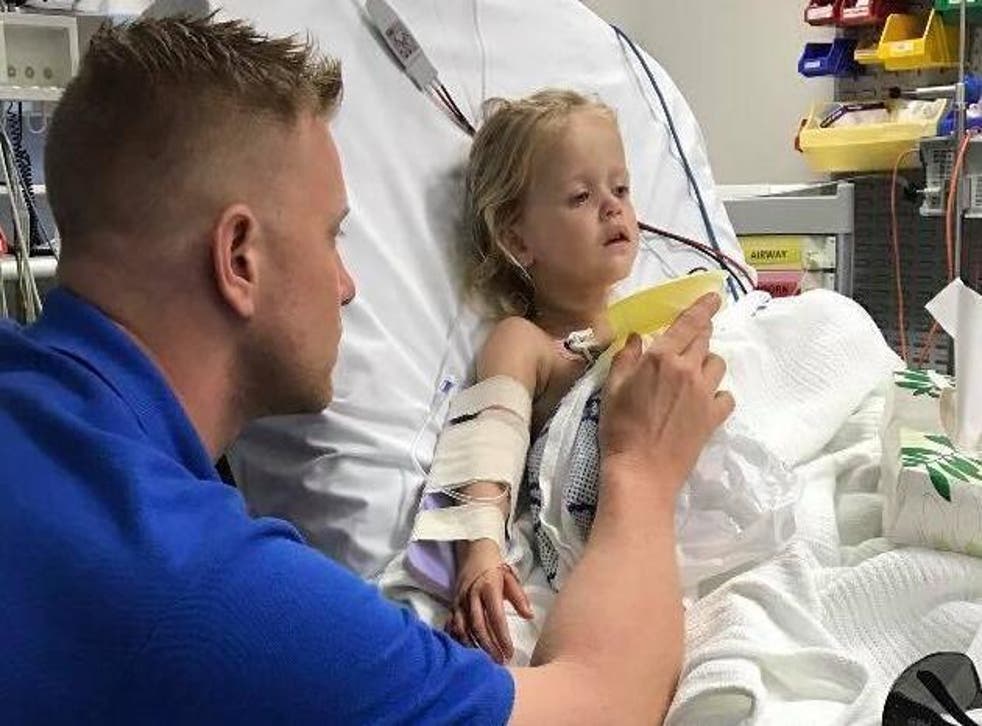 Mother warns of common tonsillectomy complication that can happen days after procedure
She thought her little girl was dying in her arms 
A mum has shared the moment her daughter's routine tonsillectomy turned into a scene from a horror movie - six days after the surgery.
Danna Davidson, from Queensland, Australia, was understandably nervous when her three-year-old daughter Evie went into surgery to have her tonsils and adenoids removed. But it wasn't until a week later that the mum had a reason to panic - as Evie began to bleed profusely.
According to Davidson, Evie was responding well after the procedure and doctors sent her home that night with painkillers. And in the days following, Evie wasn't experiencing more than the expected pain.
But almost a week later, as Evie was lying down at home, she began to vomit blood.
Warning: Graphic images below
Moments later, Davidson frantically called for an ambulance as the three-year-old continued to haemorrhage - including a blood clot that was hanging from her mouth.
"I was so frantic, I was screaming, 'She is dying, she is dying!'" Davidson recalled to CafeMom of the "scariest day of her life."
As for Evie, she remained calm, despite all the blood, even taking the time to console her mum.
Although Davidson knew bleeding after surgery was a risk, she did not realise how long after surgery the complications could occur.
When the medics arrived, they too were shocked by the amount of blood - and advised Davidson take pictures to show doctors how much blood Evie lost.
According to Davidson, the medics told her they'd never seen a child lose this much blood from a tonsillectomy complication - although bleeding does happen occasionally.
Davidson told The Independent: "I knew it could happen but when it's your own child and so much blood, it freaks you out."
Evie was stabilised in the ICU and spent two nights recovering in the paediatric unit.
But despite the scary amount of blood, Evie's reaction to a tonsillectomy isn't rare, especially in children.
According to the NHS, a tonsillectomy is the surgical removal of the tonsils - a common procedure for those with recurrent episodes of tonsillitis.
However, it does warn that bleeding can happen up to two weeks after the operation, especially when the scab loosens - four to eight days after the operation.
While after-surgery bleeding is typically not serious, it can be scary.
Join our new commenting forum
Join thought-provoking conversations, follow other Independent readers and see their replies