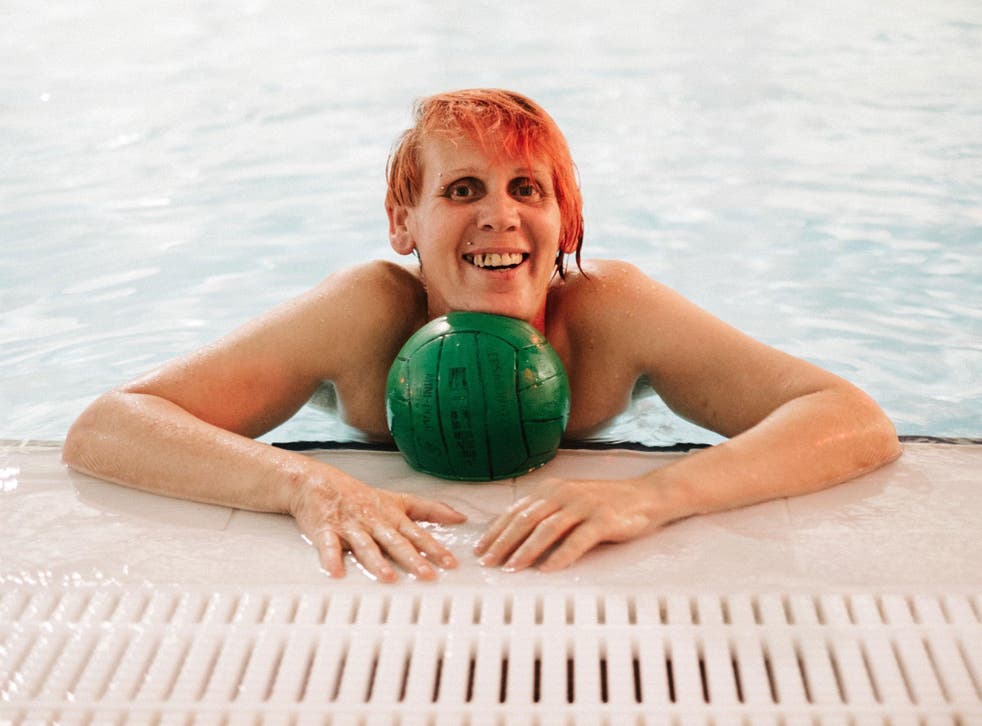 Trans sports clubs: When swimming and playing football are revolutionary acts
All Roberta Francis wanted was a peaceful place to swim. But, writes Kashmira Gander, what she has created has transformed into so much more
Kashmira Gander
Monday 15 August 2016 16:00 Comments
It's a Friday night in Lewisham and ten people have gathered for a weekly swimming club at the inner London borough's modern leisure centre, an oasis of calm beyond which city life grinds on. Reflections from the red light of the emergency exit sign dance on the water of the dimly lit pool where Roberta Francis, the club's head honcho, plays catch with another swimmer. Others are reclining at the water's edge, their eyes closed and legs drifting outwards; some still chat quietly and catch their breath between laps. There's no music, only the gentle murmur of chatter and the slop of water in the pool vents.
So, a bunch of people have gone swimming on a Friday night. Nothing remarkable about that. Look at the lifeguard's bored face. Except that these people are trans (the term used to describe a person who does not identify with the gender assigned to them at birth) and simply popping out for a quick swim can be fraught with difficulty. Dedicated groups like the Trans and Gender non-conforming Swimming (TAGS) group in Lewisham take months to organise, and are only possible because of years of LGBT activism.
Trans issues have gripped mainstream attention in the past few years, with actress Laverne Cox's Time magazine cover – where she stood proudly beside the headline "the transgender tipping point" – regarded as a watershed moment in the fight for equality. But some activists weren't so convinced. The lives of ordinary trans people, who don't have the same funds or high profiles as celebrities like Caitlyn Jenner, seemed largely unchanged. In some ways, the fresh focus has made things harder; look at the vocal anger of right-wing US groups who are suddenly worried about which toilets trans people use.
For the majority, staying fit and healthy – important whatever your gender identity – is among the obstacles trans people face. Indeed a recent series in the Lancet medical journal observed that entrenched prejudices mean trans people face stigma, discrimination, exclusion and violence worldwide, with knock-on effects for their physical and mental health. While studies show that transitioning – when a person shifts from outwardly identifying as a member of one gender to another– dramatically improves a person's mental health, the resulting social stigma presents new difficulties.
And trans people recently reported in a study commissioned by Brunel University that they have been turned away from swimming pools, and refused membership to fitness classes and health clubs. Almost half of those surveyed had been asked to use a different toilet from their preference at a sports centre. Separate research by the Gender Identity Research and Education Society revealed that 70 per cent of trans people found they had lost or missed out on something – including sports – as a result of and fear of discrimination. TAGS is among grassroots groups doing something about it.
It turns out that Francis didn't have a grand plan to set up TAGS at all. It sort of just happened, she explains as we chat on the bench in the bright café before she heads into the water. "I just wanted to swim without people looking at me and questioning my identity and wondering if I was going into the right changing space. So I thought 'Let's see what I can do'. I just absolutely harassed the council until they gave me a space. Harassed very politely," she adds with a smile.
TAGs trans swimming club - in pictures

Show all 8
That was almost two years ago. Since then, Francis and her volunteers have established similar groups in North London, Leicester, Stoke, and Birmingham. She says people travel from miles around for a chance to take part in a sport that is particularly exposed and personal. She's now fielding requests for help from groups from Scotland to New York and Berlin.
For a community pushed to the margins of society, groups such as TAGS are about more than exercise and security. Health and fitness groups also offer a safe space for trans people to meet away from the rigid hierarchies of support groups and nightclubs which often centre around hedonism, alcohol and drugs. In the quiet pool, friendships are forged and people find self-confidence. It also allows trans people to feel relaxed about their bodies. For instance, female-to-male trans people who haven't had their breasts removed feel free to wear just swimming trunks. And trans people, who may well be required to lose weight before they can undergo hormone therapy or surgery, are welcome here.
Megan Faulkner, TAGS secretary, was at the very first meeting when she was just a few months into the process of transitioning. Prior to that, she had spent decades trapped in a routine of caring for her sick father and going to work. Her social life and self-esteem were both almost non-existent.
"TAGS has shown me that it's OK for me to be the whole me, that I can be so much more than I thought I could be," she says. She explains how, with the encouragement of other TAGS members, she recently delivered a speech at London Pride and has found the courage to recite her poetry at spoken word events. "It grew out of one woman's frustration about something that is very, very simple to resolve. But it's always been much more than that. It's activism at its very best."
As we chat at the café and wait for other swimmers to arrive, a new face approaches the table. She waves a little nervously, and introduces herself as Anna. Faulkner immediately swoops in, enthusiastically welcoming her and explaining the ins and outs of TAGS. Anna, a 21-year-old recent York University graduate from the South London borough of Bromley, wants to exercise but also find a replacement for the tight-knit LGBT community of which she was a part at university.
Before starting her transition around two years ago, she used to enjoy swimming and yoga, as well as mixed martial arts (MMA) but she gradually stopped: "I was teased and picked on for not living up to the standards of toxic masculinity set by my instructor." However, she hopes that athletes like Fallon Fox, the first openly trans athlete in MMA history, will transform attitudes. After the swim, I ask her if she'll come back, and she replies: "Definitely. It's a fantastic opportunity to get healthy and involved in the community simultaneously. I would love to see more centres taking on the progress TAGS has already started."
Team activities that are sectioned into "male" and "female" teams are also being shaken by the trans sports revolution. For example, Shayne Evans, a 20-year-old from Wandsworth, has helped to establish a five-a-side kick-about with the charity Gendered Intelligence in the south London borough of Southwark out of a similar sense of frustration. "Trans people were telling me they stopped playing football. It hurt because I'd been there," he says, adding that he feels judged at non-LGBT groups. "Setting up the football has helped me to let my anger out instead of letting it out on myself all the time. When I play with the group I'm not just the trans lad. I'm looked at for my ability."
Such groups are even necessary in the Sussex city of Brighton, which is widely regarded as the LGBT capital of the UK. That's why, Rory Finn, Brighton and Hove's LGBT liaison officer for Sussex Police, was inspired by the Government's recent This Girl Can initiative to set up Trans Can Sports at the start of this year. The free sessions of between four and eight attendees have so far included weightlifting, boxing and yoga, but have waiting lists because they are so popular.
"People have told us they come to Trans Can Sports because they have experienced problems at both LGBT and non-LGBT groups. Sadly, on occasion, they have experienced outright trans-phobia from cis-gender gay men and lesbians. Safety is such a big issue that people will avoid things entirely if they think there is a chance that they will experience problems."
Others are promoting equality online. Megan Key has been celebrating and raising awareness of trans women who embrace health and fitness, both in clubs and in a personal capacity, on the Trans Girls Can blog with fellow trans woman Sophie Green for a year. Struggling to come to terms with being transgender, Key used a harmful but common combination of food, smoking and binge-drinking to cope with her depression and self-loathing. Now, by documenting the lives of successful, happy trans people, her blog combats the idea that trans people are doomed to be sad victims.
"From running to racing, driving and skiing to sailing, it's all there," she says. The feedback has been phenomenally positive and people tell us we inspired them to get out there and get fit. Exercise has saved my life during my transition and I have been a passionate runner and cyclist for over 10 years."
It is true that many trans people face difficulties accessing sports – including trans women who wear wigs, or trans men who bind their chests – says Megan, but she believes sporting organisations can easily help by reaching out to trans people and taking on-board simple guidelines to accommodate them. (Fifa, for example, has recently written and released guidance on how clubs can include trans people.) "I want club leaders to recognise we are here and want to take part," she says. It's not good enough to say 'We have no trans members' or worse, 'Our other members wouldn't like it'."
Welcoming the findings of a recent Women and Equality Select Committee report that recognised that sporting provision for trans people requires attention, she looks further ahead. "Trans-only sports groups have a place but they should be a stepping stone for people finding their confidence when they come out as trans. I don't want to be locked away from everyone else. I want to be part of the team."
However, as Faulkner cautions, groups like TAGS offer a vital space where trans people can get fit, relax and make connections while society catches up. And as the personal is political, even something as mundane as swimming or going for a run is important. "I don't believe history is inevitably going in one direction: you have to keep on fighting," she says. "What we're doing is incredibly valuable and makes an incredible difference to people's lives. Ultimately there's no predetermined goal but we're going to get there wherever the hell we're going."
Register for free to continue reading
Registration is a free and easy way to support our truly independent journalism
By registering, you will also enjoy limited access to Premium articles, exclusive newsletters, commenting, and virtual events with our leading journalists
Already have an account? sign in
Join our new commenting forum
Join thought-provoking conversations, follow other Independent readers and see their replies