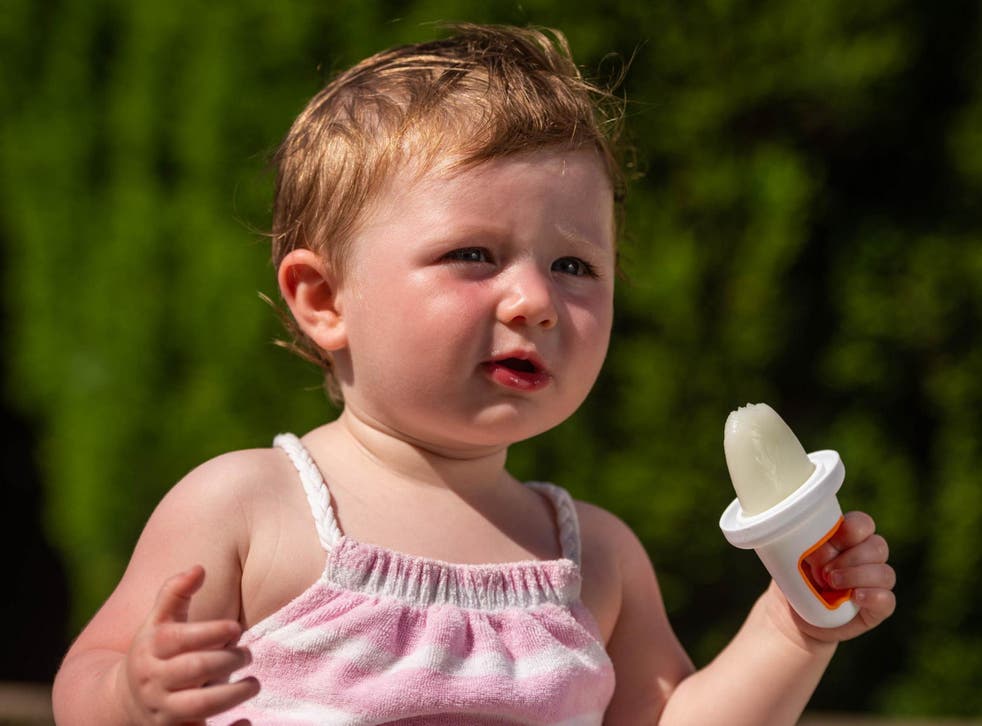 Mother makes breast milk ice lollies to keep baby cool during heatwave
'It's a great way for Willow to get extra milk and stay hydrated while giving her all the nutrients she needs'
Sabrina Barr
Sunday 28 July 2019 17:39 Comments
A mother has devised an innovative way of keeping her baby cool during the heatwave – by turning her breast milk into ice lollies.
Leanne, a mother of three from Leeds, West Yorkshire, said she struggled to encourage her 11-month-old baby Willow Abbiss to drink her expressed breast milk.
"I thought about maybe putting them in a lolly and bought some lolly moulds," the 37-year-old said.
"This all happened as our weather started heating up – so it's worked out brilliantly."
Leanne explained that she was worried the breast milk ice lollies would melt too quickly for Willow to consume due to the high temperatures.
However, the hairdresser stated that the baby "chomps away at them so fast" that the prospect of the lollies melting and making a mess wasn't an issue.
She said Willow's older sisters, four-year-old Poppy and nine-year-old Autumn, were curious to try the ice lollies as well.
"Even Poppy and Autumn have had a try, though they're not really allowed to eat them, they're for Willow," Leanne said.
UK heatwave rolls in as temperatures soar

Show all 44
"It's a great way for Willow to get extra milk and stay hydrated while giving her all the nutrients she needs."
Leanne, who's married to 44-year-old window fitter Paul, added that the ice lollies were particularly soothing for the couple's youngest daughter as the infant is currently teething.
"It doubles up as a teething aid, cooling her hot and sore gums down," she explained.
Since returning to work two months ago when Willow was nine months old, Leanne has continued to express breast milk.
Support free-thinking journalism and attend Independent events
However, she said was worried that her breast milk would "go to waste" due to Willow's refusal to drink it from a cup.
"Anybody who breastfeeds know how precious your milk is, it's not very easy to express, so I did not want it to go to waste," Leanne said.
"I was surprised [by] how much [Willow] loves her own ice lollies. She doesn't suck at them, she bites it off in chunks."
Register for free to continue reading
Registration is a free and easy way to support our truly independent journalism
By registering, you will also enjoy limited access to Premium articles, exclusive newsletters, commenting, and virtual events with our leading journalists
Already have an account? sign in
Join our new commenting forum
Join thought-provoking conversations, follow other Independent readers and see their replies