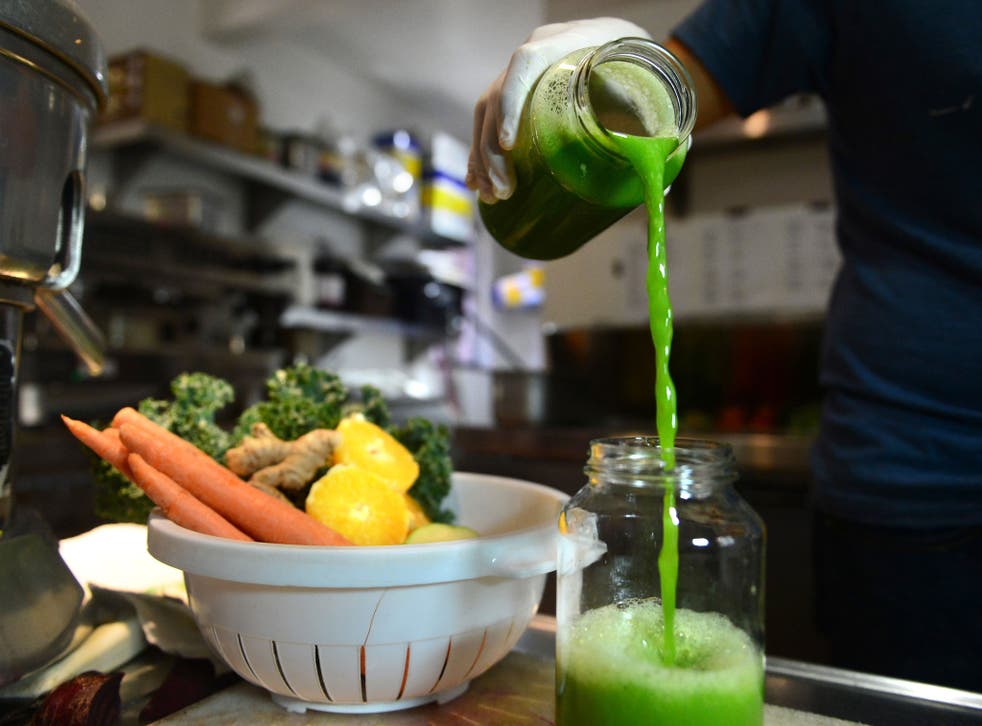 What is Orthorexia and why are people talking about the condition?
The condition, not yet recognised as an eating disorder, is gradually being discussed more
Olivia Blair
Tuesday 01 September 2015 17:59 Comments
In line with the spread of terms including 'clean eating' and superfoods, the word 'orthorexia' has become increasingly common over recent years.
As the graph below shows, discussion around the condition peaked in 2011.
'Orthorexia Nervosa' is not technically classified as an eating disorder, making it difficult to assess how many people are affected and how many are aware of it.
What is it?
The phrase was used in 1997 by Dr Steven Bratman to describe "a fixation on eating proper food", with the greek word 'ortho' meaning 'correct' or 'right'.
A person who has orthorexia nervosa will have an obsession with eating healthily — and that doesn't mean just eliminating sugary, salty and fatty foods from their diet.
Those with the condition will obsess over what exactly is in their food, only wanting to eat food that feels correct for themselves and their body – for example vegan or organic.
Why are we talking about it?
Mary George, from the eating disorder charity Beat, told the Independent that the reason we are hearing more about it is "undoubtedly in some way influenced by the huge focus on healthy diet and lifestyle". She added that "nowadays we see a cultural obsession with healthy eating".
Another reason is that over the past few years, people have spoken publicly about their experience with the condition.
Most recently, Carrie Armstrong, a TV presenter from Newcastle, wrote for the Huffington Post about her battle with orthorexia.
She wrote: "I would spend hours obsessing over cookbooks, before and after stories, dietary plans… I didn't trust recipes anyway. Most of them used ingredients I had come to think of as toxic or poisonous, or just bad."
How does it differ from other anorexia?
Ms George says although there is some common ground shared with anorexia and bulimia, orthorexia is "characterised by a fixation on righteous eating, eating only 'pure' foods and trying to avoid contamination by food."
Unlike anorexia, it does not always mean the focus of eating less food, and people who have the condition do not always have the end goal of losing weight.
Is it just healthy eating?
Orthorexia is when eating the 'correct' way becomes "more important than personal values, relationships and their career and it is when it causes a person to give up his or her normal lifestyle" according to Ms George, when it is "recognised as a problem".
The National Centre for Eating Disorders (NCED) guides that those with orthorexia may "withdraw from normal life and spend a lot of time worrying and thinking about food".
There can also be physical symptoms as orthorexics may be inadvertently denying their body much-needed nutrients. NCED lists poor immunity, brittle bones and poor thyroid functioning as potential physical consequences.
What should you do if you think a friend/family member is suffering from it?
Ms George advises that anyone concerned with a problem around eating should contact their GP. You can also visit the BEAT website for help and support www.b-eat.co.uk.
Register for free to continue reading
Registration is a free and easy way to support our truly independent journalism
By registering, you will also enjoy limited access to Premium articles, exclusive newsletters, commenting, and virtual events with our leading journalists
Already have an account? sign in
Join our new commenting forum
Join thought-provoking conversations, follow other Independent readers and see their replies