Botched dermal fillers which disfigured woman's face left her blind in one eye
Carol Bryan says she has sworn off cosmetic surgery after a simple injections lead to painful corrective surgeries and the loss of her sight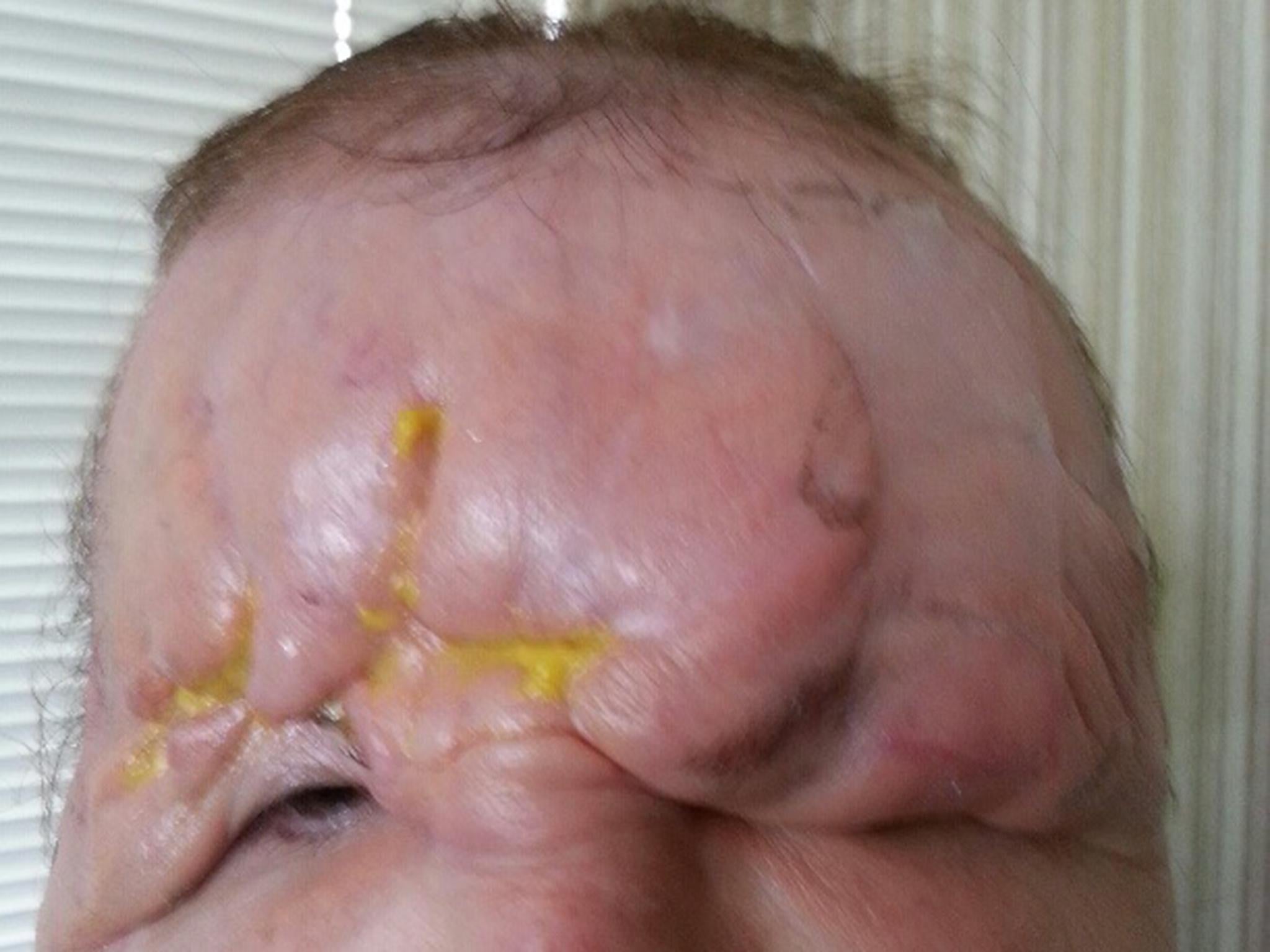 When Carol Bryan visited her cosmetic surgeon for to try a dermal filler, she couldn't have predicted that it would cause her to go blind in one eye and contemplate taking her life.
Almost a decade later, Bryan, from south Florida, is campaigning to raise awareness about how seemingly harmless, low-risk cosmetic procedures can be dangerous.
Bryan had been getting botox injections since her late thirties to smooth out fine lines on her face. In 2009, aged 47, she decided to try fillers in order to fix what cosmetic doctors described as lost volume in her forehead and cheekbones. She was among the over 15million people in the US who undergo some form of invasive cosmetic procedure each year, from injectable fillers to breast implants.
But two different fillers, including one which was silicone, were combined in the same syringe and injected into her face in area that they shouldn't have been.
After the injections, Bryan had the "typical side effects" including bruising and swelling.
How cosmetic fillers disfigured Carol Bryan's face
Show all 6
"But three months after the procedure, I was terrified of what I looked like," she told The Independent. Bryan underwent corrective procedures, but this only worsened the damage. And the first surgery to de-bulk her forehead affected her optic nerve and caused her to permanently lose sight in her right eye.
"My face began to swell and contract to the point where, not only did I have to hide from my family and friends, I actually hid from myself, never looking in the mirror," she told The Independent.
"I felt like I had the head of an alien, my forehead so heavy that it fell and covered my eyes so that I could not see unless I taped or held up my forehead.
For three years, Bryan separated herself from friends and family. "I didn't leave my house. I would just lock myself in my room, I wasn't sure I could survive. I considered suicide.
Eventually her daughter intervened and forced her to seek help. The pair later moved from Florida to Los Angeles so she could start her journey of recovery.
Man has scissors removed from stomach after 18 years
"The pain of the corrective procedures is not quite describable. Then, years later, with the multiple surgeries to my face, each one was just as painful as the one previous.
By far the most painful operation, she says, involved grafting skin from her back on to her forehead. It took 17 hours.
"My condition at the time I presented to the physicians at UCLA was unprecedented.
Today, Bryan is heading the Saving Face initiative in her capacity as director of the Face2Face Healing organisation which raises awareness of disfigurements.
"I feel amazing today," she says. "I am happy to be alive and in probably the best mental state I've ever known."
Bryan says she that, if she could, she wouldn't change what happened to her. "Regardless of how much I suffered, because it gave me a new and worthy calling." She is now calling for stricter regulations for practioners as the popularity of such procedures continues to rise, and encouraging others to carefully consider why they want cosmetic treatments.
"To anyone reading my story, I hope they will understand first that they are beautiful just as they are and deserve to be loved. Our collective perspective on beauty is so flawed that it is increasingly rare to meet someone who sees his/her own beauty," she says.
"If you do decide to have a procedure done, talk it over with someone you trust and consider the reasons why you want the procedure. Whose expectations are you fulfilling?"
Bryan says that while she will never have another cosmetic procedure, she isn't against others having them. She simply stresses that patients make sure they approach doctors who have consider patient's mental and physical welfare.
Join our commenting forum
Join thought-provoking conversations, follow other Independent readers and see their replies