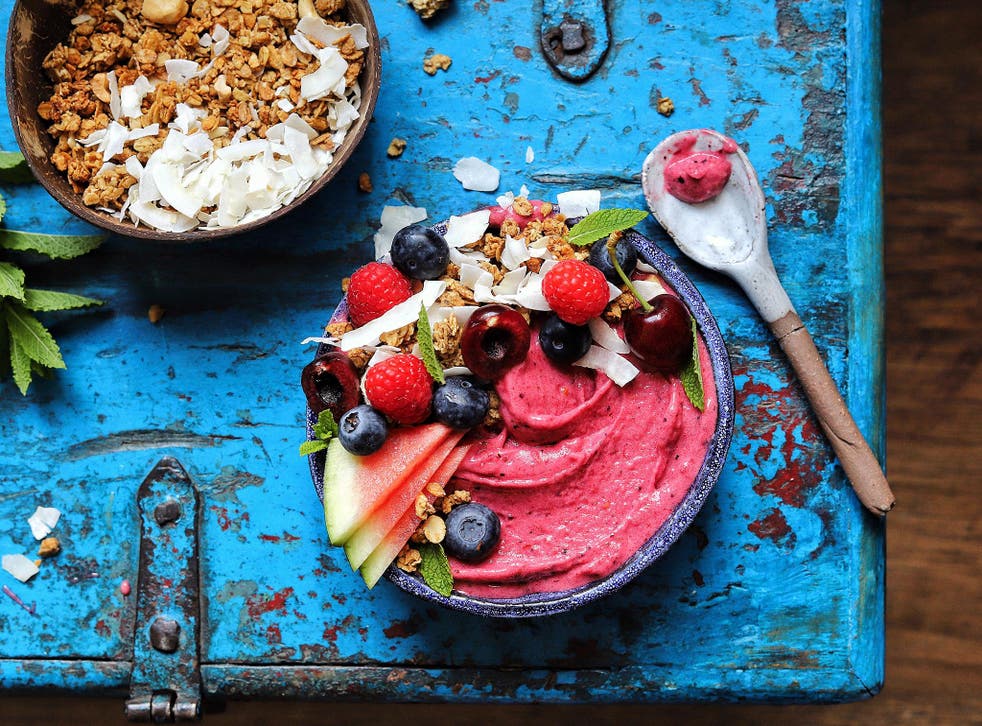 Healthy eating is on the rise because of social media, says vegan Instagram star
Gaz Oakley believes that it is easier than ever to eat healthily with online recipes  
Doug Shields
Friday 08 June 2018 12:43 Comments
A well known vegan chef has claimed that "social media has made Britain healthier".
Gaz Oakley who is known for creating vegan versions of well-known meat dishes, thinks sites such as Instagram, Facebook and Pinterest are leading a boom in healthy eating.
"I think there's a lot of knowledge and information out there these days about healthy eating, and social media's really helped that. It is such a great platform to use just to get inspiration," the 26-year-old said.
Mr Oakley, who has more than 228,000 followers on his AvantGardeVegan Instagram account, as well as over 250,000 subscribers on his YouTube channel. also dismissed suggestions vegan food is "boring".
"Things like YouTube are amazing," he said as he launched his latest collection of plant-based recipes inspired by new smoothie brand AdeZ. "I can film a recipe and post it out to people from all around the world. Instagram particularly has helped turn everyone into a foodie. All you have to do is go to a restaurant and see people snapping pictures of their food.
''And I just think that platform is great to show off food. People get really creative.''
He added: ''Social media has also made the world smaller which is great particularly for the vegan community because I'm able to reach people in all parts of the world and show them how simple and how great vegan food can be. So even if you're not a foodie, you can go on Instagram, Pinterest or YouTube, find people like myself and other amazing vegan influencers out there, or just general foodies who are putting up exciting food.
''You can get inspiration from there whether it's for your evening meal or a weekend meal - there's so much inspiration out there these days."
I went vegan for 10 weeks and this is what it did to my mind and body
Asked if vegan food was boring, he replied: ''Vegan food is so flavoursome. We've got such an array of beautiful fruits and veg and other ingredients, there's no reason for it to be boring.''
Mr Oakley began his kitchen career at the age of 15 when he did work experience at a hotel in Cardiff, where colleagues who gave him the nickname "Gordon" after his hero Gordon Ramsay - the chef who he said he would most like to cook for.
''He was a childhood inspiration, particularly when I was a chef," he said. "I did see on his Twitter recently he said he was going to give vegan a go. 'I don't know how long he lasted but I'd love to show him how good it can be. As he's not vegan I'd probably go with one of my home made meat replacements."
SWNS
Register for free to continue reading
Registration is a free and easy way to support our truly independent journalism
By registering, you will also enjoy limited access to Premium articles, exclusive newsletters, commenting, and virtual events with our leading journalists
Already have an account? sign in
Join our new commenting forum
Join thought-provoking conversations, follow other Independent readers and see their replies