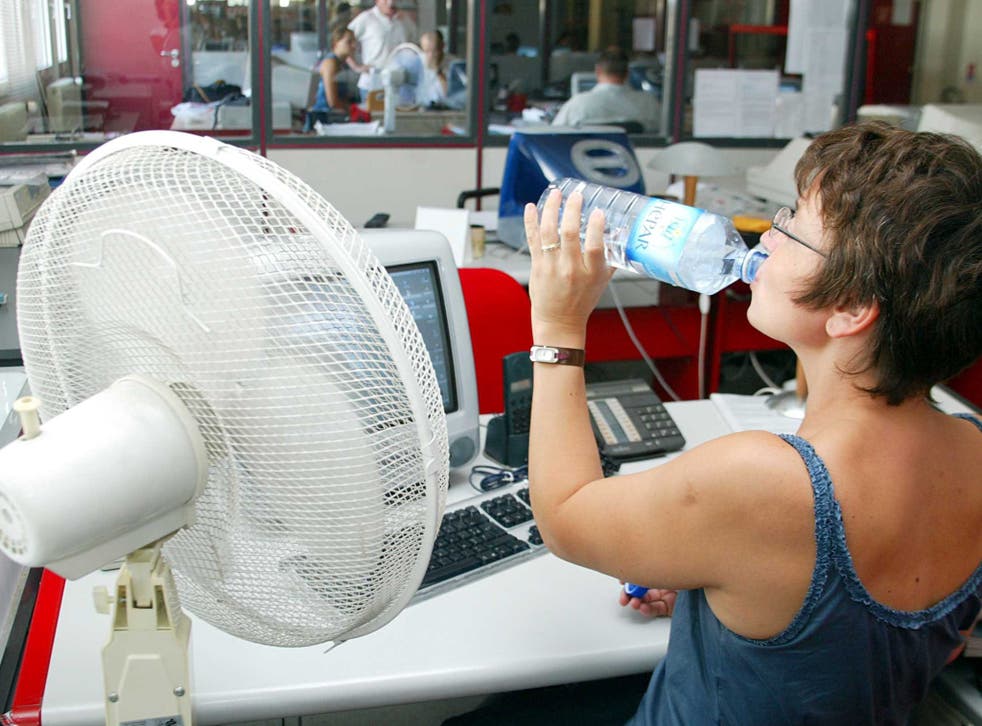 Heatwave Britain: The Independent's guide to sweaty office etiquette
Keep your cool at work with our writers' tips
As the nation cowers, sweats and gibbers under the impact of the summer heatwave the pressure is on to not let the temperature go to your head.
Whilst rocking up to the office with flip-flops and a shirt unbuttoned to the navel may be an obvious faux-pas, there's trickier issues to navigate. Here's our best advice for keeping your cool at work:
Don't melt on the way to work
After spending a night doing battle with sauna-like bedrooms and sheets that trap more heat than space-blankets the last thing you want to do is sweat it out on your way into work, so what are the options?
If you're in London and taking the Tube into work then the first thing to remember is that not all trains are equal: the Metropolitan Line has air-conditioned carriages (mmm), whilst the Jubilee Line boasts the coolest stations (an average of 25°C during peak temperatures in 2008).
Commuters looking to exit the station as fresh as they entered are advised to avoid Central – it's the hottest line with temperatures going up to 32°C. Of course, walking to work will always keep you fairly temperate whilst cyclists supply their own cooling breeze (sweat is another matter, see below).
Barring pulling a sickie and staying at home with your top off and the fan on full though your best bet might be to follow the lead of Vladimir Putin yesterday. The Russian President kept cool in the Gulf of Finland by bolting about in a dinky submarine.
James Vincent
Deal with those cycle sweats
Most of the year it's absolutely fine to cycle in to work at whatever pace you like and take a leisurely approach to getting showered and changed. But what do you do when the temperature is pushing 30C and your colleagues recoil in horror at your sweaty post-commute appearance?
If your office or workplace has a shower the etiquette is simple: come in early, get in the queue and have a proper shower before you sit down at your desk. The last thing your workmates want - even if they are too polite to say anything – is a sweaty mess sitting by them until the office shower becomes free at noon.
However if your boss is too tight to invest in a shower, then the matter is not so simple. First off there are some preventative measures you can take. If your commute is a short one take it a leisurely pace. You may also want to splash out on some panniers to reduce the sweaty rucksack back. Once you are in the office the first thing you need to do is use a small towel to handle any overt beads of sweat - an absorbent micro-fibre travel towel is ideal for this. Then a "bird bath"-style wash in the loos is your only choice. It's far from satisfactory if you're really dripping, but you'll spend a fortune on face wipes and "shower in a can" if you take the Glastonbury approach to staying clean.
There is of course another way of looking at it. This shower problem isn't restricted to cyclists. Just think of your poor colleagues, on a hot summer's day, who have battled in for an hour on the Tube or a bus with malfunctioning air conditioning. They are covered in city grime and subterranean funk, while your glow is entirely natural and (probably) odour free. As long as nobody complains, perhaps it's time to embrace the sweat.
Jamie Merrill
Lunch break sunbathing: Keep it covered
It's torture being locked in the office, staring out the window at anyone who is lucky enough to be frolicking in the sun (namely students, tourists and the unemployed. Oh, for an adult version of the six-week school holidays!) So it's understandable that when lunchtime arrives, you'll want to dash to the nearest patch of green to work on your tan. Just please, please keep your clothes on. It's not the weekend, and you're not on holiday. Aside from embarrassing run-ins with colleagues, ladies, a bikini top looks ridiculous with that Zara pencil skirt, and men, nobody wants to see your pecs while eating a dry egg sandwich from Greggs. Put it away.
Gillian Orr
When hot, eat hot
When the sun becomes unyielding, there's only one thing to do: eat yourself cool. Spurn the watermelon, though, and dispense with the services of a gazpacho. Instead what you need to do is eat the hottest chilli you can find (well, maybe the hottest you dare).
The heat of the chilli stimulates TRPV1 receptors on the tongue, which sends messages to the brain saying: "we're hot". The brain then activates the body's cooling mechanism: sweating. The sweat cools us as it evaporates – and does so to a greater degree than the chilli heats us. A singularly successful case of fighting fire with fire.
Samuel Muston
Join our new commenting forum
Join thought-provoking conversations, follow other Independent readers and see their replies