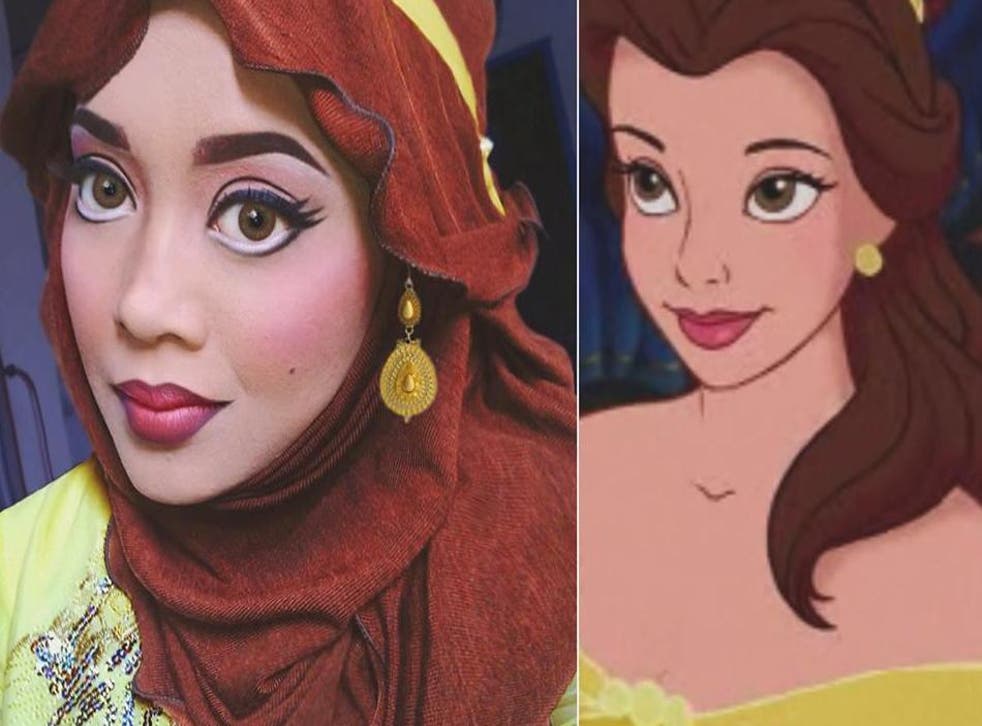 Muslim women are incorporating their hijabs into incredible Disney cosplay makeovers
'The cosplayers are challenging stereotypes but they're also reiterating ideas of religious norms and modesty' 
Malaysian-based makeup artist Saraswati, known to her Instagram fans as Queen of Luna is amazing the world with her astounding 'cosplay' transformations - but she is not alone.
Hijab cosplay is catching on worldwide with people dressing up as princesses, superheroes and anime characters.
At a cosplay show in Kuala Lumpur, Malaysia, 20-year-old film student Nursyamimi Minhalia told Reuters: "It's quite challenging. Usually I pick a character that covers most of my body, so it's easier for me to wear it in the 'Muslimah' style," employing the Arabic term for Muslim women.
Saraswati now has over 365,000 followers on Instagram after sharing over 300 of her Disney-inspired cosplay makeovers.
Recreating Disney characters since 2013, Saraswati's oeuvre includes the Little Mermaid, Mulan and Jafar from Aladdin. The transformation into Belle from Beauty and the Beast has 31,847 likes on Instagram.
The hijab, or traditional headscarf is being creatively incorporated into fan costumes worldwide since cosplay emerged in Japan in the early 1980s. According to Al-Jazeera, cosplay arrived in Malaysia around 15 years ago.
Rohayati Paidi, an East Asian Studies lecturer at the University of Malaya told Al Jazeera that in recent years more women are "embracing their ability to combine their religious beliefs with cosplay culture."
Juli Gittinger, a religious studies lecturer at Georgia College in the US agreed, adding: "It's very performative. At the same time it's a religious choice."
"The cosplayers are challenging stereotypes but they're also reiterating ideas of religious norms and modesty," Gittinger told Al Jazeera.
Hafizah, an attendee at the Kuala Lumpur cosplay event, explained that she chooses fabrics which match her skin colour in order to adapt costumes to limit exposure.
"I choose characters that don't reveal skin and hair. Because of that, most wear body armour," she told Al Jazeera.
"Wearing a hijab should not be a barrier for anything. We are free to be creative," another cosplay enthusiast Sind Yanti told Reuters.
The 24-year-old designer from Jakarta transforms yellow folds of her hijab into Cinderella's golden locks in selfies of her most recent 'cosplay' fantasy look. Yanti sells her designs for between 250,000 rupiah (£14.50) and 500,000 rupiah (£28.90) each, according to Reuters.
Muslim fashion designer features hijabs at New York Fashion Week

Show all 8
Arranged to replicate wigs, hoods and hats, the colourful hijabs adorn capes and princess gowns in increasingly innovative ways. Nurul Syakirah binti Samsol, who helps run the Facebook group 'Hijab Cosplay Gallery' told Al Jazeera that she wants to show that wearing the hijab does not prevent the ability to portray characters.
The 20-year-old medical student competes for cosplay prizes and often dresses as Princess Kida from Disney's Atlantis.
"I love Princess Kida because she's a really, really strong and tough independent woman. She stands up for what she believes in. And she's not really afraid of anything," she added.
Join our new commenting forum
Join thought-provoking conversations, follow other Independent readers and see their replies