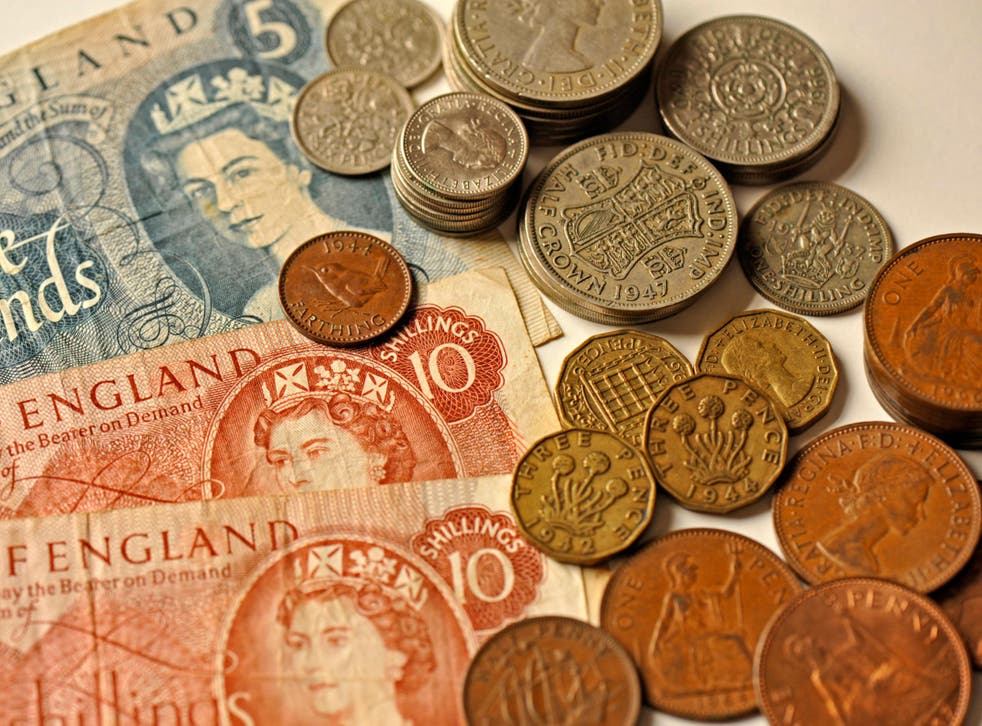 How the 50p coin has changed through history
From ten bob notes to the coin, the 50p piece has commemorated many of Britain's great people and events through the years. Godfrey Holmes takes a look through his loose change
Godfrey Holmes
Saturday 19 May 2018 23:56 Comments
If you were born before 1992, you will probably have a clear memory of the old 50p piece– before it was deemed too large and withdrawn from currency that year. Even then, the coin had only been in our pockets and purses for under 30 years.
Prior to that, and oblivious to the decimalisation of Britain's currency still to come, the pound split in two was formerly recognised as the brown "10 bob note". It was a similar size to the newest £5 notes we have today, but not of the same abysmal quality. During the 1960s, 10 bob was probably worth at least the same as our fivers.
Formally known as the 10 shilling note, 10 bob held the value of 120 old pennies. It was the lowest denomination of note ever issued by the Bank of England, surviving from 1928 to 1969. Both at its birth and demise, it was a reddish-brown colour, but mauve and grey during the Second World War.
The note acquired its metallic strip in October 1948 and its portrait of Queen Elizabeth II in October 1961. In 1964, the bank approved a design with Sir Walter Raleigh on the reverse. This worthy explorer, however, never got his five minutes of fame.
Instead, on 22 November 1970– exactly seven years after the assassination of President Kennedy, and 20 years before Margaret Thatcher's resignation as prime minister; the venerable 10 bob note ceased to be legal tender. The Bank of England estimated that a half-pound coin would have a 50-year life, set against an average lifespan of five months for the note.
All coins have a fascinating history, and a hobby reserved entirely to themselves: numismatics. Roman coins are still being dug up that date as far back as 250BC onwards. Even in our present, contactless age, coins are fascinating in their shape, weight, design, incredible variety and significance.
Every single used coin has a story to tell. The majority of machine transactions – small purchases, refunds, protectives, gambles and punts– still swallow up, or occasionally issue, lots of coins.
Even then, the 50p piece is an anomaly. It is certainly not a pure circle or hexagon or octagon – nor the 12 sides best illustrated in recent lifetimes through distinctive, pre-decimal, threepenny pieces. Instead, the 1969 half-pound coin, totally withdrawn in 1998, was seven-sided: an "equilateral-curve heptagon", otherwise known as the "Reuleaux Polygon".
During lengthy discussions, a design with a hole in the middle was shunned, as was a silver circle within a gold circle as later adopted for the new £2 coin. As for metal, the first 50p piece — then Britain's highest value coin, comprised 75 per cent copper and 25 per cent nickel. Its circumference was designed to be smooth enough to effortlessly slide into those gaping coin slots.
Interestingly, the 50p's weight-to-value has changed over time. In October 1997, a much lighter half-pound coin was issued, weighing just eight grams. No further changes have been made since, not even in light of the radical alteration to the £1 coin in the spring of 2017.
The Queen on one side of the coin is a given, without a hole through her silhouette. That leaves the question: what do we put on the other side of such a large coin? With other coins, like those tiny, some would say pesky, five-penny pieces, that question simply never arose. These small denominations never earned the right to have a special event or anniversary inscribed on their reverse.
When the 50p piece doesn't bear Britannia, or the third and fourth quarterlings of the Royal Arms on its reverse, it has commemorated more of Britain's past. Its thoughtful design has reminded us of more cultural, political, or sporting achievements than it is possible to extract from any ordinary shopper's change, or any bright sixth-former's memory.
These highlights are best grouped. First, and ironically in light of Brexit, there was the Common Market, EEC, right from the nine hands clasped in mutual trust, assurance and friendship, on the back of 1973's coin, to 1992's that noted Britain's entry into the single market and our 25 years in Europe (1998).
Politics is a bit thin after that– except in the year 2003: the centenary of the women's social and political union. A second 50p theme was war. The 50th anniversary of the D-Day landings coin debuted in 1994, the 150th anniversary of the Victoria Cross in 2006, the 75th anniversary of the Battle of Britain (2015) and the Battle of Hastings (950 years ago in 2016).
The third theme welcomed significant public figures. Coins have included the likes of Roger Bannister, Samuel Johnson, Beatrix Potter and and Sir Isaac Newton. Fourth comes miscellaneous events: 50 years of the NHS in 1998, 150 years of public libraries in 2000, 250 years of the Royal Botanical Gardens (2009), and 50 years of the World Wildlife Fund (2011). Although royalty has acted as patrons for many bodies being commemorated, actual royal anniversaries and royal personages– such as the Queen Mother and Lady Diana – have also been promoted.
Last, but by no means least, comes sport in its own right. Athletic prowess is majestically celebrated on the reverse of thousands of recent 50p pieces: after the four-minute mile, the Glaswegian Commonwealth Games of 2014, and Team GB at the 2016 Olympics. The 30 sports participating in the London 2012 Olympics were all awarded their own special coin, from archery and canoeing, to fencing and handball.
So what are the chances of ever finding one of these specials at a market stall or when returning from a newsagent? With the Battle of Britain or the Victoria Cross, and the Samuel Johnson or Baden-Powells, the probability is high. Conversely, some Beatrix Potters are extremely rare, enough to fetch seven pounds each.
Rarest of all are Benjamin Brittens, worth up to £11 each and Royal Botanical at more than £200. Just 200,000 were ever minted of the latter and nearly all examples have been garnered or cornered by private collectors and antique shops.
And what of the future? With inflation, the 50p piece will soon be worth what 10 pennies were at the end of the last century. That could result in this charming coin eventually becoming the lowest value clinker in circulation — where once it was the highest.
Register for free to continue reading
Registration is a free and easy way to support our truly independent journalism
By registering, you will also enjoy limited access to Premium articles, exclusive newsletters, commenting, and virtual events with our leading journalists
Already have an account? sign in
Join our new commenting forum
Join thought-provoking conversations, follow other Independent readers and see their replies