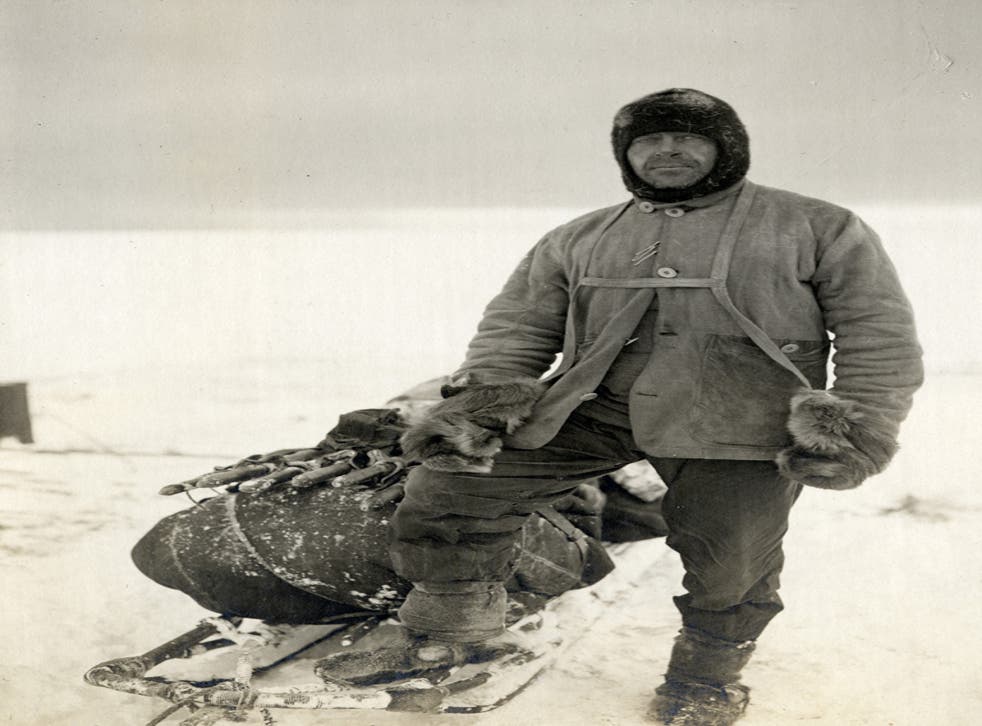 Everybody loves a winner, but we like a trier even more
Could the British still summon the stoicism of Captain Scott, asks Harry Mount
Harry Mount
Sunday 11 December 2011 01:00 Comments
In the Norwegian Polar Museum in the Arctic city of Tromso, there's barely a mention of Captain Scott. It's Roald Amundsen who dominates – his mammoth stone bust guards the entrance, and the upper floor is filled with artefacts from his polar missions, particularly the one that reached the South Pole 100 years ago on Wednesday.
It isn't surprising that Amundsen remains a Norwegian national hero; not only was he the first man to reach the South Pole, he was also the first undisputed explorer to get to the North Pole, as well as the first to traverse the North-west Passage. And it was near Tromso that he died, in 1928, at the age of 55, when his plane crashed as he searched for some missing explorers. What is surprising is how, here, we venerated – and still venerate – the memory of the man who was second to the South Pole.
There have been a few references to the centenary of Amundsen's triumph – David Attenborough brought it up in the Frozen Planet series. But Amundsen's anniversary press cuttings are nothing compared with those that await the centenary of Captain Scott's death, which falls in March. The printing presses are already limbering up for the anniversary.
Only last week, an unpublished letter from Scott's expedition cropped up in the archives of the Scott Polar Research Institute Museum in Cambridge, which has just opened its Scott centenary exhibition. The letter was written by Edward Wilson, the expedition's artist and naturalist. "This looks like a finish to our undertaking," Wilson wrote, days before the last three members of the party died, "for we are out of food and oil and not able to move for three days now on account of the blizzard. We have had a long struggle against intense cold on very short fuel, and it has done us in .... I have no fear of death, only sorrow for my wife and for my dear people. Otherwise all is well. I should like to have seen the grouse book but it is not allowed to me. God's will be done."
The grouse book that Wilson referred to was his prospective study of grouse disease on Scottish moors, which he had been working on in the Antarctic, even as he faced near certain death. That is the spirit – the concentration on high-minded things, relegating your own imminent tragedy – which ensured the memory of Scott's expedition.
Scott drew from the same well of selfless heroism in his last written words, "For God's sake, look after our people." His last letter to his wife – also on display in the Cambridge exhibition – is the exemplar of the frozen-stiff upper lip. He urges his wife – "my widow", as he heart-rendingly addresses her – to find another husband, claiming that he hadn't been a very good one. He's keen that their son should develop an interest in natural history, too. "It is better than games," he adds – the ultimate praise in the days of the robust, muscular, sporting Empire. The letter's poignancy becomes nearly unbearable when you realise that the two-year-old boy in question was Peter Scott, who grew up to be one of Britain's greatest ornithologists.
Throw in Captain Oates's heroic death – combined with his last selfless, understated words – and you begin to see why Scott's expedition became such a parable of high virtue, and of extreme Britishness.
Amundsen had a pretty rough time of it in the Antarctic, too. If we British were the self-deprecating, polite and selfless lot we like to think we are, we'd pat the first to the pole on the back a bit more. Why does Scott get all the attention? It's not a question of liking runners-up– a charge often aimed at the consciously amateurish, Corinthian Casual side of the old-fashioned British sportsman; better to be a gentleman than a player, and all that. It's more about liking style; even better, if it's wrapped up in a ripping yarn. As any writer knows, you get more dramatic stories out of sadness than happiness. Happiness may not always write white, but it's certainly more engaging if it's streaked with a little blackness.
The story of Amundsen's triumph is deeply admirable but – until his death, at least – it also follows an unremittingly upward trajectory; a long series of triumphs, compared with Scott's ups and spectacular downs. And those downs were given even greater drama by the stoic letters and journals now on show in Cambridge.
But you don't have to be a doomed Englishman, freezing to death on the Antarctic ice, to get rave reviews for stylish stoicism in the face of disaster. A dose of the Captain Scott spirit fed into the appreciations of the Brazilian midfielder, Socrates, who died last week, at the age of 57.
Socrates was a tremendously successful footballer, scoring 22 times in 60 national appearances, and captaining Brazil's 1982 World Cup team, hailed as one of the best ever. It helped that he was extremely good-looking and highly intelligent – a doctor of medicine – with a father who so liked philosophy that he named his son after his favourite Greek thinker. Socrates also looked extremely languid on the ball, as well as being a dedicated smoker and drinker; there's nothing like being good at something while looking as if you're not trying.
But, like Captain Scott, Socrates – and Brazil – were outdone. They were knocked out of the 1982 World Cup in the second round, in one of the greatest ever football matches, won 3-2 by Italy. That Socrates lost doesn't necessarily help his legend; World Cup winners become heroes, too. What mattered was that, like Scott, he went out with style and grace. Those qualities are that much rarer in defeat or tragedy, and all the more admirable and celebrated for that.
We can all be charming and graceful when we're holding a big, golden trophy; how much harder it is when you're clutching a loser's medal, or staring death in the face through the snowstorm that's whirling on the other side of your tent flap. It's the easiest thing in the world to be a good winner; that much harder to be a good loser. And it is in losing that your true character is exposed.
After the Italy game, some of Socrates's team mates were inconsolable. But Socrates burnished his heroic credentials in his dignified post-match comments. "At least we lost fighting for our ideals," he said, "And you can compare that to society today. We have lost touch with humanity, people are driven by results. They used to go to football to see a spectacle. Now, with very few exceptions, they go to watch a war and what matters is who wins. That is why I value the squad for this World Cup – it might just be a team with ideals."
It helps, too, if the defeat is agonisingly narrow. Scott was pipped by Amundsen by a mere five weeks. To prolong the agony – and, to be brutal, making Scott's story more gripping than Amundsen's – the Scott team was only 11 miles from One Ton Depot and safety when they died.
You can't achieve that same level of poignant stoicism if you're an out-and-out loser: Eddie the Eagle was brave; he wasn't heroic. Brazil's failure in 1982 would have gone unremarked if they hadn't been the best team not to win the World Cup.
It's tempting to think that, in the modern age, the British have said goodbye to that stoicism, to the imperial stiff upper lip; that self-deprecation and the containment of emotion have been replaced by a high-fiveing triumphalism, nourished by a stream of fist-pumping X Factor contestants. But the British never had a monopoly on the values that make for a good story, or on the situations that reveal human character at its most exposed, and at its best. Captain Scott's uncomplaining death, and his dignity in being second to the pole, appeal just as much to a post-Imperial Britain in recession, as they did to the most powerful country in the world, a century ago.
The exhibition These Rough Notes – Captain Scott's Last Expedition is at the Scott Polar Research Institute Museum, Cambridge (01223 336540) until 5 May
Register for free to continue reading
Registration is a free and easy way to support our truly independent journalism
By registering, you will also enjoy limited access to Premium articles, exclusive newsletters, commenting, and virtual events with our leading journalists
Already have an account? sign in
Join our new commenting forum
Join thought-provoking conversations, follow other Independent readers and see their replies