Massive Celtic coins hoard found on Jersey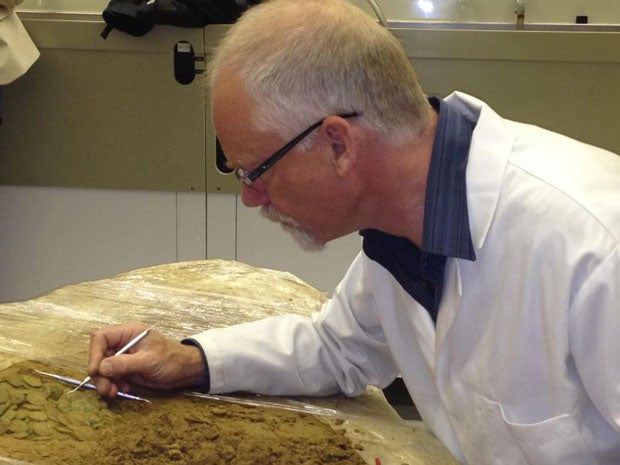 A massive hoard of Celtic coins worth millions of pounds has been found on the island of Jersey.
The hoard comprises 30,000 to 50,000 coins and is thought to have been buried to protect it from the advancing armies of Julius Caesar.
The coins were discovered in a farmer's field in the parish of Grouville in the east of the island by local metal detector enthusiasts Reg Mead and Richard Miles.
Mr Mead had been investigating the field for 30 years since he heard a report that coins scattered on the ground when a tree was uprooted.
The coins are thought to be worth between £100 and £200 each, giving a potential value of between £3 million and £10 million.
Jersey Heritage said the coins are in one solid mass weighing about three quarters of a tonne.
They are of Armorican origin (modern day Brittany and Normandy) from a tribe called the Coriosolitae, who were based around Rance in the area of modern-day St Malo and Dinan.
They are thought to date from the year 50BC (Late Iron Age). At this time the armies of Julius Caesar were advancing north-westwards through France, driving the tribal communities towards the coast.
Some of them would have crossed the sea to Jersey, finding a place of refuge away from Caesar's campaigns. The only safe way to store their wealth was to bury it in a secret place.
Jersey Heritage's curator of archaeology Olga Finch said: "This is an incredibly important archaeological find of international significance.
"The fact that it has been excavated archaeologically is also rare and will greatly enhance the level of information we can glean about the people who buried it.
"It is an amazing contribution to the study of Celtic coins. We already have a number of very important Iron Age coin hoards found in the island, but this new addition will make Jersey a magnet for Celtic coin researchers. It reinforces just how special Jersey's archaeology is."
Celtic coin expert Dr Philip de Jersey said each individual coin was worth between £100 and £200.
He said: "It is extremely exciting and very significant. It will add a huge amount of new information, not just about the coins themselves but the people who were using them."
As the find contains objects of precious metal, it has been reported to HM Receiver General who will work with Jersey Heritage to determine the status of the hoard.
The finders and the landowner have said that they want the hoard to go to the island and be put on display for the people of Jersey to enjoy.
PA
Join our commenting forum
Join thought-provoking conversations, follow other Independent readers and see their replies