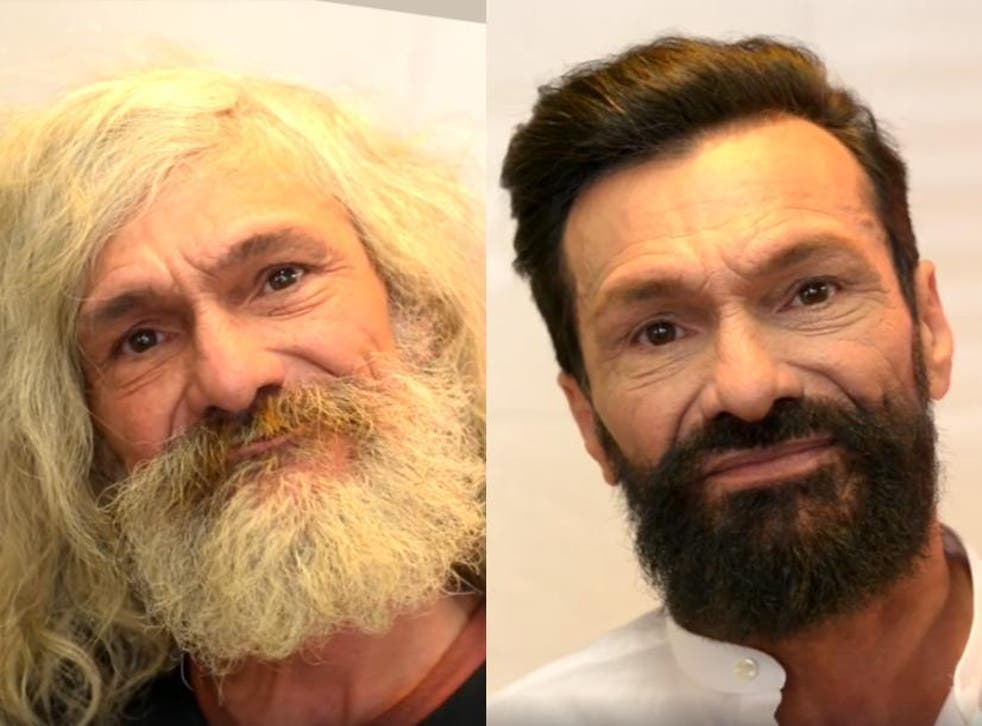 Homeless man given makeover after 25 years living on the streets
His unkempt grey hair and immense beard were trimmed, tidied and dyed black, turning him from dishevelled homeless man into stylish hipster
Charlotte England
Friday 17 March 2017 11:39 Comments
A homeless man broke down in tears on seeing the results of a drastic makeover he was given free by a local hair salon.
Jose Antonio had been living on the streets of the Majorcan capital, Palma, for more than 25 years, working as an "unlicensed car park attendant" to make money to buy food.
Over the years, his hair had turned grey and he had grown an large, unkempt beard.
El espiritu de la plaza

Todos tenemos una historia.. y esta es una de esas que vale la pena contar. Hoy la salvajería cumple 3 años, y queremos compartir con vosotros nuestro proyecto más personal. nuestro resumen de estos 3 años es; el rodearte de buenas personas te hace feliz!

Posted by La Salvajería on Monday, 13 March 2017
But one of the 55-year-old's regular customers was the owner of La Salvajeria salon and he invited Mr Antonio to have his hair done.
A video of the makeover, shot in 2015 but released on Tuesday to mark the salon's third year in business, has now gone viral.
Viewed more than 600,000 times, it has been also shown on television in several different countries.
"This is incredible, is this me?" Mr Antonio said when he saw what salon staff did with his appearance. "I'm so different, no-one's going to recognise me unless I tell them who I am."
The Daily Mail reports that Mr Antonio is a former electrician and has been homeless since suffering crippling depression in his late twenties.
He is well known and well liked by locals.
In the video he can be seen ordering a beer in the square where he works.
The waiter does not recognise him and is amazed when he reveals his identity.
"Where's your ferarri, mate?" someone else asks.
The causes of homelessness

Show all 7
Paola Bocardo, who lives nearby, said on Facebook that Mr Antionia helps her park her car every day and that she did not recognise him after the makeover.
She added: 'I'm lost for words. Jose helps me to park my car every day. When we saw him after his makeover we didn't recognise him. He's a wonderful person and the video is amazing.'"
More than a year after the video was shot, Mr Antonio is now reportedly clean shaven and has got his grey hair back.
But the Daily Mail said he had retained a healthier look and hopes the viral video will help him get a job,
Register for free to continue reading
Registration is a free and easy way to support our truly independent journalism
By registering, you will also enjoy limited access to Premium articles, exclusive newsletters, commenting, and virtual events with our leading journalists
Already have an account? sign in
Join our new commenting forum
Join thought-provoking conversations, follow other Independent readers and see their replies