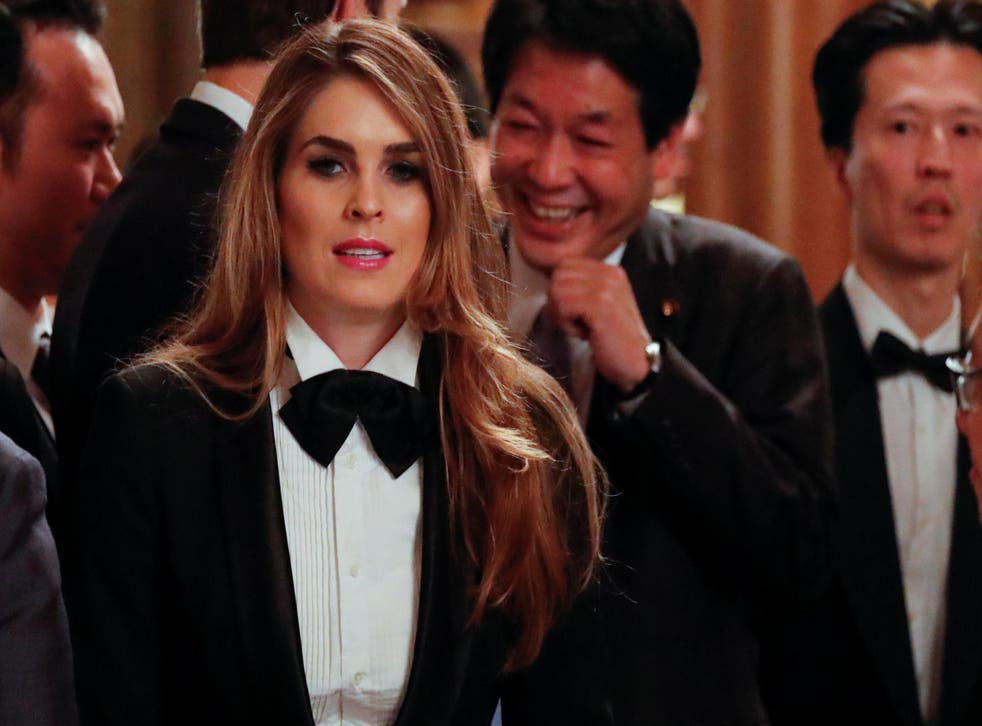 Hope Hicks dons a tuxedo at Japan state dinner
The fashion-forward 29-year-old shunned the traditions of occasionwear
The White House communications director made a sharp sartorial statement at a state dinner on Monday evening.
Hope Hicks wore a form-fitting tuxedo to the event, while first lady Melania Trump donned a billowing scarlet gown.
The event was hosted by Japan's Prime Minister, Shinzo Abe, who had invited President Donald Trump to the Alasaka Palace in Tokyo to mark the occasion.
29-year-old Hicks offset the androgyny of her suave suit with a bold fuchsia lip and diamond earrings, wearing her hair in loose waves.
Fans of the young PR powerhouse took to Twitter to praise Hicks for her unique attire.
The former Ralph Lauren model-turned-Trump aide was promoted from communications assistant to director in September, replacing Anthony Scaramucci, who was famously fired by the Trump team after just 10 days in the role.
Much like the Defence against the Dark Arts teachers at Hogwarts, the seemingly cursed role of White House communications director is hard to hold on to, with both Michael Dubke and Sean Spicer also leaving the role within Trump's first six months in office.
Critics were quick to lambaste Hicks for her lack of qualifications as she started working on Trump's campaign in 2015 with no political background.
A close friend of Trump's eldest daughter Ivanka, Hicks began working with the family in 2012 while at public-relations firm Hiltzik Strategies, which handled the communications for Ivanka's fashion line.
She subsequently worked for the Trump real estate brand, the New York Times reports.
Hicks is thought to have a good relationship with the President: according to Republican adviser Paul Manafort, "she totally understands him."
Join our new commenting forum
Join thought-provoking conversations, follow other Independent readers and see their replies