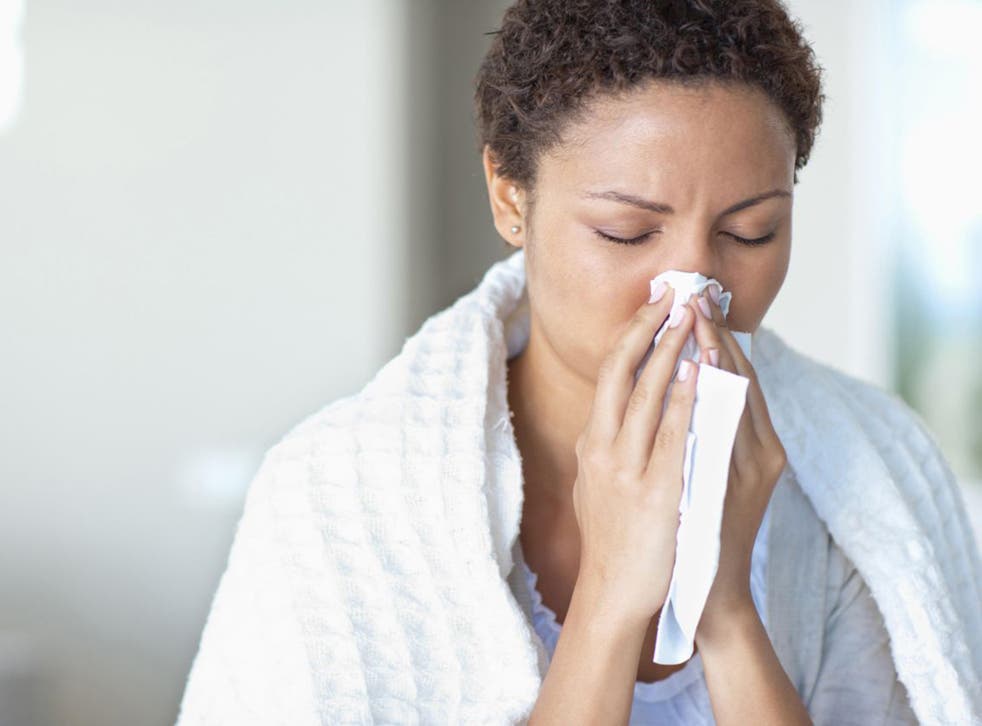 How to avoid colds, aches and dry skin this winter
The dark winter months can be brutal but help is at hand from a variety of sources
Winter may have taken a while to hit us this year, but we're not out of the woods just yet. Cold, wet weather, overheated houses and long, dark nights bring with them a host of health hurdles, from colds to chapped lips. Here are some tips that will see you through until spring.
Starved of sun? The best source of Vitamin D is sunshine, and in winter in the UK, chances are most of us are going to be deficient in it. The vitamin is vital for strong bones and a healthy immune system, and deficiencies have been linked to autoimmune conditions, so take a supplement during the darkest months. If the sun does come out, it will be strongest between 11 and 3, so get out for a walk during your lunch break.
Seasonal sniffles Colds and flu are a common sign of winter, and unfortunately there's little you can do to ward against them. A balanced diet rich in vitamins and minerals is your best bet, apart from praying that Maurice from accounts will have learnt to cover his nose when he sneezes this year. Load up on citrus fruits and berries for vitamin C and seafood, almonds and root vegetables for zinc. Zinc works with vitamin E and selenium as an antioxidant, helping your body to produce more infection-fighting antibodies. Magnesium, found in leafy greens, avocado and tofu, is a great anti-inflammatory, which also helps to strengthen your immune system. If you are pregnant, elderly or suffer from certain health conditions, you qualify for a free flu jab, which is well worth getting.
Arctic aches Some experts say that it's a myth that damp and cold weather can make arthritis worse, but many of the one in five adults in the UK suffering from arthritis say they experience more flare-ups in winter. If you suffer from aches or joint pain at this time of year, light exercise such as swimming or walking can help, and a massage can help to alleviate inflammation. A warm bath with Epsom salts can also help to soothe joint pain. The NHS also recommends that you should heat your home to at least 18C if you suffer from arthritis and have reduced mobility.
Dry skin Cold weather, central heating and low humidity can strip the skin of its natural oils, resulting in dullness, patches of flakiness and chapped lips. Switch to a richer moisturiser containing humectants like glycerin or hyaluronic acid, and use a good hand cream and lip balm. But don't skimp on the SPF in your chosen products – just because you're not seeing much sun doesn't mean its harmful rays aren't there. A gentle exfoliator, lots of water and a diet rich in omega 3-rich food such as oily fish and flax will help you to get your glow back.
Feeling SAD? Months of darkness have been found to have a profound effect on our mood, and the NHS estimates one in 15 people suffer from Seasonal Affective Disorder between September and April. Common symptoms include lethargy, anxiety and depression. A light box (to mimic sunlight) or spending time outdoors can help to boost serotonin levels and reset your body clock; or talk to your GP about antidepressants.
Hibernation mode It's easy to be slothful when it's cold and dark out. But your immune system will get a much needed boost if you've incorporated some exercise into your routine. Go for a run or walk (you'll burn more calories if it's cold out), or, if the colder months wreak havoc on your joints, go for a swim followed by a toasty sauna.
Register for free to continue reading
Registration is a free and easy way to support our truly independent journalism
By registering, you will also enjoy limited access to Premium articles, exclusive newsletters, commenting, and virtual events with our leading journalists
Already have an account? sign in
Register for free to continue reading
Registration is a free and easy way to support our truly independent journalism
By registering, you will also enjoy limited access to Premium articles, exclusive newsletters, commenting, and virtual events with our leading journalists
Already have an account? sign in
Join our new commenting forum
Join thought-provoking conversations, follow other Independent readers and see their replies