Love in the time of corona
Photoshoots over FaceTime and a Zoom ceremony: How to celebrate your cancelled wedding date in lockdown
Due to the pandemic, 76 per cent of couples have been forced to postpone their nuptials. Sarah Young explores the ways people are celebrating what should have been their wedding day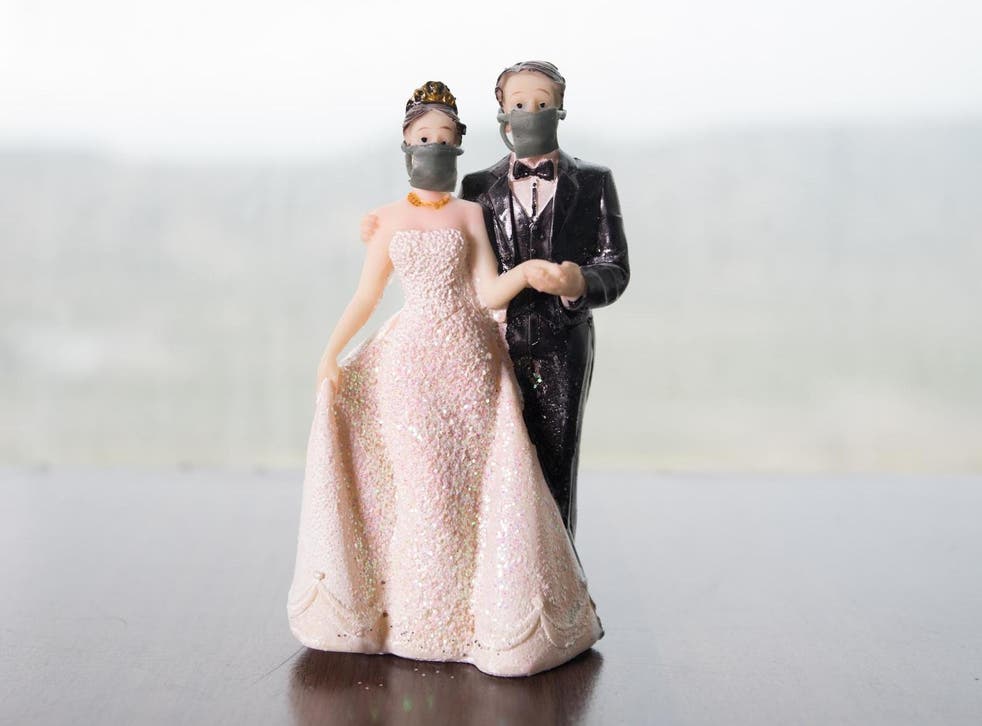 Speak to anyone who has tied the knot before and they will tell you just how fast your wedding day goes by. Between making sure you arrive on time and saying "I do", before you know it, you're cutting the cake and running through a sparkler send-off. At least, that's how the day is supposed to go.
For most couples in 2020 however, all that has changed. On 19 March, the Church of England announced that wedding ceremonies would be restricted to just five people (the bride and groom, a minister and two witnesses) due to the coronavirus pandemic. But, when the nationwide lockdown commenced just four days later, the rules changed again and Boris Johnson implemented an outright ban on all weddings along with any other social gatherings.
Three months later, and the ban is still in place across England, Scotland and Wales, with officials providing couples with little guidance as to when exactly they might be able to get hitched. Meanwhile, in Northern Ireland, the devolved government has started to allow outdoor weddings with up to 10 people present as part of its strategy to ease lockdown.
While this is good news for some couples, the pandemic has meant thousands of people across the UK have been left with no choice but to postpone their wedding to a later date or cancel it altogether. These engaged couples are not alone in their sorrow – approximately 76 per cent of 2020 weddings have been impacted by coronavirus so far – but even so, it does not make the prospect of spending their would-be wedding day away from family and friends any easier. So, is this once-cherished date set to be tinged with disappointment forever?
Even though it is unlikely that any of us will be attending what we consider to be traditional weddings anytime soon, couples are proving that the original date need not go by unnoticed with many choosing to reclaim the day for themselves and mark the occasion in a positive way.
To some, choosing to acknowledge a day in the year when an event, however important, is not longer happening might seem unnecessary but Helen Pye, deputy editor at Hitched, says she believes it can be a "cathartic experience" for many couples, adding that while it should be a time to celebrate, it is completely normal to feel upset and deflated.
"After all the exciting build-up to their wedding, postponing has left a lot of couples heartbroken and that's a completely normal reaction; you've been blindsided by unsettling events and now you're adding even more stress and worry on top as you deal with your emotions, your finances, managing suppliers and venues, and coping with family expectations," she explains. "You've had that original date in mind for months now as the day you will marry the love of your life, so to acknowledge it, celebrate what it stands for and let go of the pain it holds will be a cathartic experience."
Rebecca Hoh-Hale, founder and creative director of wedding show Most Curious, agrees, adding that many couples feel "an overwhelming need to have some sort of ritual" to honour their wedding day. "I'm sure there will be some tears of disappointment, however you want to play it, but as the saying goes, 'Love is Not Cancelled'," she says. "It's beyond awful that you had so much planned and were excited and were going to make the rest of your life official in front of every one you loved and then throw the party of the century - but the love can still be celebrated."
Katherine Pacey from London, who was due to get married this August, says she is planning on marking her original wedding date by getting dressed up, eating cake, and opening the bottles of champagne that were being saved for her guests. "It'd be nice to mark the original date rather than just let it come and go," she says. "We've put so much time and thought into planning the wedding and have been so excited for it, so doing something small but special to mark the date acknowledges everything that we've done and kind of restarts the countdown to the new date."
Though it might not be what you had initially envisioned, there are plenty of ways to mark your original wedding date in lockdown. Whether you want to keep things low-key and intimate with a movie night for two or deck out your house with wedding decorations. Here are 10 ways to reclaim your original wedding date if you have had to postpone.
Host a minimony
A "minimony" is a new term that is exactly what it sounds like: a mini ceremony. The event enables couples to have a preview of what's to come when they throw their bigger, postponed ceremony and reception at a later date.
Couples are making their minimonies special by including a celebrant (either in-person or virutal), a first dance from a porch or balcony, personalised vows, and elements inspired by their original wedding day. Minimonies are generally a way for couples to honour their commitment to one another with their loved ones while still keeping a safe distance.
Natalie Raybould, a wedding celebrant, has performed a number of ceremonies in recent weeks and, as the lockdown eases, has a wedding coming up that will include her, the bride and groom, and four guests in a garden. While humanist ceremonies are not legally binding in England and Wales, Raybould says couples have enjoyed the pageantry of it.
"My last wedding couple walked down an aisle in their large garden to a floral backdrop, and it was witnessed in person by the other family in their household and two other members of their families cam and watched from a social distance. They both told me afterwards that it felt like I was there with them, marrying them, and it did from my side too!"
Second wedding for couple after husband with dementia forgets first

Show all 5
If a minimony doesn't feel quite right for you, consider a Zoom party instead to help recreate some of the atmosphere you would have felt while surrounded by family and friends on your wedding day. To make sure it is more fun than your daily work team check-ins involve your guests by asking members of the bridal party to do speeches, have a virtual toast, DJ set or even a wedding-themed quiz.
"I would suggest marking the occasion with regular surprises and moments to keep the day going," says Amy Cross, creative director at event planning company Ivy & Gold Studio. "Then set yourselves up a bar and arrange either a small handful of people or a large zoom chat with many of your loved ones and friends! Eat, drink, play music and create new memories."
Don't forgo the cake
Remember that five-tier lemon cake with a zesty filling and vanilla buttercream that you had been waiting for months to enjoy? Don't wait until your new wedding date to satisfy your craving and order a cake to be delivered in the same flavour for you and your partner.
Melissa Rayner, founder of Fairy Dust Bakery, says she has had many couples mark their original date with different versions of the cakes they had planned. "I've had couples ask for a box of cupcakes or a smaller size of their actual wedding cake which they already had booked in with us. If you've already bought a top tier topper, why not use that too, and if you've chosen a dessert table, you could even have a smaller version of this, perhaps as a picnic or in your garden with close family."
Cross said one of her couples did exactly that. After postponing their nuptials, which should have been held in Spain, they had a small socially-distanced gathering with family while enjoying Spanish-themed treats and a small "wedding cake" from their supplier.
Have a socially distanced photoshoot
Posing outside your home is a great way to celebrate your original wedding day and capture a special moment in time.
"Covid-19 has allowed photographers to be incredible creative, and many wedding photographers are offering FaceTime or doorstep photoshoots," says Cherelle Joseph, wedding and event planner at Perfectly Planned 4 You. "It also gives couples a chance to get all dressed up and admire each other in your wedding outfit."
Osman Marfo Gyasi, founder of Wolf & Co Wedding Photography, has been hired to do a number of photoshoots for couples on their original wedding day, either social distancing at home or outside somewhere meaningful to them. "Leaving the day unmarked in a silent grief can chip away at the original meaning and purpose of the day you planned," he explains. "Talking about it and toasting to it, is a way of nourishing the appreciation of your love and commitment to one another."
Couples can either organise a photoshoot on their actual wedding day or plan it in the lead up so that when their wedding date does finally roll around, they can display some of their favourite shots in their home. The images can also be used at the postponed wedding to share with guests and dress up the decor.
Bring your wedding blooms home
Whether you're planning a minimony or a simple meal, there's no reason why you can't treat yourself to some spring blooms on what would have been your wedding day. For an extra-special touch, why not order a version of your actual bouquet, or if you didn't get that far in the planning process, reach out to one of your favourite local florists and have something delivered to your door.
Bride-to-be Adina Matarazzo from Dartford, who was due to get married on 13 June 2020, did just that. Matarazzo decided she was not going to let the day pass her by and ordered flowers that would have been the same as her bridal bouquet before enjoying a romantic dinner in the garden with her fiancé and toasting with a bottle of champagne.
"The flowers were beautiful and I felt like a bride," Matarazzo says. "Marking the occasion 1,000 per cent helps and it is comforting to still celebrate. That being said, don't feel like you have to always remain positive – crying is healthy and I cried my eyes out (like ugly cried) when my bouquet was delivered. We had our venue booked for two years."
Wedding breakfast for two
Food feeds the soul, so why not take the time to enjoy a candlelit evening meal that replicates your wedding breakfast, on what should have been your big day?
If your menu involved dishes that require a high level of culinary skill, you could always use your wedding breakfast as a theme and go from there. If your wedding breakfast was supposed to be a beef wellington, keep it simple and treat yourselves to steak, or if you were planning on having stonebaked pizzas, get creative with your toppings and fillings. Alternatively, if your budget allows, you could hire your wedding caterer to recreate your wedding meal for two.
Zeleka Nadine, founder of The Wedding Coordinators, adds that you could take things up a notch by getting a mixologist to set up a bar in your garden. "Work with them to create a signature postponed wedding cocktail for your original date which you can take with you to your actual wedding day," she says. "Plenty of alcohol always lightens the mood. You can even get family at home involved via Zoom giving them a list of ingredients to pick up in preparation."
Say yes to dressing up
We're not suggesting you go full Monica in Friends but this is the perfect opportunity to get properly dressed up and it will certainly make a nice change from the pair of baggy joggers you have been sporting since lockdown began. Start your day with a pamper morning where you light a gorgeous scented candle and indulge in a soothing face mask.
You probably want to keep your wedding outfit for the actual big day, so instead put on something that you feel at your best in and encourage your partner to do the same. You could wear all-white, your favourite evening gown or order yourself something new - whatever makes you feel great.
To take things a step further, you could even get ready in separate rooms to your fiance and then set up a camera to film yourselves having "a first look".
Register for free to continue reading
Registration is a free and easy way to support our truly independent journalism
By registering, you will also enjoy limited access to Premium articles, exclusive newsletters, commenting, and virtual events with our leading journalists
Already have an account? sign in
Register for free to continue reading
Registration is a free and easy way to support our truly independent journalism
By registering, you will also enjoy limited access to Premium articles, exclusive newsletters, commenting, and virtual events with our leading journalists
Already have an account? sign in
Join our new commenting forum
Join thought-provoking conversations, follow other Independent readers and see their replies