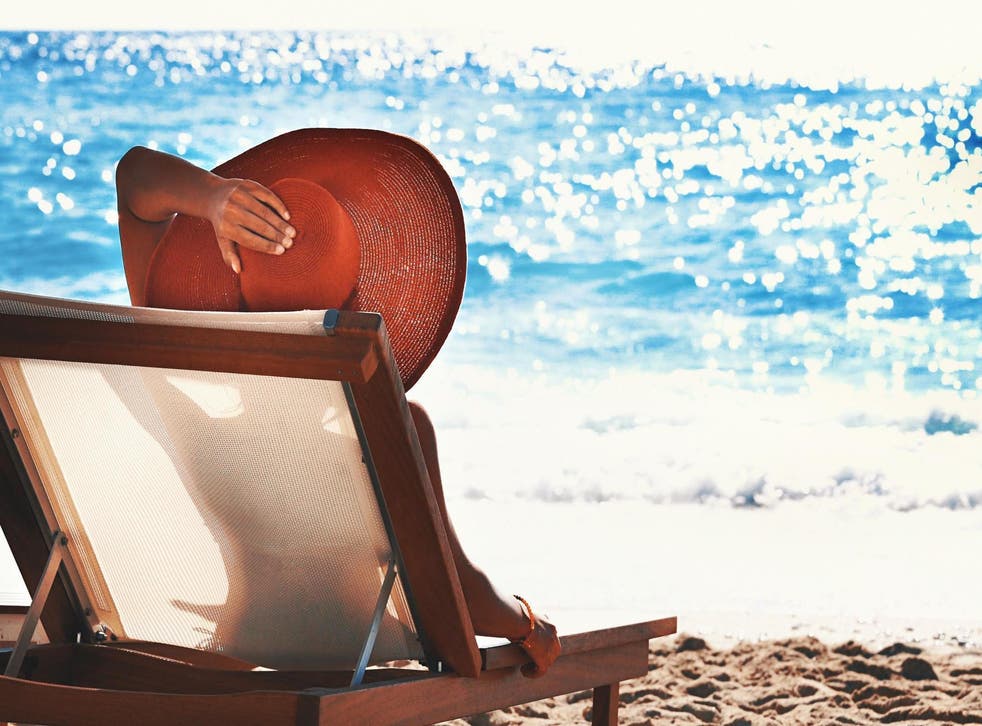 Can you still tan wearing sunscreen and what happens when you sit in the shade?
You should always wear sun cream when outside to protect from harmful UV radiation 
With warm weather finally upon us, it can be hard to avoid the tempting lure of sunshine.
However, with the dangers associated with tanning, it is wise to be aware of just how much sun your skin is soaking in – and when to cover up.
How long does it take to get a tan?
People tan in the sun when UVA radiation comes into contact with skin. Once the rays penetrate to the lower layers of the epidermis, cells begin to produce melanin.
Melanin is a group of natural pigments found in the body. In addition to pigmenting our hair and eyes, it is also responsible for tanning skin exposed to sunlight or UVA radiation, according to the US Food and Drug Administration (FDA).
Photographers stories of capturing extreme weather

Show all 8
The pigment is also what protects the skin from getting burned – people with cells that produce more melanin typically don't burn as quickly, if at all.
For people with fair or light skin, less melanin is produced – meaning the skin is not protected from UVB rays, the rays that cause burns.
With light-skinned people, any tanning that will occur usually happens quickly or within minutes - with the risk of burning much more likely. Those with more melanin in their skin take typically longer to develop a tan and can usually spend hours in the sun without burning.
However, the amount of time spent in the sun before developing a tan or a burn is all dependent on each individual person's pigmentation.
While outside, it is important to know your skin type and wear the SPF factor sunscreen that will provide the correct amount of protection for you.
Is tanning safe ever safe?
Tanning increases the risk of skin cancer – and studies conclude that tanning is never healthy.
According to skincancer.org, different skin types are at different risks of sun damage.
Damage occurs when the ultraviolet light damages the skin's cellular DNA – creating genetic mutations.
Light-skinned people have a higher risk of damage associated with tanning because of the lack of melanin to protect the skin from the sun.
However, people with darker skin are also at risk.
Can you still tan when wearing sunscreen?
Sunscreen protects the skin from the harmful ultraviolet radiation from the sun – prolonging the time a person can spend outside without getting burnt.
The higher the SPF, the more protection a sunscreen offers – with SPF 50 filtering 98 per cent of UV rays.
There is no sunscreen that can protect skin 100 per cent from UV rays.
You can, however, tan while wearing sunscreen.
According to ABC Australia, if your unprotected skin would take 10 minutes to show signs of burning, properly applying SPF 50 sunscreen would extend this rate by 50 times – meaning you could sit in the sun for 500 minutes before burning.
Sunscreen only extends the length of time until burning takes place, it does not impact how deeply a person will tan or how long it will take to show a tan.
Is it possible to tan in the shade and how do you protect your skin from the sun?
According to skincancer.org, "people can spend long hours in the shade while still receiving quite a lot of sun exposure and risking sun damage" and shade alone can rarely provide full UV protection.
Support free-thinking journalism and attend Independent events
Burns are also possible as UVB rays can reach the skin indirectly.
Even if you are in the shade or under an umbrella, wearing sunscreen is necessary to protect skin from the sun.
In reality, a combination of multiple sun protection measures is typically needed to provide "optimal protection," according to a study published in US National Library of Medicine journal.
To increase protection, clothing that covers your skin, hats, sunglasses and shade are all important factors.
This article was originally published in June 2018.
Register for free to continue reading
Registration is a free and easy way to support our truly independent journalism
By registering, you will also enjoy limited access to Premium articles, exclusive newsletters, commenting, and virtual events with our leading journalists
Already have an account? sign in
Register for free to continue reading
Registration is a free and easy way to support our truly independent journalism
By registering, you will also enjoy limited access to Premium articles, exclusive newsletters, commenting, and virtual events with our leading journalists
Already have an account? sign in
Join our new commenting forum
Join thought-provoking conversations, follow other Independent readers and see their replies