Image of human milk ducts as you've never seen them
'This is NOT what I imagined milk ducts to look like' 
New breastfeeding-friendly t-shirts sold by Milky Tee Company
Despite the fact that half the population is female, a photo of the female muscle system is going viral as people are realising for the first time what milk ducts look like.
The photo, which was shared on Twitter, shows the breast muscles and the milk glands surrounding each nipple – which are divided into ducts.
"I just realised I never saw a photo of a female muscle system. This is NOT what I imagined milk ducts to look like," the caption reads.
The reactions to the tweet, which has since been liked more than 135,000 times, have been mixed, with many people expressing their shock at the image.
"At first I thought someone put flowers over boobs because art. Now, it looks like a weird alien creature lives inside my body and I'm terrified," one person wrote.
Celebrating women across the world breastfeeding

Show all 32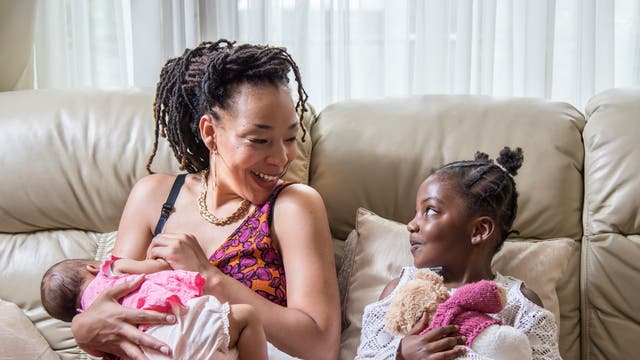 Another said: "I can't believe that's inside of me."
However, others pointed out that the image is so foreign because male anatomy is predominately taught in school, meaning many people may never have had the opportunity to see the muscular makeup of a female's body.
"Maybe it's only freaking people out because it's not normalised because of the patriarchy showing us a man's biology in class," someone pointed out.
Women who have breastfed children were among those who'd never seen the milk-producing aspect of a female's breasts, with one woman writing: "It looks like a beautiful flower. It's the first time I am seeing this too. Which is weird after having breastfed four children."
The lobes shown in the image contain the alveoli, which is where the milk is made. Once the milk has been created, it is transported to the nipple through the milk ducts – the thin tubes pictured.
In addition to offering many people their first opportunity to see what milk ducts look like, the image has also reminded many women what their bodies are capable of.
Support free-thinking journalism and attend Independent events
"As a breastfeeding mama this is SO incredible to me. It all makes sense now and it's beautiful," one mother tweeted in response.
Join our new commenting forum
Join thought-provoking conversations, follow other Independent readers and see their replies