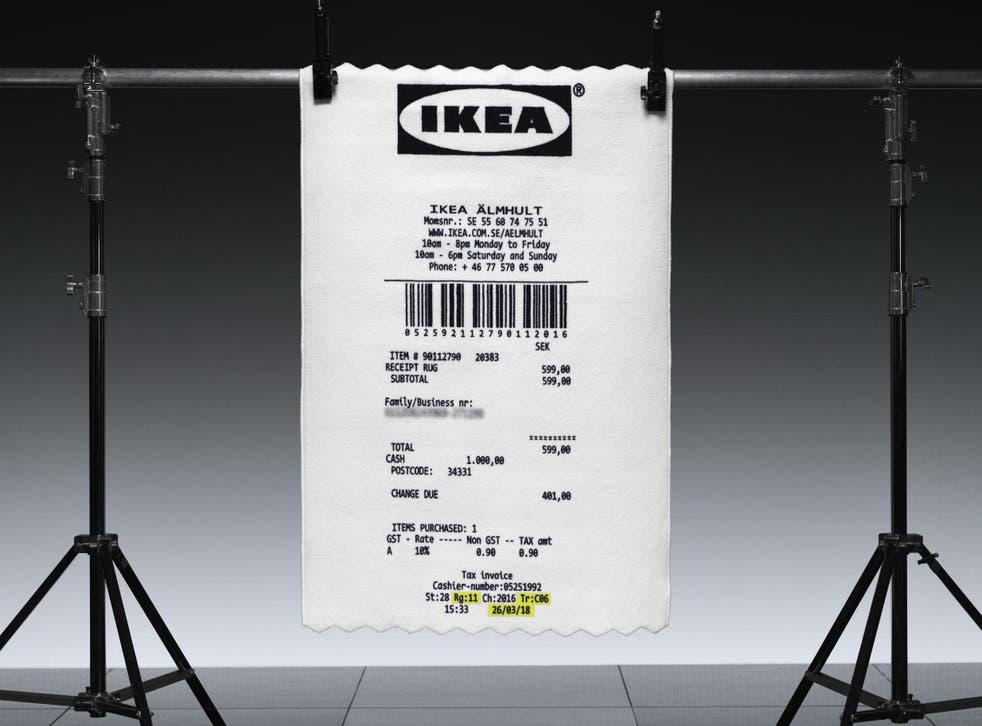 Ikea releases shopping receipt rug as part of Virgil Abloh collection
The rug is designed to look like a shopping receipt from Ikea
Swedish furniture brand IKEA has teamed up with Virgil Abloh to create a larger-than-life shopping receipt rug aimed at millennials.
The design was revealed during Ikea's annual conference, Democratic Design Days, and it's the latest first-look at the widely-anticipated collection designed by Ikea and American fashion designer Abloh.
The new collection, named Markerad, is targeted at millennials and has been in progress for over a year.
While the other pieces in the collection are sure to be talking points as well, it was the oversized rug that captured and divided people's attention on social media.
For some people, the rug design was pure genius.
However, others were mostly amused by the statement piece.
"I want to be excited about this new Ikea rug but I am just not. I am, however, bemused," one person wrote.
Another said: "Lol stop it," in response to a picture of the new floor covering.
But according to Ikea creative lead for the collection, Henrik Most, who is working with Abloh, the point of Markerad is to elevate the normal.
"Virgil has a fantastic ability to work with essential functions and basic materials and create something new," he said. "Each Markerad item is both a design object and a piece with high artistic value."
Since the announcement that the unlikely duo would be working together to create a line of furniture, people have been eagerly waiting for a release date.
Although an official date has not yet been announced, Ikea and Abloh offered insight into what to expect from the collection with official photos of two other pieces.
The additional pieces displayed at the conference included a previously-seen red triangular doorstop and a glass cabinet.
Ikea: Home is where the art is

Show all 6
Of the unusual pieces, Abloh, the artistic director of Louis Vuitton's men's wear collection, said at the conference: "I want each item to bring a sense of pride, and I want the great design to be the biggest reason why you get it."
The collection is expected to be in stores in 2019.
Register for free to continue reading
Registration is a free and easy way to support our truly independent journalism
By registering, you will also enjoy limited access to Premium articles, exclusive newsletters, commenting, and virtual events with our leading journalists
Already have an account? sign in
Register for free to continue reading
Registration is a free and easy way to support our truly independent journalism
By registering, you will also enjoy limited access to Premium articles, exclusive newsletters, commenting, and virtual events with our leading journalists
Already have an account? sign in
Join our new commenting forum
Join thought-provoking conversations, follow other Independent readers and see their replies