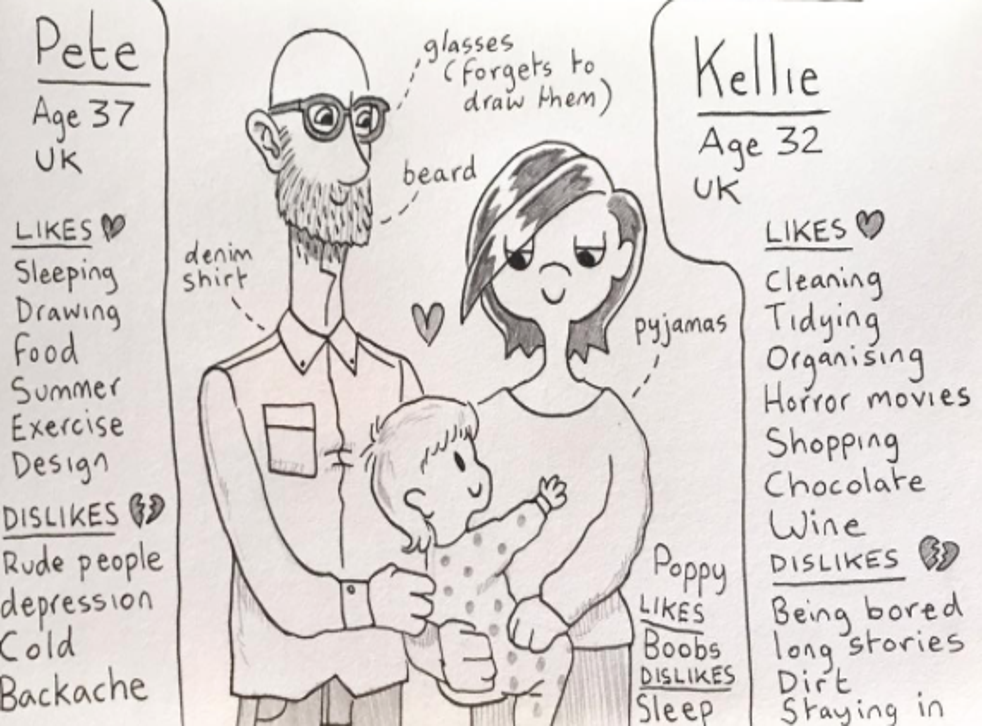 Illustrator spends five years drawing comical cartoons of everyday life with his wife and daughter
Their animated alter egos are something we can all relate to
An illustrator has spent the last five years drawing cartoons that capture the joys and tribulations of everyday life with his wife and daughter.
Pete Duffield, 38, from Brighton, transforms the time he spends with girlfriend Kellie Gage and their daughter Poppy into cartoon alter egos, which he shares with more than 70,000 followers on Instagram.
A tradition that began as soon as Duffield started dating his girlfriend, the father-of-one revealed that the illustrations were never meant for public viewing.
"Kellie and I lived in opposite sides of London when we started dating, so we didn't see much of each other during the week," he told the Daily Mail.
"I would do a little illustration for her, take a photo of it on my phone, then text it to her and we'd both laugh about it.
"They were very much a private thing that I made for Kellie's eyes only, there were no intentions to share them."
Last year though, the couple decided to create an Instagram account to share Duffield's drawings and its been growing in popularity ever since.
But, it's not hard to see why. Duffield's drawings tend to take inspiration from the little things in life that we can all relate to, from bathroom etiquette to eating habits and even their sex life.
"I think people follow us because our illustrations are a really honest and candid look at relationships and daily life," Duffield wrote on Bored Panda.
"The situations we show are very relatable and sometimes the kind of things people don't readily discuss. I think the followers also enjoy the combination of very sweet, tender moments interspersed with silly, crude humour."
While the artist's drawings can be tender and heart warming, he never shies away from the harsh reality of family life and is known to use explicit language or graphic content when portraying some of the more personal moments between him and Kellie.
"There are plenty of drawings we've never shared. Especially the earlier ones which tended to be more graphic.
"Sometimes I'll draw a funny one for Kellie and we'll both agree it's way too rude to share, but then a few weeks later we'll both change our minds and share it just to see peoples shocked reactions."
Aside from documenting side-splitting moments in their relationship, the couple also use Duffield's cartoons as a way of immortalising the actions of their young daughter Poppy.
From her birth, to being put to bed and the funny things she says, the couple hope these drawings will become a gratifying visual diary for them to look back on in years to come.
'The pictures of Poppy will be the main ones we'll cherish, as they often cover more important life events," Duffield explained.
"I try to draw the little details in life that might otherwise be forgotten. Things she says, toys she likes, stuff like that. When she's older we're hoping she'll find it fascinating to look through them."
Register for free to continue reading
Registration is a free and easy way to support our truly independent journalism
By registering, you will also enjoy limited access to Premium articles, exclusive newsletters, commenting, and virtual events with our leading journalists
Already have an account? sign in
Register for free to continue reading
Registration is a free and easy way to support our truly independent journalism
By registering, you will also enjoy limited access to Premium articles, exclusive newsletters, commenting, and virtual events with our leading journalists
Already have an account? sign in
Join our new commenting forum
Join thought-provoking conversations, follow other Independent readers and see their replies