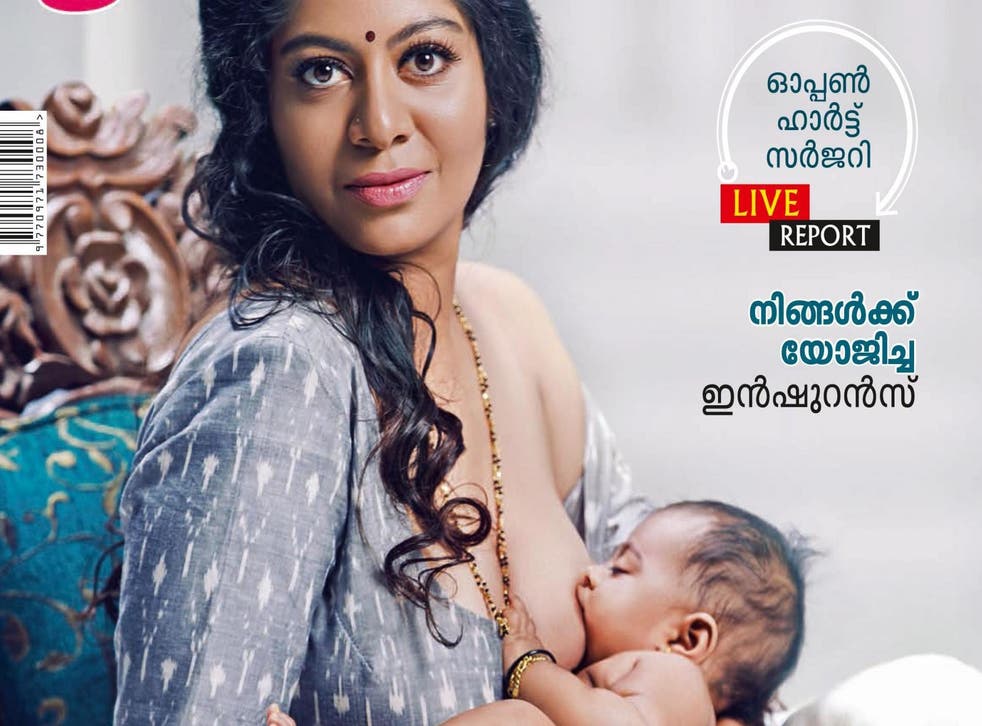 Indian magazine wins praise for breastfeeding cover
A Keralan magazine has challenged one of India's most polarising social taboos by depicting a woman breastfeeding on its cover.
The March issue of Grihalakshmi features model, poet and actor Gilu Joseph on the cover with the headline "Mums tell Kerala: don't stare - we need to breastfeed".
Editor-in-chief Moncy Joseph has said the cover is about spreading awareness of breastfeeding in public in a bid to tackle the stigma still attached to this natural act.
In India, expectations regarding conservative dressing in certain areas can make it difficult for women to breastfeed in public without judgement.
Speaking to the BBC, Joseph said he was inspired to run the cover after a man's photo of his wife breastfeeding went viral on Facebook in January and subsequently sparked a debate regarding mothers who breastfeed their babies in public.
Thus, the entire issue of the magazine is dedicated to breastfeeding and is filled with anecdotes from mothers.
"Breastfeeding is an issue dealing with the survival of human race and has a universal appeal," a spokesperson from Grihalakshmi told The Independent.
"However, the negative reactions that we have received over the phone and online show that breastfeeding is still considered 'shameful' in India.
"As far as rural Indians are concerned, breastfeeding in a public place is not a matter of controversy, but taboo against breastfeeding exists in the city culture and readers of our magazine are both from cities and villages."
The issue forms a crucial part of the magazine's "Breastfeed Freely" campaign, which has been launched to coincide with International Women's Day, which will take place this year on March 8.
The cover has already proved hugely popular online, with many praising the title for addressing a taboo that mothers in India and beyond have encountered.
"This is stigmatised everywhere! Once an old aristocratic lady at the airport insisted that I should go to the washroom to feed my baby. I was so annoyed that I snapped asking how would she feel eating her food in the washroom," wrote one person on Twitter.
However, some have taken issue with the fact that Grihalakshmi chose to put a woman on the cover posing with someone else's child as she is not herself a mother, which critics have described as "cheap sensationalism".
Responding to the allegations, Joseph told The News Minute that they had planned on using a real mother on the cover but claimed they struggled to find one, adding that there are images of real mothers breastfeeding their children inside the magazine.
With regards to claims that the cover had sexualised breastfeeding, Joseph added that this is merely an issue with perception.
"Those intent on sexualising the human body will only see the photograph in that manner," he said.
"The problem does not lie with the photograph, it is purely in the mindset of the people."
Register for free to continue reading
Registration is a free and easy way to support our truly independent journalism
By registering, you will also enjoy limited access to Premium articles, exclusive newsletters, commenting, and virtual events with our leading journalists
Already have an account? sign in
Register for free to continue reading
Registration is a free and easy way to support our truly independent journalism
By registering, you will also enjoy limited access to Premium articles, exclusive newsletters, commenting, and virtual events with our leading journalists
Already have an account? sign in
Join our new commenting forum
Join thought-provoking conversations, follow other Independent readers and see their replies