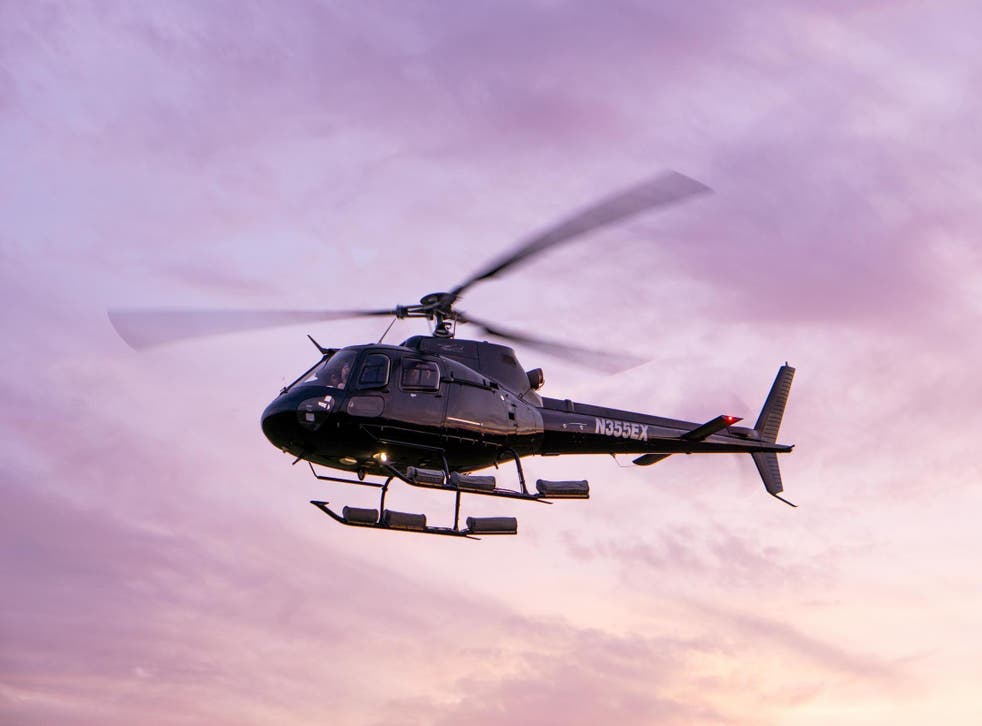 From taxi helicopters to airport putting ranges: What it's like to travel when you're ultra-rich
Our private airport lounge at LAX provided unlimited bottles of champagne 
Vacations are supposed to be a relaxing time-out from work, but making it to your destination is often more stressful than it should be.
From arranging transportation to get the airport - which can include buses, taxis, subways and shuttles - to making your way through security, the entire journey can cause enough stress to warrant another holiday break.
That is unless you're a celebrity, or just extremely wealthy, at which point even air travel can become ... enjoyable - with private helicopter shuttles and luxury lounges all the norm in the parallel universe of the rich, famous and powerful.
For a recent trip to Dana Point, California, we recruited the help of Insignia, a concierge service which promised us the experience of travelling like one of their invite-only, ultra-high net worth clients.
Top 10 world travel destinations

Show all 10
Originating in Europe, but recently making its way to America, the company claims to offer "highly personalised and exclusive services to those who want to experience the best life has to offer" by fulfilling the every whim of the uber-wealthy.
For us, it meant we got to fulfil our Kardashian fantasies and travel via Blade helicopters and The Private Suite, a separate terminal reserved for those who can spend thousands to relax in complete privacy, at the Los Angeles airport.
From yachts to helicopters, champagne to golf, this is what it is like to travel like the ultra-rich - and just how different it is to the mundane experience of regular travel.
Arrival at the airport
Instead of hailing a cab, we took a Blade helicopter ride at sunset up the California coast from our suite at the Monarch Beach Resort in Dana Point.
Blade is a transportation service like Uber for the air, with users able to book a helicopter via an app.
Rather than being crammed into a car, we were stretched out in the front seat of the black helicopter, as a pilot steered us towards the airport.
What would have been a two-hour journey was instead just 25 minutes.
If the sheer effortlessness wasn't enough reason to take a Blade, we think the once-in-a-lifetime views may be.
Blade trips range in price, with a flight from Blade's lounge to any of New York City's airports costing just $195 per person.
Flights from New York City to the Hamptons, however, can range from $500 to 695.
Getting to your gate
As most travellers know, navigating to your gate can be a trek, especially in large airports such as LAX.
However, when you travel via The Private Suite, be prepared to walk literally five steps.
The Private Suite is unlike a typical airport terminal experience.
Upon landing at the airport, we were escorted into our waiting luxury SUVs, emblazoned with The Private Suite logo.
Although the journey to the actual terminal is less than five minutes, the cars have built-in iPads for those with short attention spans or lacking a smartphone.
Waiting at your gate
Upon our arrival, we were greeted by employees who showed us to our lounge which was decked out in an opulent California style.
While the suite does have single rooms if you feel like taking a nap or just relaxing alone, our room, filled with couches, chairs, and a stocked bathroom, could fit our entire group comfortably.
Once we'd dropped our bags, an employee asked us for our government IDs.
Airport food
We are used to airport food being nothing short of terrible. From questionable sushi to your typical unhealthy options ranging from McDonald's to Panda Express, your choices are rarely good – nor are they affordable, with price mark-ups ranging from 10 to 15 per cent.
For those fortunate enough to be ensconced in The Private Suite, however, there is an entire kitchen available to be eaten.
When we arrived, we were treated to a selection of prepared foods, including club sandwiches and salads topped with grilled steak.
But it is in the snack category that The Private Suite really shines.
With seemingly limitless options ranging from cereals and vegan chocolate bars to small bottles of Veuve Clicquot, we spent our time lounging on the couch drinking mimosas while catching up on emails.
After some time had passed, and the bottles of champagne were empty, all it took was a call to reception for more to be brought to us.
The candy wall was also a literal treat, and meant we were wide-awake despite the late hour of our flight.
Waiting for your flight
Compared to a normal airline terminal, waiting for our 11pm flight was actually quite enjoyable.
While we didn't take advantage of all of the amenities available to us, which include complimentary in-suite massages, nail appointments or haircuts, we did explore a few of the other features.
One thing we particularly liked about the experience was the ability to go outside while we waited for our flight – a luxury not available to regular travellers who have already passed through airport security.
The Private Suite has a backyard area filled with children's games, tents, and a mini putting range, all atop fake grass.
Considering we arrived at the airport early like any responsible traveller should do, we then had a plethora of time to relax in a lounge chair in the seasonably warm Los Angeles weather.
The secluded nature of the terminal means the only people who could see us were The Private Suite employees, who checked in with us every so often to see if we needed anything and to keep us updated on our flight time.
Members of our group who felt like showering were also given the chance to do so in a private separate bathroom, filled with various body washes, lotions and hair care products.
Security
Easily one of the best perks of using The Private Suite is the ability to go through security in the terminal, with private TSA employees.
The process started with a TSA employee returning our IDs to each of us. Then it was like going through regular airport security, except we were only with the group we were travelling with.
Travel destinations: 52 places to go in 2019

Show all 52
Although we weren't really concerned, it was clear that the security standards are as rigorous as they are in the regular airport, as one member of our group was stopped after making her way through the metal detector and her hands swabbed.
Boarding
Instead of dealing with the maddening experience of standing in lines at the airport gate, despite numerous reminders that only certain groups are boarding, we found our journey onto the plane seamless.
After we were escorted to our SUVs, we were shuttled across the airport parking lot to our plane, where we climbed a staircase directly to the front of the line.
We were shown to our first-class seats, offered a glass of champagne, and settled in to make our way home.
Annual membership to The Private Suite costs $4,500. As a member, using the terminal for domestic flights costs $2,700, compared to $3,500 for non-members.
For international travel, the cost for one-way is $3,000 for members, whereas non-members would pay an additional $1,000.
Overall, if you have millions in disposable income, it would be silly not to enjoy travel in the elevated sense - where the journey is just as enjoyable as the destination.
Join our new commenting forum
Join thought-provoking conversations, follow other Independent readers and see their replies