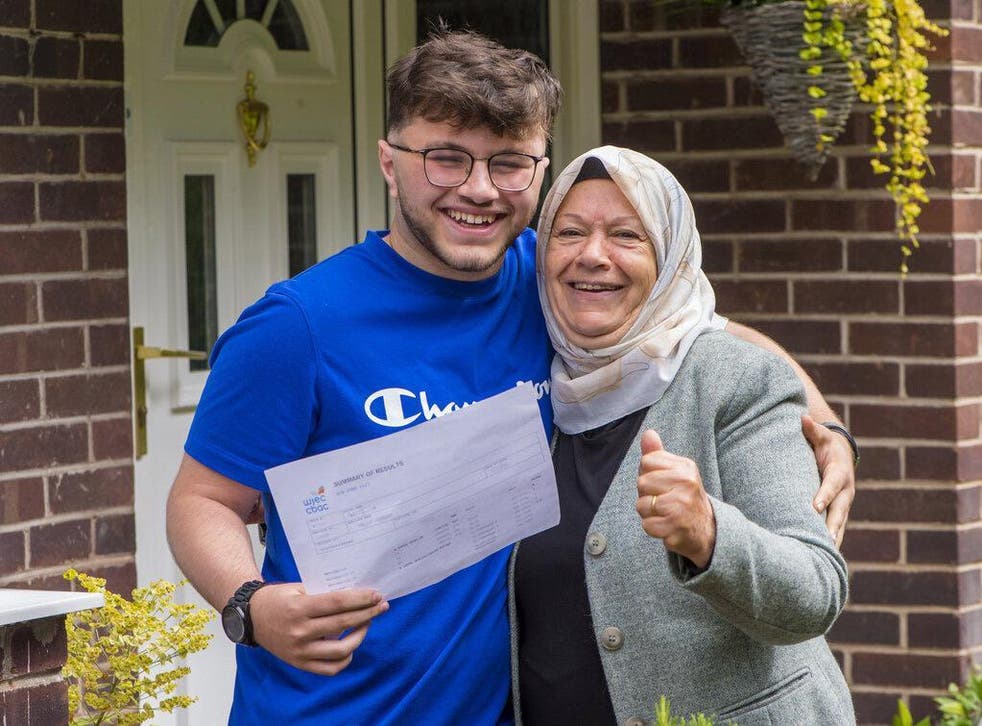 Iraqi refugee secures place at Cambridge University to study medicine and become an NHS doctor
The 18-year-old wants to follow in the footsteps of staff who gave him urgent treatment as a child
Buraq Ahmed came to the UK with his grandmother as a toddler in order to undergo urgent medical treatment for a hip condition. After his native Iraq became too unsafe to return to, they were granted refugee status.
Now he is among the teenagers celebrating top A-level results this week after receiving four A* grades. The results have secured him a place at Cambridge University to study medicine to become an NHS doctor.
Buraq came to the UK with his grandmother Saadiyah Khattab at age three after his parents sold their home to fund urgent surgery in the UK.
When the war intensified in Iraq, Buraq was unable to return home to his parents and remained living in Cardiff.
Buraq started school unable to speak English, but quickly began to excel in his studies.
Already having undergone another eight operations for congenital hip dysplasia and taking daily medication, Buraq still awaits a hip replacement on his left hip, which is delayed due to the coronavirus pandemic.
The teenager says the kindness and care of NHS staff gave him ambitions of being a doctor.
"Having spent so much time in hospitals with some of my happiest times being looked after by the amazing nurses, I decided I wanted to help other people who were suffering", Buraq told SWNS.
After warfare forced them to leave the area where he grew up, Buraq was unable to see his parents, Duraid Abdullah and Ruaa Yousif, for ten years. The couple had another three sons and now live in Belgium.
"As I have got older I realise what a worrying time it must have been for my parents and my three younger brothers", Buraq told SWNS.
Buraq's aunt and uncle also moved to Cardiff and subsequently invited Buraq and his grandmother to live with them as she got older.
As his hip condition worsened in his teens, Buraq spent more time studying and secured a scholarship to Cardiff Sixth Form College.
As well as choosing to study subjects at A-level which would allow him to study medicine, Buraq competed in Oxford and Cambridge regional debates and became an active member of the student-led Medical Ethics Society.
His top grades were achieved in economics, maths, biology and chemistry
Gareth Collier, Principal at Cardiff Sixth Form College, told SWNS of the teen's exceptional results: "Despite the traumatic start to his life, continued separation from his parents and the strong medication that he uses to manage his daily pain, Buraq has never dwelled on these difficulties.
"Instead this made him resilient, determined to succeed and embrace every opportunity that has been available at the college.
"The NHS needs people like Buraq and I am truly delighted for him."
Join our new commenting forum
Join thought-provoking conversations, follow other Independent readers and see their replies