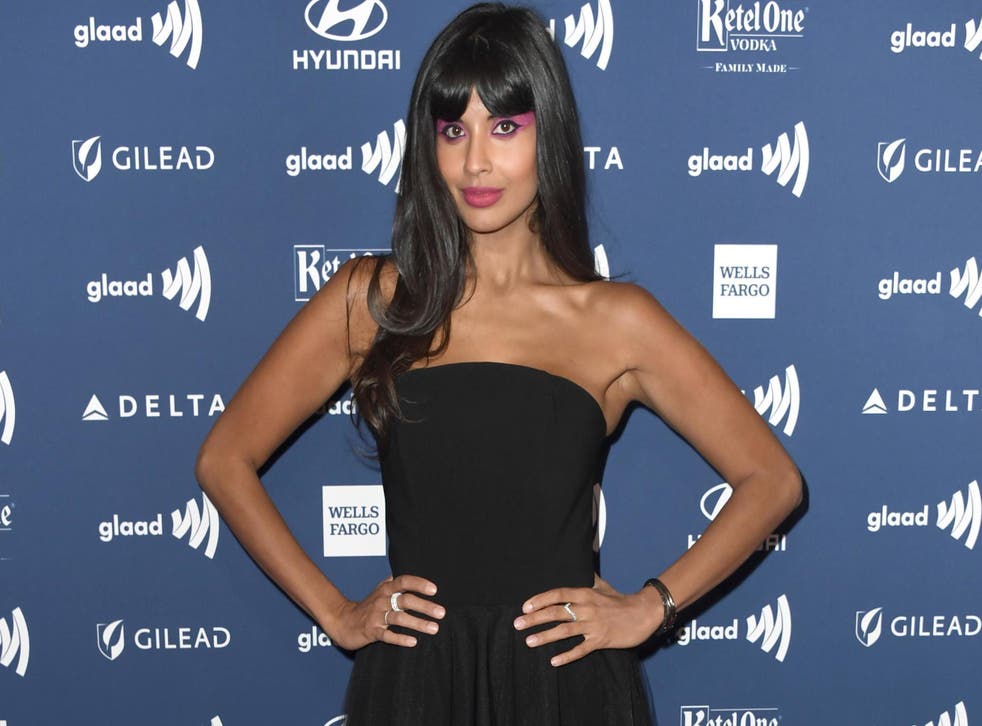 Jameela Jamil rows back on defence of Ellen DeGeneres' friendship with George W Bush
Actress says she was 'really ignorant' and didn't know 'full extent of Bush's heinous presidency'
Chelsea Ritschel
New York
Wednesday 09 October 2019 21:16 Comments
Jameela Jamil is embroiled in controversy after revealing she just learned the "full extent" of George W Bush's time in office, after previously defending Ellen DeGeneres for sitting next to the former US president.
On Tuesday, The Good Place actress praised DeGeneres on Twitter for her handling of the backlash she faced after she and wife Portia de Rossi were photographed sitting next to Bush during a football game.
At the time, Jamil shared a clip of DeGeneres explaining the importance of kindness on her talk show to Twitter, and wrote: "I think this was an incredibly strong way to handle this. Really interesting."
In a follow-up tweet, the 33-year-old added that she'd "never seen someone in the public eye handle something like this, in this way" and that Degeneres' response was "very strong".
"We explore this in season four of The Good Place," she wrote, according to screenshots captured by Just Jared.
However, following criticism from her own fans, who pointed out a series of issues with Bush's legacy, including his role in starting the Iraq war and his stance against same-sex marriage, the British actress deleted her tweets and replaced them with a tweet explaining that she did not know the former president's "heinous presidency".
"Ooooof learning today about the full extent of Bush's heinous presidency..." Jamil wrote. "We weren't taught much about him at school, we just heard he was stupid… (we were dealing with our own epic nightmare of a prime minister back then).
"What a monstrous leader. I now understand the rage…"
The response prompted scepticism among Jamil's followers, considering she would have been 14 when Bush started his presidency - an age many considered old enough to be aware of the period in US history, and the global impact it had.
"You are 33 years old," one person commented, while another said: "You're 33, no? Didn't you live through it at the time?"
American poet Saeed Jones also expressed his suspicion, writing: "I grew up in Texas and I remember being aware of the role Tony Blair played in the Iraq war/ war on terror. And I was far from a newsie at the time. Anyway, keep reading up, I guess. Casually wading into high stakes convos is quite a choice."
In response to the criticism, Jamil said there were various factors that impacted her ability to learn about US politics, including growing up disabled.
Responding to Jones, the actress said: "I said her response was 'interesting'. Hardly wading in much. I was also very disabled as a teen, didn't have American cable news till I was older because I was poor, and I was mentally ill and looking after a mentally ill family so struggling with a lot. But yeah ok."
11 useful Twitter features you might not know about

Show all 11
Jamil was born with congenital hearing loss and had to learn how to walk again after being hit by a car when she was a teenager.
The body positive activist also defended herself in another tweet in which she asked called the reactions to her admission "pompous".
"Very interesting to see some pompous responses from people because someone from the other side of the world didn't learn about a president in your country when they were a teenager," she wrote. "Are you experts on all world leaders from back then? Ridiculing learning and growth is weird."
However, after journalist Luke Bailey uncovered old tweets in which Jamil referenced Bush's presidency, the actress said she was "ignorant" before reiterating that she knew who the former president was but "didn't learn about his treachery".
She said: "I knew who he was. We were just told he was a fool. We didn't learn about his treachery… and since then I've been learning about feminism and racism, because I'm not a white man, and had a lot to fight *now*. Don't have as much time as you for history."
Jamil also said that Bailey needed to "get a job", instead of searching her old tweets.
Support free-thinking journalism and attend Independent events
The actress concluded her thoughts on the subject in a tweet in which she explained it is "never painful" for her to "learn publicly".
"We all have more to know," she wrote.
Register for free to continue reading
Registration is a free and easy way to support our truly independent journalism
By registering, you will also enjoy limited access to Premium articles, exclusive newsletters, commenting, and virtual events with our leading journalists
Already have an account? sign in
Join our new commenting forum
Join thought-provoking conversations, follow other Independent readers and see their replies