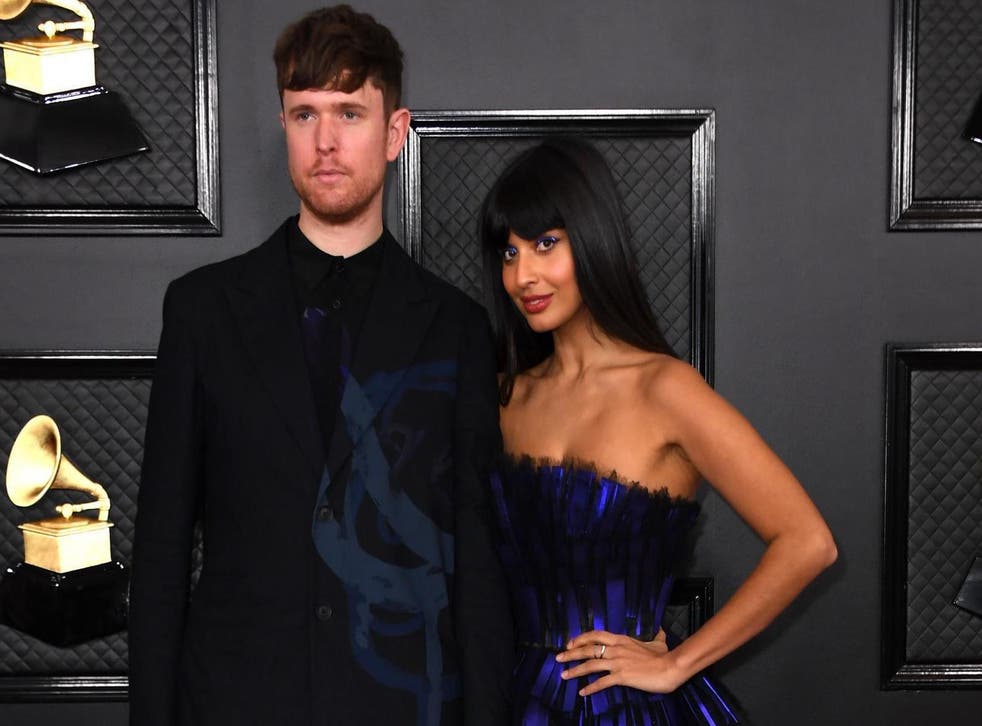 James Blake defends girlfriend Jameela Jamil after people accuse her of faking illnesses
'I am there for her swollen joints, her dislocations, her severe allergic reactions, her constant high fevers'
James Blake has spoken out in support of his girlfriend Jameela Jamil after she was accused of faking her illnesses.
On Friday, the singer, 31, shared a note to Twitter, in which he defended Jamil from claims that she suffers from Munchausen syndrome, a mental disorder that causes a person to believe they are suffering from various illnesses when they are not actually sick.
"It's pretty disgusting to watch the woman I love just be dog piled on every day for such ridiculous things," Blake began. "... She does this because she had such a difficult life. Because she doesn't want others to feel alone, gaslit or ashamed the way she has."
Jamil has previously discussed her struggles with Ehlers-Danlos syndrome, a group of disorders that affects the skin, joints and blood vessels, as well as with injuries she sustained in two separate car accidents. The actress has also previously revealed she's survived cancer twice, outgrown a severe peanut allergy and suffered from seizures.
"I am there for her swollen joints, her dislocations, her severe allergic reactions, her constant high fevers," Blake continued. "I was there for her concussion, her three months of seizures, when the doctor gave her the cancer diagnosis, and for all her operations and their complications due to EDS.
"I can feel the lumps in her back from the car accident and see all the scars. I am there when she turns down amazing job opportunities because of her health limitations. I actually live with her.
"Her being attractive, tall and successful doesn't mean she hasn't been sick," Blake continued.
On a second page of notes, Blake addressed Ehlers-Danlos syndrome, explaining that it is a "very real, very debilitating condition" that is "vastly under researched" but that greatly impacts Jamil's life.
"You don't know this woman," he wrote. "You don't know what her life is, and has been like. But I do, and I'm not gonna stand by and let some total strangers try to push my girlfriend over the edge to what… stop her from helping kids with eating disorders? Stop removing mainstream shame of talking about mental health?"
The Mile High singer concluded the post asking why so many people are "enjoying this".
"It's sick to watch, and I don't ever see men treated like this, the way we tear women limb from limb."
According to Blake, he would have "spoken on this earlier" but Jamil asked him not to.
24 pieces of life advice from celebrities

Show all 24
Blake's defence comes after Jamil addressed the rumours that she suffers from Munchausen syndrome earlier this week.
"First I'm lying about my sexuality, now I'm now being accused of Munchausens?" the Good Place actress tweeted. "By an unhinged idiot who didn't even realise in all her 'research' that my car accident injury stories are 'different' because they were about TWO SEPARATE CAR ACCIDENTS 13 years apart? You can keep it."
In another tweet, the 33-year-old said she was "not afraid" of the "dumb internet conspiracy theories" and to "keep them coming".
"You just add to my relevance," she wrote. "I'm gonna keep helping people with eating disorders, and changing laws and global policies to protect kids and their mental health and there's NOTHING you can do about it."
In response to Blake's tweet, Jamil tweeted: "You're my best friend and my biggest love."
Register for free to continue reading
Registration is a free and easy way to support our truly independent journalism
By registering, you will also enjoy limited access to Premium articles, exclusive newsletters, commenting, and virtual events with our leading journalists
Already have an account? sign in
Register for free to continue reading
Registration is a free and easy way to support our truly independent journalism
By registering, you will also enjoy limited access to Premium articles, exclusive newsletters, commenting, and virtual events with our leading journalists
Already have an account? sign in
Join our new commenting forum
Join thought-provoking conversations, follow other Independent readers and see their replies