Jane Fonda says she worries about Greta Thunberg
Jane Fonda says she worries about teenage climate activist Greta Thunberg
'She understands that if she's attacked it's because she's making a difference'
Jane Fonda has said she feels "worried" about Greta Thunberg, stating that she would like to meet the environmental activist one day.
Fonda has been arrested on multiple occasions over the past few weeks for taking part in climate change protests in Washington DC.
The Grace and Frankie star said her "Fire Drill Friday" movement, which involves weekly demonstrations, was inspired by the work of Thunberg and other young climate activists.
In a new interview with the BBC, the actor voiced her concern over the 16-year-old Swedish student, who has become the face of the climate strike movement across the globe.
"I worry about her, yes, I do. I have not met her, I hope one day to meet her," Fonda said.
Greta Thunberg inspires climate activists everywhere: In pictures

Show all 12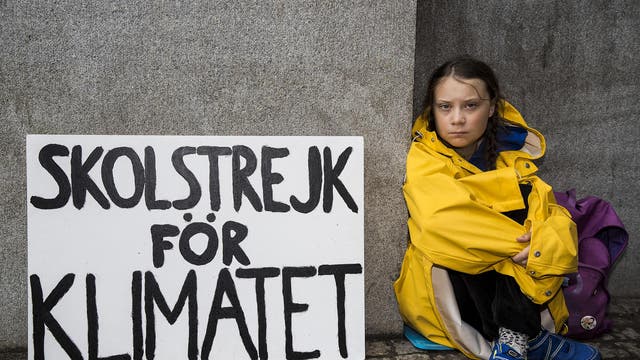 The 81-year-old expressed her pride in the way Thunberg has spoken out about her Asperger's diagnosis, having previously said that "being different is a superpower".
"She calls her Asperger's her superpower, and I think that she's right," Fonda said.
"She understands that if she's attacked it's because she's making a difference, and that it scares people."
During the interview, Fonda explained that she believes today's young activists are "smarter, more strategic, and more politically savvy" that she was when she partook in activism at a younger age.
The two-time Oscar winner has engaged in political activism for decades, including taking part in campaigns in support of the civil rights movement and against the Vietnam War.
"They're much more sensitive to the importance of diversity," Fonda said of the young environmental activists spearheading the current climate crisis movement.
"Many of the things that we're talking about have inordinate effects on communities of colour, on Indigenous people, so it's important that we have people of colour and Indigenous people and young people at the rally. This can't be a white elite climate action."
Fonda added that while her rallies are diverse, she acknowledges that she benefits from white and celebrity privilege when she is arrested.
Support free-thinking journalism and attend Independent events
The Klute star also outlined how protesting to raise awareness of the climate crisis has benefited her mental wellbeing.
"I've been uncomfortable for some time knowing that I wasn't doing enough," she stated.
"Like a lot of people I have been not well in my skin because I knew that I wasn't doing what I can do, and because I'm a celebrity I can do so much more. I was not a super happy person before I decided to do this. There's no question that it makes you feel good."
On Friday, Thunberg appeared on The Ellen DeGeneres Show, where she was asked whether she would be open to meeting with US President Donald Trump to discuss climate change.
In response, the environmental activist told Ellen DeGeneres: "I don't understand why I would do that," a statement that prompted applause and cheering from the studio audience.
"I don't see what I could tell him that he hasn't already heard, and I just think it would be a waste of time, really," Thunberg added.
Join our new commenting forum
Join thought-provoking conversations, follow other Independent readers and see their replies