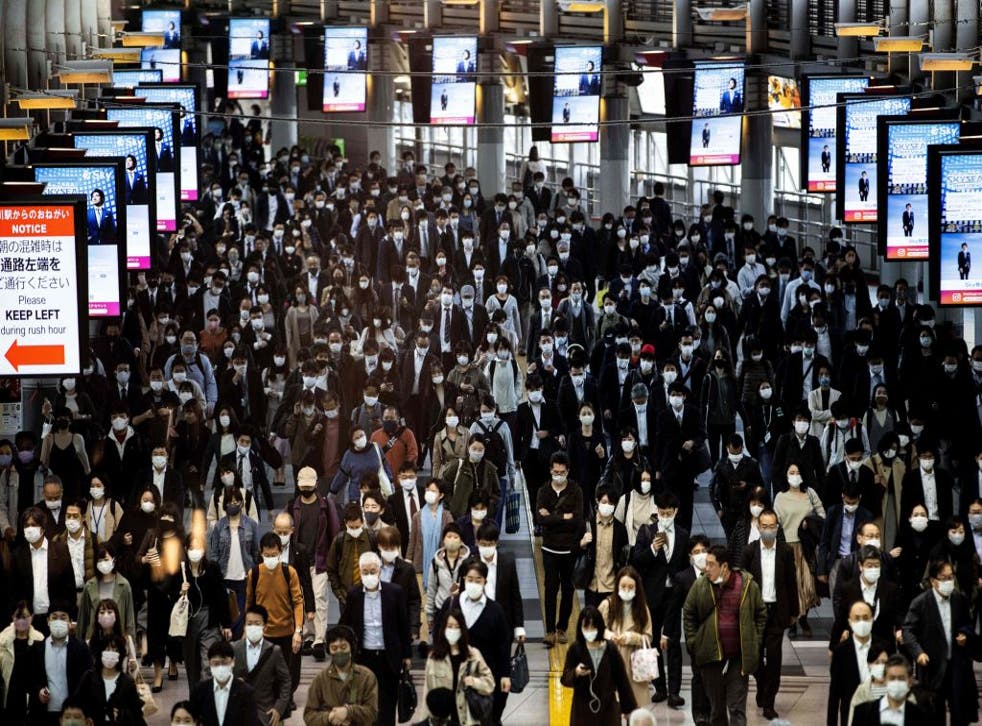 Why 'sanmitsu' is Japan's word of the year
Covid-related words dominate lists of the most used phrases of 2020
Jade Bremner
Wednesday 02 December 2020 11:48 Comments
Leer en Español
"Sanmitsu", the Japanese word for the "Three Cs", closed spaces, crowds and close-contact situations, has been chosen as the nation's buzzword of the year.
The Buzzword Awards is an annual celebration of the hottest viral words, hashtags, and catchy phrases, which are collected by Japanese publishing house Jiyukokuminsha.
Thirty of the words, half of those nominated for 2020, were coronavirus-related, including "Abenomask", meaning "Abe's mask", and referencing former prime minister Shinzo Abe's policy on distributing free washable cloth masks. "Self-restraint police" was also suggested, and references those who pressure others to stop work and avoid public areas to prevent the spread of the disease.
"So many new buzzwords, including using existing words in a unique way, have popped up that it would have been strange if they weren't all related to the coronavirus," said a representative from Jiyukokuminsha.
Topping the list, was this year's buzzword "Sanmitsu", announced on 1 December. The word was initially promoted by Tokyo governor Yuriko Koike to urge people to social distance, and it proved to be a great success, as Japan fared better than other nations, early on in the pandemic, in controlling the spread of Covid-19. However, it's predicted that the Asian nation will see a third wave of the virus.
"Amabie" was another on Japan's buzzword list, used to describe a fictional sea monster that helps to ward off disease.
Controversial travel campaign "Go To" was also nominated as a popular buzzword. The initiative was launched to kick-start regional economies around the country, by encouraging travel, but the campaign helped spread the disease to remote regions.
In Britain, pandemic-related words have also dominated conversations in 2020. The Collins dictionary word of 2020 was "lockdown", the company states that lockdown "is a unifying experience for billions of people across the world, who have had, collectively, to play their part in combating the spread of Covid-19".
Collins registered 250,000 searches for "lockdown" compared with 4000 the previous year.
American English dictionary Merriam-Webster announced that "pandemic" was its word of the year. "That probably isn't a big shock," said Peter Sokolowski, editor at large for Merriam-Webster. At beginning of the health crisis on 11 March, searches for "pandemic" were 115,806 per cent higher than those in the previous year.
As of 2 December, there were a total of 151,000 cases and 2,109 deaths from the coronavirus in Japan in a population of 126.5 million, compared to 1.6 million cases in the UK and 59,149 deaths over a population of 66.65 million. The US currently has 13,726,000 recorded cases of coronavirus, and 270,691 deaths for a population of 328.2 million.
Despite coronavirus concerns, Japan will aim to press on with the Tokyo Olympic Games, and will welcome overseas visitors so long as they can provide negative coronavirus test results use a smartphone tracking apps on arrival, reported Nikkei daily.
Register for free to continue reading
Registration is a free and easy way to support our truly independent journalism
By registering, you will also enjoy limited access to Premium articles, exclusive newsletters, commenting, and virtual events with our leading journalists
Already have an account? sign in
Join our new commenting forum
Join thought-provoking conversations, follow other Independent readers and see their replies