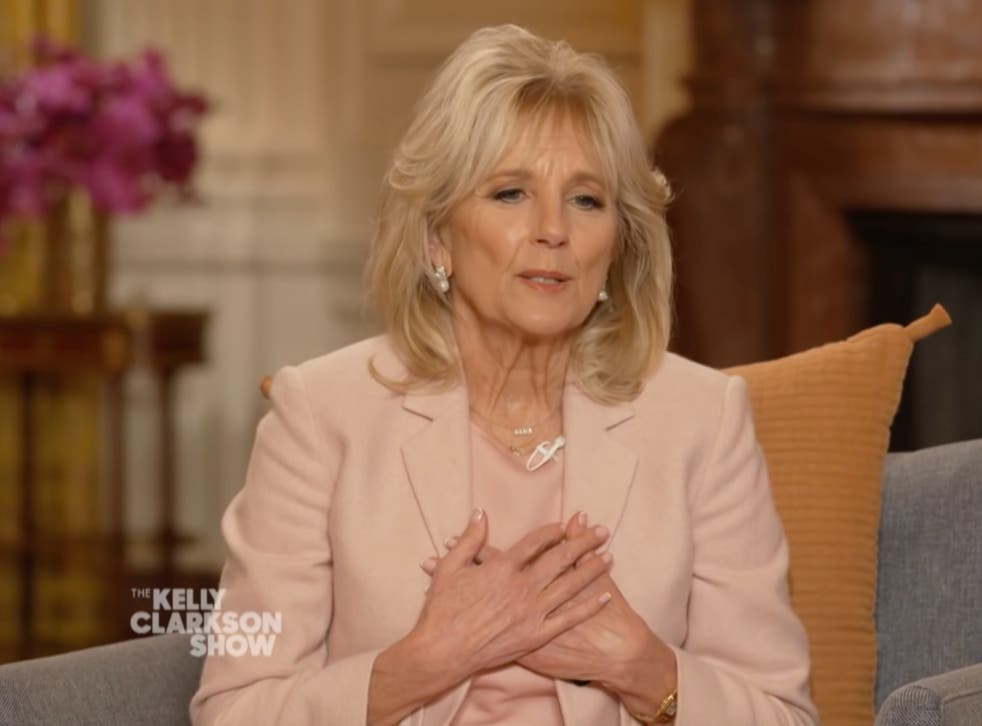 Jill Biden says she struggled to keep faith after Beau died because she thought 'God would let him live'
First lady says it took her a 'long time' to regain her faith following Beau's death from brain cancer in 2015
Leer en Español
First Lady Jill Biden has opened up about struggling to keep her faith following the death of President Joe Biden's son Beau.
Dr Biden reflected on her grieving process following her stepson Beau's death from brain cancer in 2015 during an interview with Kelly Clarkson on The Kelly Clarkson Show, where she revealed that she had "prayed so hard, every single day" for the 46-year-old to survive the disease.
"We lost our son Beau to cancer. He was 46 years old and I prayed so hard, every single day, that he was going to live," Dr Biden told Clarkson. "And I felt like he was such a special person that God would let him live. And I just prayed and prayed, and then, it just wasn't meant to be.
According to the first lady, when Beau died, she found it hard to keep her faith because she had "believed so strongly" in the power of prayer.
"And when we lost Beau, it was hard for me to keep my faith because I had believed so strongly in prayer and that he was going to make it," she continued. "It took me a long time, Kelly."
Dr Biden was eventually able to find her faith in the aftermath of Beau's death with the help of a stranger she met through church, who she said prayed with her and has continued to check in weekly.
"We would pray together, and to this day, she calls me maybe twice a week, we email, we text one another, and it really helped me find my faith again," the educator recalled. "It was like God was saying to me: 'Ok Jill, you had time. Come back.'
"And so I thought that was a gift that she gave to me."
Dr Biden became the stepmother to Beau and his brother Hunter, whose mother Neilia and younger sister died in a car accident, in 1977, when she married President Biden. The couple later had their daughter Ashley in 1981.
This is not the first time Dr Biden has discussed the devastating impact Beau's death had on herself and her family. While speaking with USA Today in May 2019, the 69-year-old recalled that her stepson's death was"totally shattering" and that her "life changed in an instant".
"All during his illness, I truly believed that he was going to live, up until the moment that he closed his eyes, and I just never gave up hope," she said.
During the interview with Clarkson, which saw the singer visit the White House and meet the First Family's dogs Major and Champ, Dr Biden also shared heartfelt advice for navigating divorce.
While discussing the topic with the former American Idol star, who is currently divorcing from her husband of nearly seven years, Brandon Blackstock, Dr Biden reflected on her own mother's advice that "things are going to look better tomorrow".
After encouraging Clarkson to take things one day at a time, the first lady, who divorced her husband Bill Stevenson in 1975, also acknowledged the silver lining that came after ending her own first marriage.
"I look back on it now and I think, you know, if I hadn't gotten divorced, I never would have met Joe. I wouldn't have the beautiful family I have now," she said. "So I really think things happen for the best."
Much of the conversation, which marked Dr Biden's first solo interview since Inauguration Day, saw the first lady joking and light-hearted, with the 69-year-old at one point revealing that she plans to have a "martini and some french fries" when the pandemic is no longer a threat.
Join our new commenting forum
Join thought-provoking conversations, follow other Independent readers and see their replies