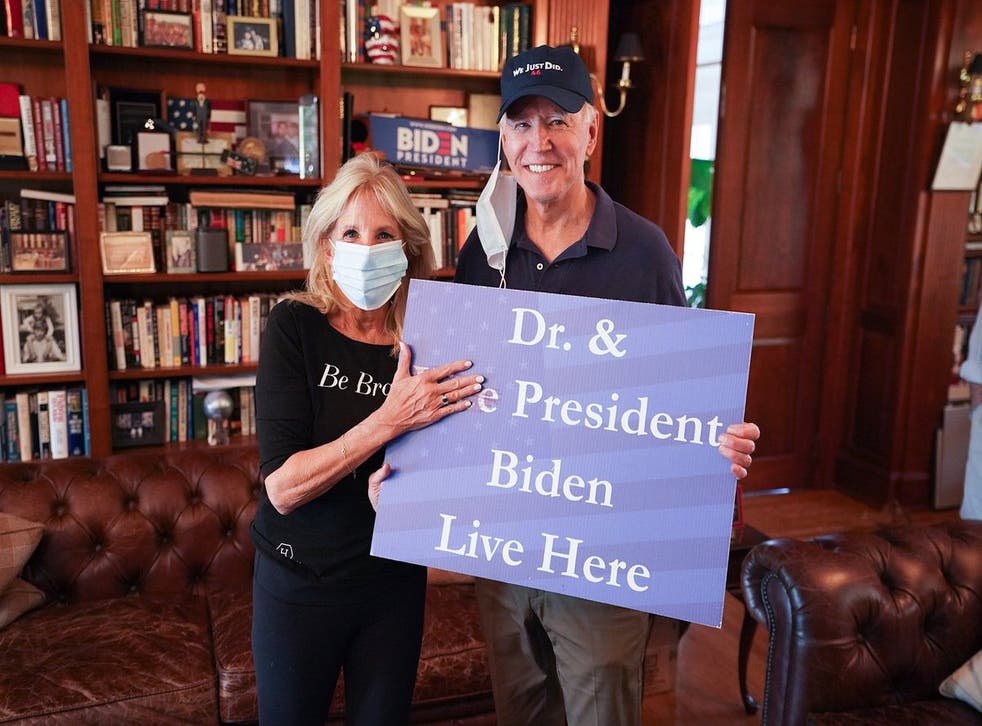 Joe Biden trolls President Trump with new hat slogan: 'We just did'
One person described Mr Biden's hat as 'gloriously petty'
Chelsea Ritschel
New York
Monday 09 November 2020 17:55 Comments
Leer en Español
President-elect Joe Biden appears to have trolled President Trump with a new hat slogan after winning the 2020 presidential election.
Over the past four years, the Trump administration has become synonymous with the slogan "Make America Great Again," with red hats bearing the MAGA saying a symbol of the president.
However, after it was announced that Mr Biden had unseated the president, the former vice president unveiled a new slogan that people on social media believe was a direct response to Mr Trump.
On Saturday, Dr Jill Biden shared a photo of herself and her husband following his victory on social media.
In the photo, the couple held up a sign that reads: "Dr and President Biden Live Here," with Dr Biden covering "vice" with her hands.
"He will be a president for all of our families," Dr Biden captioned the photo.
It was the president-elect's hat, however, that captured attention, with the blue cap reading: "We just did" and "46".
On Twitter, the hat prompted an outpouring of impressed responses from citizens who praised the future president for his subtle statement.
"Biden wearing a 'We Just Did' hat is a great cherry on top to all this," one person wrote on Twitter.
Another said: "Trump's 'MAGA' hats have been met with Biden's new 'We just did' hats and I think that's beautiful."
"Biden's new hat. Absolutely love to see it," someone else tweeted.
Others asked when they would be able to purchase the hat for themselves.
"Can the Biden store release the 'We just did' hats please," one person tweeted.
Another said: "It saddens me deeply that the 'We just did' hat isn't available on the Biden webstore… yet."
This is not the first time Mr Biden's campaign has been praised for its marketing tactics during the presidential election.
In October, after a fly landed on Vice President Mike Pence's head during the Vice Presidential debate, the Biden campaign released fly swatters with the phrase: "Truth over flies."
As of now, Mr Biden's hat is not available on the campaign store. However, fans of the future president can purchase blue hats that read: "No 46" in honour of the 46th President of the United States.
Register for free to continue reading
Registration is a free and easy way to support our truly independent journalism
By registering, you will also enjoy limited access to Premium articles, exclusive newsletters, commenting, and virtual events with our leading journalists
Already have an account? sign in
Join our new commenting forum
Join thought-provoking conversations, follow other Independent readers and see their replies