The Independent's journalism is supported by our readers. When you purchase through links on our site, we may earn commission.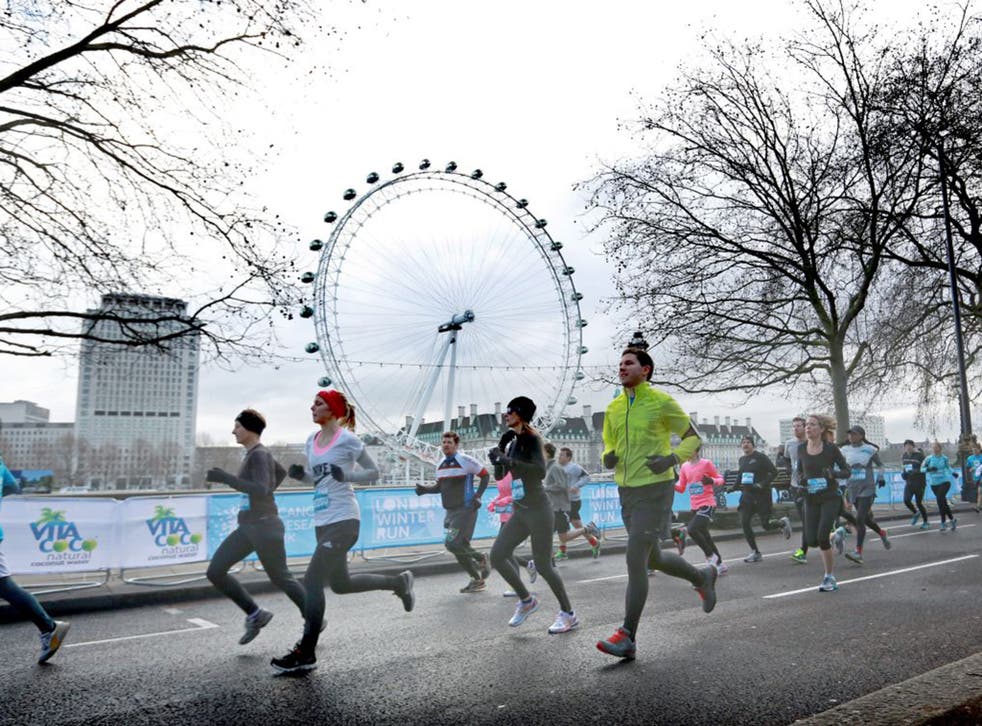 Jogging during winter: With the right equipment, running in the cold has many benefits
With the right clothing and equipment, keeping up the running when it gets cold and dark has many benefits
Are you a fair-weather runner? Eager to lace up your trainers on a glorious sunny morning, but less keen when it's bucketing down? When winter draws in, it's even tougher.
But keeping up your routine in winter is beneficial for more than damage control on those mince pies. If you do manage to catch a glimpse of daylight, you'll get a shot of much-needed vitamin D (studies show we're probably all deficient in this country in winter). You'll also get some fresh air, and help to alleviate SAD syndrome.
You may even find that winter running helps you to make gains on your speed and distance – running in colder temperatures is far less taxing than in the heat. And best of all, you might have the park practically all to yourself, now that all those pesky fair-weather runners are relegated to the sofa.
Stay visible: It's important to be visible to traffic. Luckily, there are plenty of sports brands which offer stylish alternatives to the traditional neon and strip reflectors. Nike's "Flash Pack" range features outdoor vests, jackets, leggings and trainers that look muted in daylight but have a reflective pattern that makes you really stand out in low light. If you're running on rough terrain, a head torch may come in handy too.
Stay warm: The cold snap hasn't properly hit us yet but when it does, only the hardiest among us will be still pounding the pavement in shorts. Although the one thing to keep you warm is a brisk jog, extremities bear the brunt, so invest in a hat and gloves that are breathable as well as warming. Thermal running tights can also keep legs cosy (and potentially lower risk of injury to cold limbs) – look for brands with brushed cotton on the interior. Layers are key – build them according to how cold it is – base layers plus a light fleece or a shell jacket.
Stay dry: A waterproof, breathable jacket might just be the best running kit investment you'll ever make. If you're togged out properly, running in the rain is tolerable, so long as you know you've a warm house and a hot shower waiting at the end of it. This is probably the time to start testing how waterproof those trainers are too. Look for the ones with the least amount of mesh.
Stay safe: If running at dusk, make sure you're sensible about it. Plan a familiar route, don't run in dark parks and commons or in isolated areas, and be vigilant. If possible, run with a friend, or use an app like Map My Run, where you can track your route and share it with friends. RunSafe is another good app if you're running long distances. It notifies your chosen contacts with a text at the start and end of your run, and even has a panic button option, which emits a loud siren and strobe light, as well as alerting your contacts.
Stay on your feet: There are plenty of pitfalls lurking on a winter run, from ice to slippery leaves to fallen branches. This comes down to a matter of common sense – if it's an icy morning, take it slow and keep your eyes peeled if your route takes you through parkland.
Stay motivated: By now, it's very easy to put off a run because of a social event, usually involving something mulled. Make your run the event, and drag your mate along – you'll have really earned the tipple afterwards then. If your friends aren't as saintly as you, there are plenty of great running clubs around the country, many of which are free (check out britishathletics.org.uk). Or try Parkrun – the weekly 5k runs in parks nationwide are a great way to keep up your routine.
Where to buy: Winter running kit
1. Nike Aeroloft Flash Women's Running Vest
£160, nike.com. Durable, water-repellent and filled with goose down for lightweight warmth, and the muted print transforms to bright in headlights.
2. Asics Kayano 22 Lite-Show trainers
£155, asics.co.uk. With new light-reflecting technology, these are lightweight yet durable, with a removable sockliner to keep your feet dry and cool.
3. Under Armour Fly By Luminous Leggings
£65, thesportsedit.com. These running leggings feature an all-over subtle luminous print, with a brushed matte fabric and four-way stretch for comfort and mobility.
Going for gold in the cold
Setting a clear goal will force you out of bed on the dreariest of days. The Winter Run Series is hosting 10k events in Liverpool, Manchester and London at the end of January, complete with fake snow should the weather be a bit too clement for you. And proceeds go to Cancer Research UK.
Register for free to continue reading
Registration is a free and easy way to support our truly independent journalism
By registering, you will also enjoy limited access to Premium articles, exclusive newsletters, commenting, and virtual events with our leading journalists
Already have an account? sign in
Register for free to continue reading
Registration is a free and easy way to support our truly independent journalism
By registering, you will also enjoy limited access to Premium articles, exclusive newsletters, commenting, and virtual events with our leading journalists
Already have an account? sign in
Join our new commenting forum
Join thought-provoking conversations, follow other Independent readers and see their replies