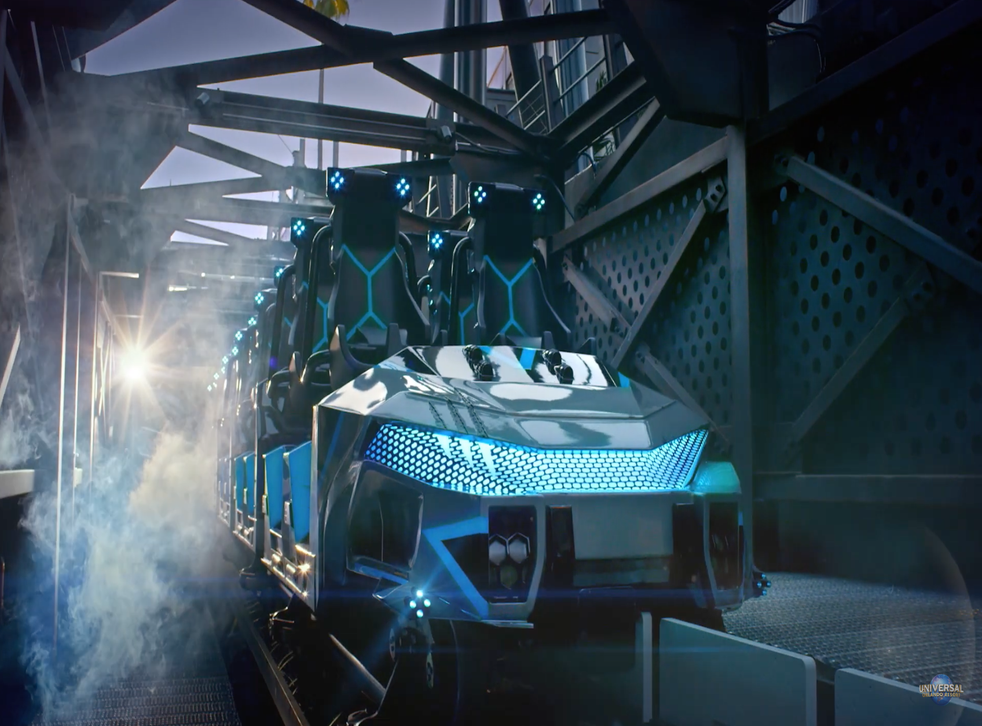 Universal Orlando shares first-look at new Jurassic World ride: 'New species of rollercoaster'
Ride is expected to open summer 2021
Leer en Español
Universal Orlando Resort has shared a sneak-peak of its new dinosaur-themed rollercoaster, the VelociCoaster.
Unveiled this week on YouTube, the 27-second video shows the Florida amusement park's first rollercoaster inspired by the Jurassic World franchise, with the park revealing guests can expect the new ride to open in summer 2021.
The clip begins by showing off gleaming pieces of the rollercoaster, before declaring that the ride has been "designed for speed" and "engineered for the hunt".
After revealing the front of the coaster, as well as its many gleaming neon blue lights, the video gives a brief glimpse of the actual ride before concluding.
On its website, the park describes the new ride, which will be Florida's fastest and tallest launch coaster, as a "new species of rollercoaster".
"Get ready for a new species of roller coaster. Speeding through the jungle, rising high above the terrain, it's the Jurassic World VelociCoaster," the description reads, adding that the ride will take guests for a "high-speed dash  through the park's raptor paddock".
As for what to expect from the ride, which will be located at Universal's Islands of Adventure, Universal Orlando has revealed that the rollercoaster has two launches, one of which accelerates to 70mph in 2.4 seconds, and an 80-degree drop.
Riders can also look forward to 12 seconds of "air time," or time raised out of the seat, according to Forbes, which states that the ride will feature a lap bar rather than a shoulder harness.
Following the release of the preview video, fans have expressed their excitement over the upcoming ride.
"This is going to be epic," one person summed up the reaction.
Register for free to continue reading
Registration is a free and easy way to support our truly independent journalism
By registering, you will also enjoy limited access to Premium articles, exclusive newsletters, commenting, and virtual events with our leading journalists
Already have an account? sign in
Register for free to continue reading
Registration is a free and easy way to support our truly independent journalism
By registering, you will also enjoy limited access to Premium articles, exclusive newsletters, commenting, and virtual events with our leading journalists
Already have an account? sign in
Join our new commenting forum
Join thought-provoking conversations, follow other Independent readers and see their replies