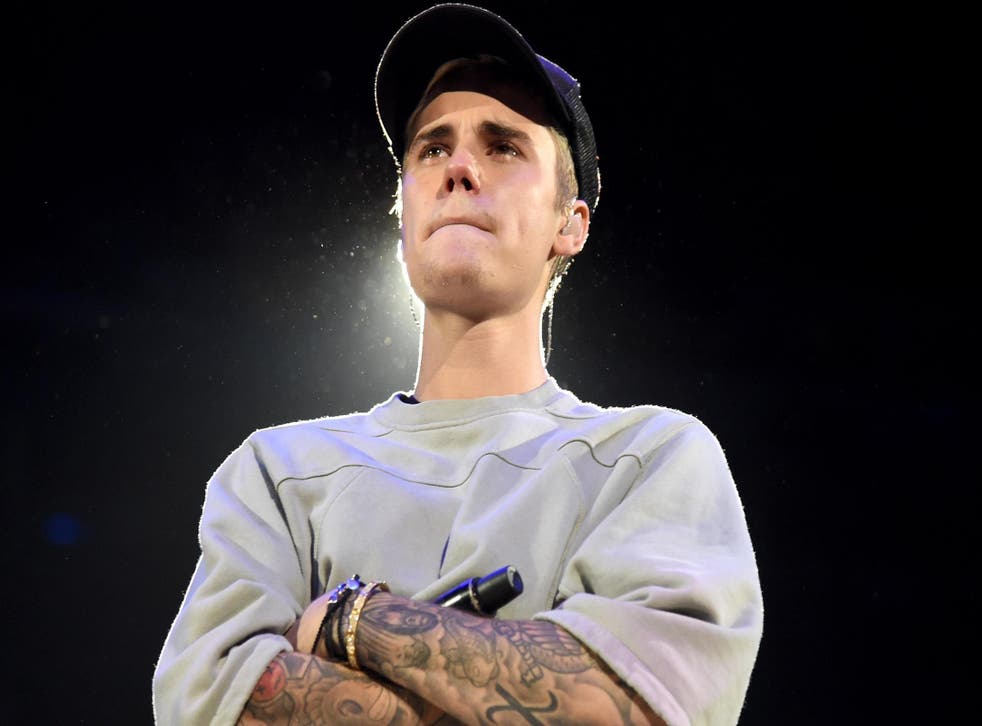 'Justin Bieber' is being relentlessly mocked for picture of him eating a burrito 'wrong'
It was widely-believed that the picture showed the pop star 
A viral photo of a man who looks nearly identical to Justin Bieber recently sent the internet into chaos - because people were appalled at the 'star's' burrito-eating technique.
The photo, which originally appeared on Reddit in the "mildly infuriating" thread, showed the pop star's lookalike holding the burrito sideways - and biting into the middle.
It should, of course, be nibbled from the end, with the foil wrap being pulled away just a little at a time, to assist with the burrito's structural integrity.
The reaction to the photo was swift, as thousands of people expressed their shock and discomfort at who they assumed was the singer.
"Does… Justin Bieber not know how… burritos work?" one person asked on Twitter.
Another said: "The way Justin Bieber is eating this burrito will haunt me for the rest of my life."
Despite not showing the actual Justin Bieber, the man, and his burrito, are just the latest in a list of foods that notable people and celebrities have been photographed eating "wrong."
Bagels
Politicians are regularly lambasted for their strange food habits - especially when they are campaigning.
Cynthia Nixon found herself the centre of controversy during her campaign for governor of New York when she ordered a bagel.
Justin Bieber in quotes

Show all 10
Although the breakfast staples are typically accepted in all flavours and variations, Nixon's order of a cinnamon raisin bagel topped with lox, cream cheese and capers was enough to send New Yorkers into an uproar.
"Has Cynthia Nixon apologised for her bagel order yet?" one person asked on Twitter.
At the time, Nixon defended her order, saying: "It's pretty delicious, don't knock it till you've tried it."
Chocolate bars
The oldest Kardashian sister has also found herself mocked for a food-related offence - after she revealed her method of eating a Kit Kat.
According to Kourtney Kardashian, the chocolate-covered wafers should be eaten in six steps - which involves eating the chocolate off the sides and splitting it apart, rather than just biting into the candy bar.
Although Kardashian claimed the technique is "life-changing," her fans were unconvinced.
"I just watched the Kourtney Kardashian video on how to eat a Kit Kat, then ate one that way so now I know what rock bottom tastes like," one person tweeted.
Pizza
It may seem like a foolproof food to eat, but 2016 presidential candidate John Kasich proved that even pizza can be eaten incorrectly when he did so with a fork and knife.
The worst part was that Kasich committed the pizza error in a Queens, New York City pizza shop.
He later defended his decision by blaming the temperature of the pizza.
"The pizza came scalding hot, OK?" he told Good Morning America.
New York City Mayor Bill de Blasio has also committed the same pizza infraction, as has Donald Trump, who has been photographed eating pizza with a fork - and eating pizza backwards, starting with the crust.
Corn on the cob
Michael Buble has been in Bieber's position as well, after he was unfortunately photographed eating corn on the cob the way most people would bite into a banana - from the top.
Support free-thinking journalism and attend Independent events
The singer defended himself on Twitter, writing: "This is vegetable harassment!!! What I do with my cob is nobody's business."
Join our new commenting forum
Join thought-provoking conversations, follow other Independent readers and see their replies