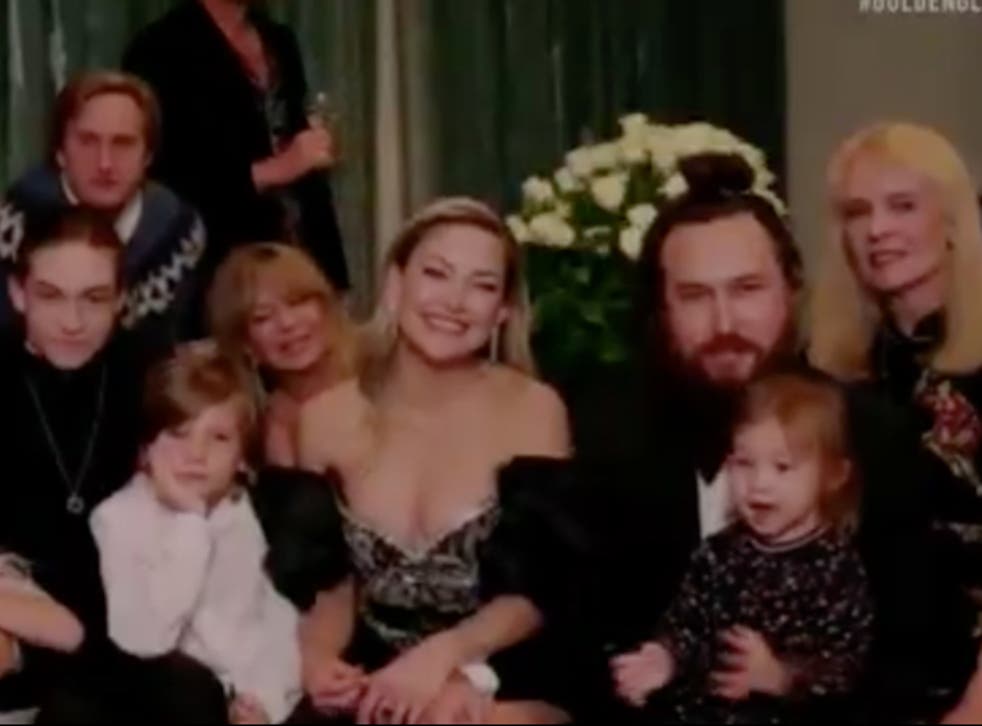 Kate Hudson under fire for crowded Golden Globes viewing party: 'More people than I have seen in a year'
'Not Kate Hudson hosting a super-spreader on top of it all'
Leer en Español
Kate Hudson is facing backlash after appearing virtually at the Golden Globes alongside a significant number of family members.
On Sunday, the actress revealed that she was watching the awards ceremony with her "whole family," before showing up during the show with what appeared to be a living room full of people.
In shots from the show, Hudson, who was nominated for best actress - motion picture comedy or musical, appeared closely packed in with her extended family, which included her parents and her three children.
On social media, Hudson's crowded living room prompted concern and criticism from viewers.
"We can't do the awards in person because it's too dangerous, but please feel free to watch from home on your couch with 20 of your favorite friends and family members," one person tweeted alongside a photo of Hudson's screen.
For more Golden Globes coverage, follow along with our liveblog here.
Another said: "Is it just me or did the amount of people with Kate Hudson seem a little overboard?"
"Kate Hudson is with more people than I have seen in an entire year," someone else tweeted.
The criticism directed at the 41-year-old's awards party came after she revealed ahead of the show that she and her family had tried to bring a "celebratory feel" to the virtual ceremony.
"This is my living room and I've got my whole family outside and we're celebrating," she told E! News. "It's been a long time. It's fun. There is that moment, though, when you do awards ceremonies and you get in the car and everybody's waving and then you get to the carpet.
"It's sort of an adrenaline and I do feel like because I've got a big family, my mom and my dad are here and my kids are here, we're trying to really kind of bring a celebratory feeling to it and it's fun. I think we should do this more often."
For this year's ceremony, the actress wore a black and silver dress by Louis Vuitton, which she accessorised with an oversized black belt and diamond earrings.
Join our new commenting forum
Join thought-provoking conversations, follow other Independent readers and see their replies