Kendall Jenner addresses 'photoshopped' Black Lives Matter photo: 'I did not post this'
Original photo shows the star without a face mask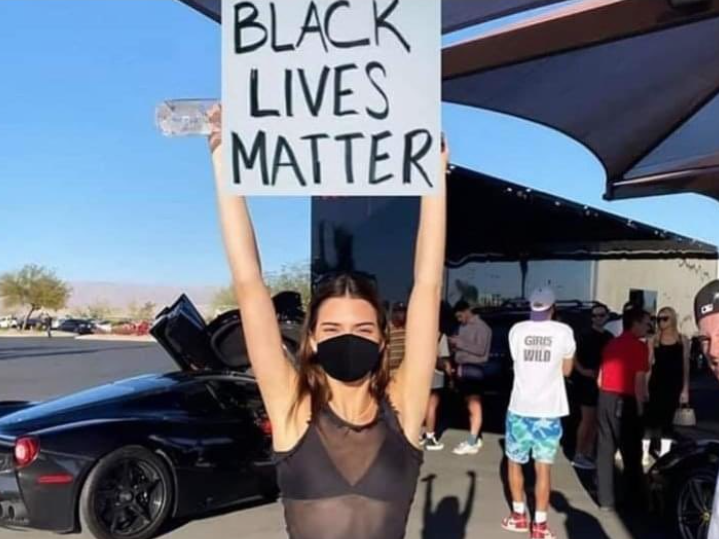 Kendall Jenner has said that a photograph circulating on social media of her holding a "Black Lives Matter" placard is fake.
On Friday, a self-described "tech influencer" named Andru Edwards shared a photograph of Jenner that had been edited to look like a Facebook post.
The image showed Jenner smiling and wearing a face mask while holding the placard and a water bottle.
However, the shadow behind Jenner did not include the placard, making it look as if it had been photoshopped onto the image.
The caption above the post read: Kendall Jenner. #BlackLivesMatter.
Edwards shared a screenshot of the post on Twitter, writing: "What's missing from @KendallJenner's shadow?
His tweet prompted a flurry of criticism towards the model, with some people, who thought Jenner had indeed shared this image herself, labelling the misstep "embarrassing".
However, many of Jenner's fans replied by directing Edwards to the original image of the reality TV star, which some claimed was from an episode of Keeping Up With the Kardashians, in which Jenner is posing without a mask and is holding just a water bottle.
Now, Jenner has confirmed that she did not post the image.
"This is photoshopped by someone," the 24-year-old tweeted on Saturday. "I DID NOT post this."
Some people replied by sympathising with Jenner that the post was clearly fake and she had been unfairly portrayed.
However, many others pointed to a controversial advert the model fronted for Pepsi in 2017 that was ultimately pulled for "missing the mark".
The advert was widely criticised for appearing to trivialise demonstrations aimed at tackling social justice causes, suggesting that protestors and police would get along better if the former were kinder and being insensitive with regard to the Black Lives Matter movement.
Pepsi and Kendall Jenner criticised over new advert that 'co-opts police brutality'
Jenner, a high-profile member of the celebrity Kardashian family, is shown in the advert stepping away from a modelling shoot to join a crowd of young, diverse protesters.
The protesters cheer after she hands a can of Pepsi to a police officer, who takes a sip and smiles at his colleague.
At the time Jenner said she felt "really bad" for offending anyone with the advert.
Speaking on Keeping Up With The Kardshians, the model said: "I feel really bad that anyone was ever offended.
"I feel really bad that this was taken such a wrong way and I genuinely feel like [rubbish]."
"I have no idea how I'm gonna bounce back from it."
Join our commenting forum
Join thought-provoking conversations, follow other Independent readers and see their replies