The Independent's journalism is supported by our readers. When you purchase through links on our site, we may earn commission.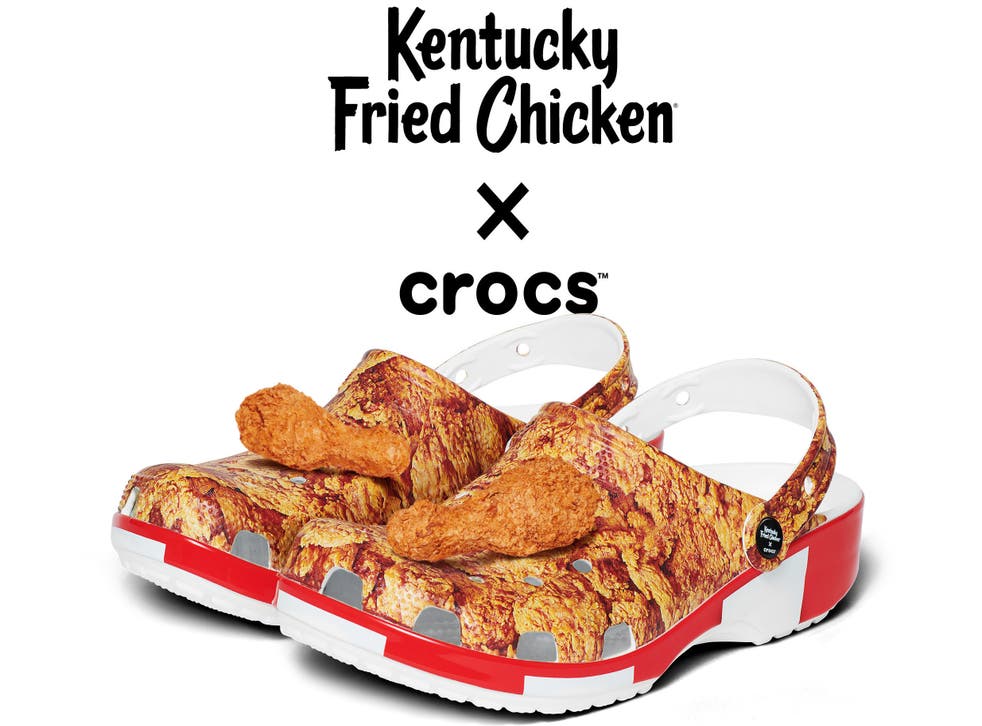 KFC Crocs limited-edition collaboration sells out within half an hour
Rubber shoes feature fried chicken print 
Chelsea Ritschel
New York
Tuesday 28 July 2020 20:32 Comments
In what may be one of the most surprising trends of the year, Crocs released a limited-edition KFC-inspired shoe, and they've already sold out.
"Covered in a fried chicken print and a striped base, these will make your dreams of wearing a bucket of chicken finally come true," Crocs described the limited-edition clog on its website. "Each pair of co-branded footwear comes with two Jibbitz charms made to resemble and smell like fried chicken."
On Tuesday, the rubber shoe brand's collaboration with the fried chicken brand, which first debuted at New York Fashion Week in February and featured a KFC chicken pattern, went on sale at 12pm ET.
However, as Business Insider noted, just half an hour after the chicken-scented shoes became available, they were sold out, according to a tweet from KFC posted at 12.31pm which read: "Bad news is the KFC x @Crocs are officially sold out. Good news is you can still buy a real bucket of chicken at KFC. Don't wear them."
On social media, fans expressed their disappointment over the fast launch, with many explaining that they had been waiting in a virtual line only to find the shoes were sold out.
"Was in the cue line right away and never had a chance to get them – very disappointed," one person tweeted.
Another said: "Did y'all only make like 6 pairs for each size or something?"
Others speculated that the shoe launch was monopolised by bots and customers looking to resell the Crocs at a higher price.
"Terrible launch, been waiting for these for months. Got in line at 11.50 but made no progress," one fan wrote. "Sick of the bots getting everything. Very bad roll out. Severely disappointed. But you can make it up with letting me purchase a size 13 male."
On Ebay, where there are numerous listings for the shoes, they are already being resold for prices up to $500.
The Independent has contacted Crocs and KFC for comment.
Register for free to continue reading
Registration is a free and easy way to support our truly independent journalism
By registering, you will also enjoy limited access to Premium articles, exclusive newsletters, commenting, and virtual events with our leading journalists
Already have an account? sign in
Register for free to continue reading
Registration is a free and easy way to support our truly independent journalism
By registering, you will also enjoy limited access to Premium articles, exclusive newsletters, commenting, and virtual events with our leading journalists
Already have an account? sign in
Join our new commenting forum
Join thought-provoking conversations, follow other Independent readers and see their replies