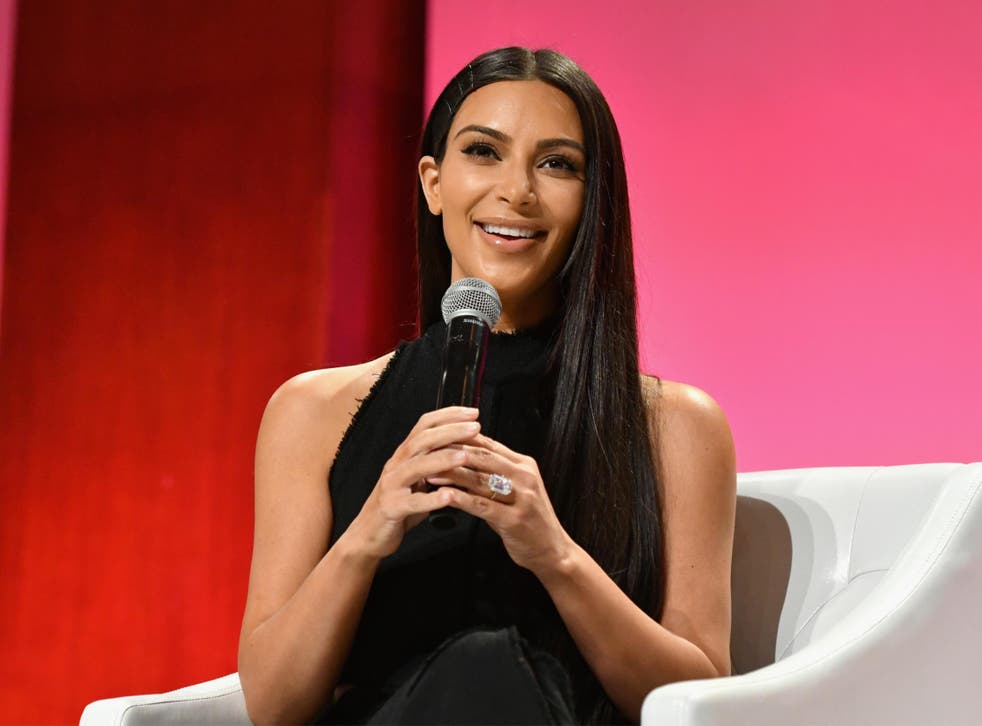 Kim Kardashian announces two-hour documentary on criminal justice reform
'I hope you will learn about the justice system the way I have'
Kim Kardashian West is to release a two-hour documentary which will focus on criminal justice reform in America.
The documentary, titled Kim Kardashian West: The Justice Project, will see the entrepreneur visit the District of Columbia Correctional Treatment Facility in Washington, DC.
On Saturday 27 July, Kardashian West shared photographs on Twitter from her recent visit to the prison, during which she met several of the facility's inmates.
"Last week I was so moved by Dr Marc Howard, a Georgetown professor who teaches a course inside of a DC prison where men and women can get Georgetown credits. I met so many amazing people that can't wait to share their stories with you," the 38-year-old wrote.
"We filmed a documentary I am working on that will be out on @oxygen and I hope you will learn about the justice system the way I have."
While visiting the correctional facility, Kardashian West discussed the Georgetown Prison Scholars programme alongside one of its instructors, Georgetown University's Dr Marc Howard.
Launched in January 2018, the Georgetown Prison Scholars programme provides male and female inmates with the opportunity to learn courses on a variety of subjects, including English, Philosophy and Government.
The aim of the programme is to "improve the lives of all District residents by educating incarcerated citizens and preparing them to pursue a positive role in their home communities when they return".
"Everyone needs to know about this programme. It's changing lives! Every prison needs this!" Kardashian West tweeted following her visit.
The criminal justice reform documentary, which will air on US television channel Oxygen later this year, will follow Kardashian West as she attempts to "secure freedom for Americans who she believes have been wronged by the justice system".
Last year, Donald Trump commuted the sentence of Alice Marie Johnson, a 63-year-old grandmother who had been serving a life sentence for a non-violent, first-time drug offence.
Kardashian West was one of the high-profile individuals who backed Johnson's case after learning about her story from a viral video.
Prior to Johnson's pardon, the reality television star visited the White House to discuss prison reform with the president.
Kim Kardashian at Paris Fashion Week

Show all 7
In February, Kardashian West spoke about the importance of criminal justice reform during an appearance on The Tonight Show Starring Jimmy Fallon.
"I think there's such a stigma on people hiring formerly incarcerated people," the beauty mogul told talk show host Jimmy Fallon.
Kardashian West added that many people unjustly serve life in prison for crimes they did not commit.
"There's so many people that are incarcerated for life, for murder, that maybe they were just next to someone and there was a group of people and a fight broke out and somebody unfortunately died. But they didn't even hit the person, didn't have a weapon, and were serving life," she stated.
Support free-thinking journalism and attend Independent events
Earlier this month, Kardashian West issued an apology over the name of her new shapewear brand following claims of cultural appropriation.
The businesswoman stated in an interview with Wall Street Journal magazine that she did not mean to cause offence by naming the brand "Kimono" after the traditional Japanese garment.
"You would think we would have obviously thought it through a little deeper," Kardashian West said with regards to the label, which she said will be renamed.
"I'm the first person to say: 'Okay, of course, I can't believe we didn't think of this.'"
Join our new commenting forum
Join thought-provoking conversations, follow other Independent readers and see their replies