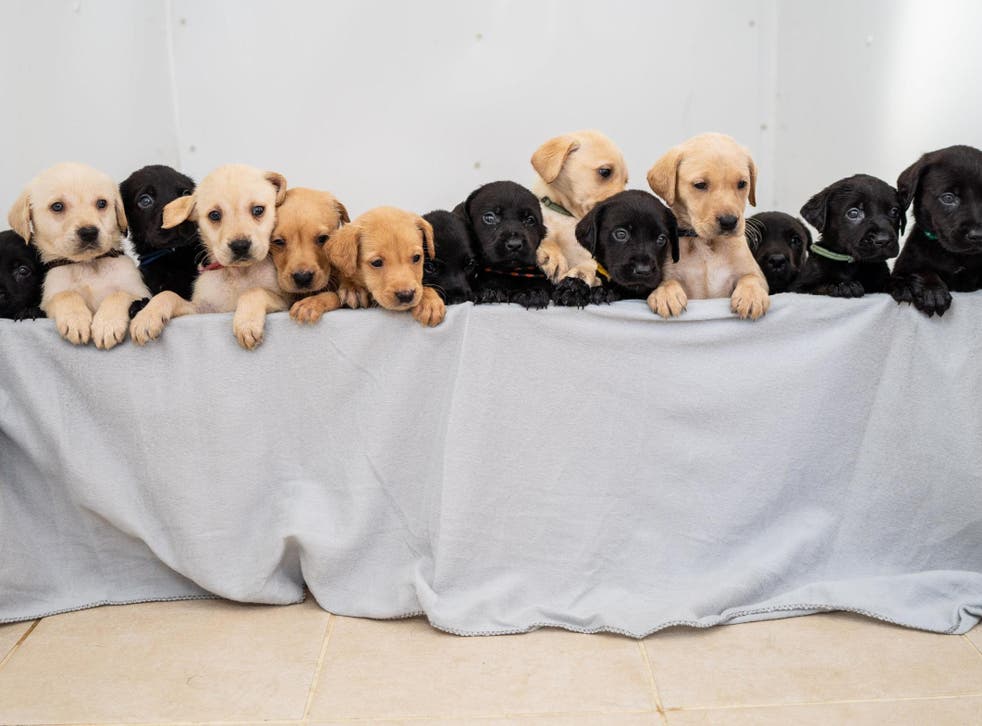 Labrador gives birth to 14 puppies, 'one of the biggest litters ever' for breed
'Normally I would have expected her to deliver a litter of around six or eight puppies,' owner says
Sabrina Barr Comments
A Labrador has given birth to 14 puppies, believed to be one of the biggest litters ever for the breed.
In October last year, it was reported that a dog called Beau had mothered one of the largest Labrador litters ever when she gave birth to a 13 puppies.
Six months later, a Labrador called Bella has topped this number by one.
Bella's owner Hazel Hedges, a registered dog breeder, expected the black Labrador to welcome around six to eight puppies, with a scan indicating she was pregnant with six offspring.
However, when the dog gave birth at Ms Hedges' home in Wentworth, Cambridgeshire on 18 April, she was stunned when the puppies kept coming out during the seven-hour labour.
All 14 puppies were born fit and healthy, of which there were four black male puppies, four black female puppies, three yellow male puppies and three yellow female puppies in total.
The litter's father, Scooby, is a Kennel Club-registered yellow Labrador.
"I think this is one of the biggest Labrador litters in history and probably the biggest ever in England," Ms Hedges said.
The owner said that this litter was Bella's "last", having given birth to three litters previously.
"She has certainly made it one to remember," the dog breeder said.
"Normally I would have expected her to deliver a litter of around six or eight puppies."
Ms Hedges added that it was a "surprise" Bella gave birth to a combination of black and yellow puppies, as usually her litters consist of all black puppies except for one yellow puppy.
The owner added that the "numbers are never right" when Bella has been for pregnancy scans in the past.
"Bella was scanned when she became pregnant but the numbers are never right and we certainly were not expecting 14!" she said.
"I just could not believe it when they just kept coming. I had to wake my partner up to help me clean the pups because they were coming so fast."
Ms Hedges said that Bella has been "a brilliant mum", adding that it is "time for her to have a rest".
Ms Hedges and her partner, James, have been breeding Labradors for five years.
It is believed that a Labrador in Scotland previously gave birth to a staggering 15 puppies, a record set in 2014.
Last month, a Dalmatian gave birth to 18 puppies, double the average litter size for the breed.
Register for free to continue reading
Registration is a free and easy way to support our truly independent journalism
By registering, you will also enjoy limited access to Premium articles, exclusive newsletters, commenting, and virtual events with our leading journalists
Already have an account? sign in
Join our new commenting forum
Join thought-provoking conversations, follow other Independent readers and see their replies