Landlord says viral TikTok about taking tenant's packages until they pay rent was a 'skit'
Landlord says packages were hers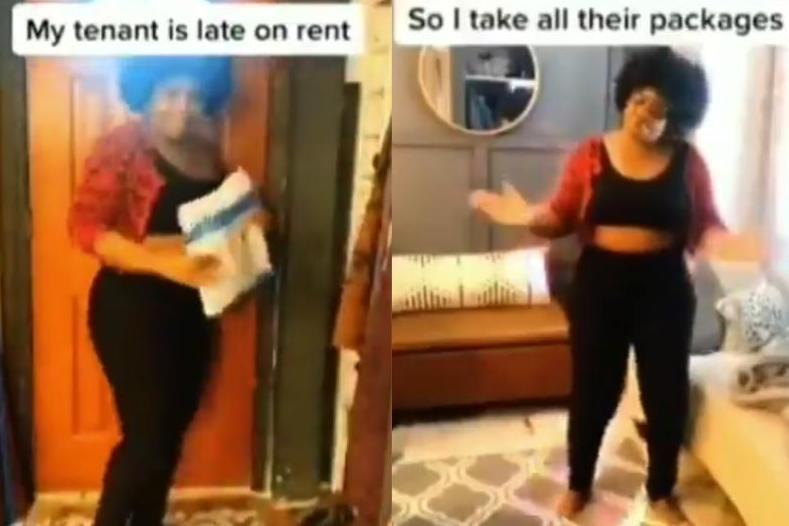 A landlord is facing intense backlash after claiming in a TikTok that she is withholding packages for her tenants because they were behind on their rent.
On Friday, Abbe Awosanya, a New York City landlord, shared a TikTok showing her taking an Amazon package into her home and tossing it on the couch.
"My tenant is late on rent and is avoiding me but has money to order," the clip is captioned. "So I take all their packages until they pay up.
"I'm so petty."
In the clip, which has since been deleted but was captured with screen recordings and shared on Twitter, Awosanya dances to Skechers by DripReport.
According to BuzzFeed, the video was viewed more than 200,000 times on TikTok before later going viral on Twitter.
In response to the TikTok, hundreds of people criticised Awosanya and expressed sympathy for her tenants, who may be struggling financially like many others amid the coronavirus pandemic.
"Landlords are a menace to society," one person tweeted, while someone else wrote: "This is vile, you have no idea what that package is... we are in a pandemic man, things are happening."
Others pointed out that withholding mail is a federal offence.
"This is illegal," one person tweeted.
On Saturday, Awosanya defended herself from the backlash, telling BuzzFeed that she was joking in the TikTok and that the packages were all hers - but that landlords also deserve compassion.
"Compassion should be for everyone because we are all going through the pandemic together," she told the outlet. "Honestly, in the past, I had this issue with other tenants and I wished I could do this to them because they were blatantly ignoring me."
However, according to Awosanya, the "skit" had "nothing to do with current tenants".
A day after confirming that she was the one pictured in the clip, Awosanya began threatening legal action against those who shared the TikTok on Twitter.
According to one screenshot shared to the social media platform, the New York City landlord wrote: "With regards to your post made about my skit, legal action is being taken. Consulted with my attorney and filed a police report with evidence of aggravated harassment without real cause or verification of truth.
"I have snapshots of evidence including DMs, calls to my home and cell phone, voice mails, videos and threats. My tenants will be available to testify. Next time verify first."
In New York City, where evictions have been halted temporarily amid the coronavirus pandemic, many have called on Governor Andrew Cuomo to cancel rent payments as millions of Americans file for unemployment.
Join our commenting forum
Join thought-provoking conversations, follow other Independent readers and see their replies