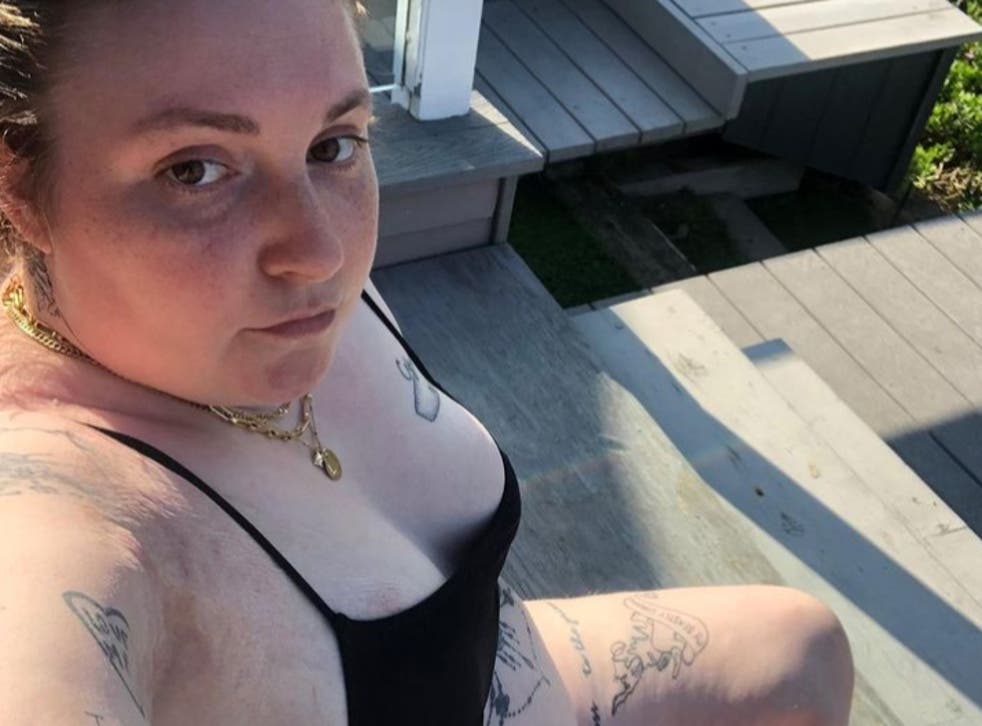 Lena Dunham talks weight loss pressure and 'feelings of self-loathing' returning during lockdown
The 'Girls' creator opens up about her negative thoughts during the pandemic and asks her fans for support
Jade Bremner
Tuesday 08 December 2020 11:50 Comments
Girls writer Lena Dunham posted a shot of her tattooed body in a bikini on Instagram, on Monday, revealing her pandemic "pot belly" and describing feelings of "self-loathing" returning in 2020.
"You know I've been thinking a lot about my pot belly in quarantine – especially as I notice an unusual amount of articles with titles like 'How I Lost the Weight' and 'Diet is Everything'," said Dunham.
"Are there more of them or do I just have more time to notice? Somehow, headlines that used to roll off my flesh rolls sting in a new way – not because I think that's the body I'm meant to have, but because it feels like it's adding yet another item to the epic to-do list we are all creating for ourselves," continued the 34-year-old actor in her 400-word post.
She wrote how lately she's felt clean living social media posts are "a personal assault".
"Growing up chubby, fat, thicc, whatever you wanna call it – I always felt my body was a sign that read 'I'm lazy and I have done less'," wrote Dunham. "Like if I just found the will to invest 30 per cent more I could be okay. Over the years, as my body guided me through my career and illness and disability, I started to appreciate what it was capable of.
"But somehow, this pandemic time has brought back some of those old feelings of self-loathing and I think it all comes back to that damned to-do list, the one that started when we went into lockdown."
Dunham shared how she feels like weight loss is something she has always meant to get around to. "Why, after all these years spent fostering self love, do I still feel like weight loss is an item for my to-do?"
At the end of the post she calls for support from her 2.9 million followers to tell her what the pandemic has brought up for them. "I'll be reading faithfully from right here in this bikini top," finishes Dunham.
Around 4,000 people commented on the post, with encouraging messages like the one from clinical psychologist Dr. Christian: "Oh Lena, you are speaking the truth right here!" she wrote. "Imagine if we gave ourselves permission to appreciate our body's ability to keep us alive instead of rip it apart because it doesn't fall into the narrow and impossible beauty standard that our society perpetuates."
Another message came from psychologist Dr Jen who commended Dunham for her openness: "You're an extraordinary human and thanks for your fierce vulnerability," she wrote. "THIS is how mental health care is taken seriously – when we talk openly about body image challenges. Love you, Jen".
One post came from Stephanie Walters, who related to the unachievable beauty standards Dunham mentions.
"I feel ya. At my highest weight I was 200 pounds. Then got healthy and got to a good place. Then I got obsessed and developed an eating disorder," she posted. "At my lowest I was 105. Currently around 130s. I feel A TON of pressure to come out of this as thin and fit as ever. Pretty much because it seems like we have so much free time!
She continued: "So, shouldn't I be using it wisely, as you mentioned? I haven't lost a pound. I haven't learned new skills or languages. But, I have survived. And I have even managed moments of happiness. And that's enough for me. Thanks for this, Lena. You are not alone in these thoughts and feelings".
One person touched on a previous struggle of Dunham's – persistent endometriosis, which resulted in the star having a hysterectomy at 31 years old.
"Your words have brought me so much comfort," said Hannah Baker, "the struggle has been hard-from moving less, being alone, coping with my endometriosis diagnosis ... I try to treat my body with the kindness, patience, and respect it deserves no matter how I feel. Thank you."
Dunham contracted coronavirus in March, and in the summer opened up about her ordeal suffering the deadly disease.
After a month of self-isolating, Dunham said she tested negative for Covid-19, but her symptoms persisted. "Even as a chronically ill person, I had never felt this way," she posted on Instagram.
Register for free to continue reading
Registration is a free and easy way to support our truly independent journalism
By registering, you will also enjoy limited access to Premium articles, exclusive newsletters, commenting, and virtual events with our leading journalists
Already have an account? sign in
Join our new commenting forum
Join thought-provoking conversations, follow other Independent readers and see their replies