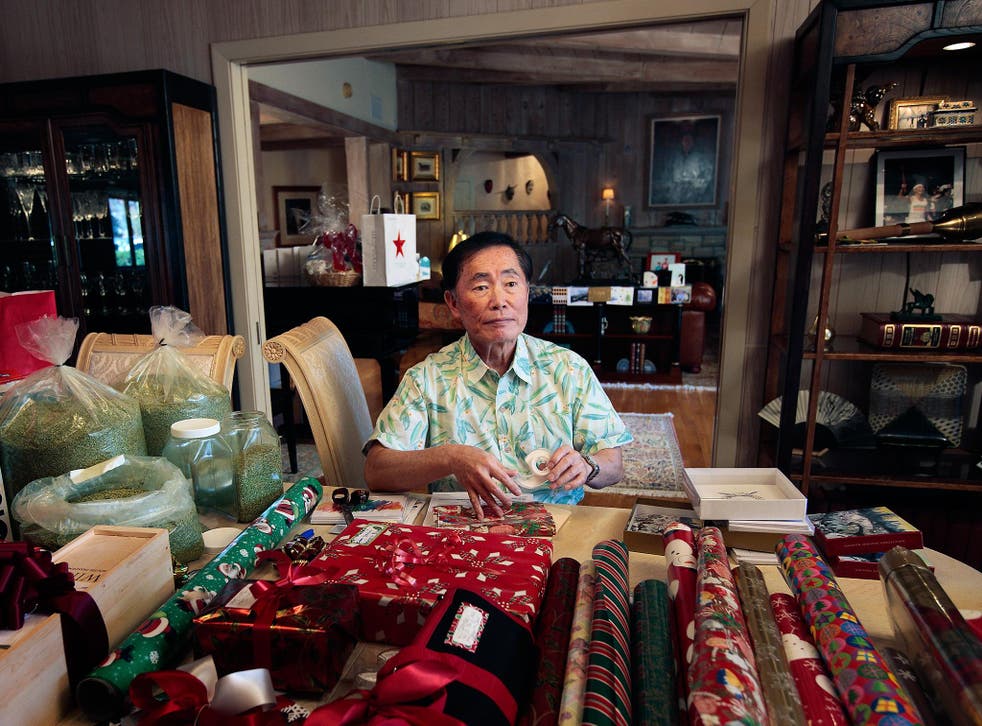 Alan Cumming to George Takei: 42 photos behind the scenes of LGBTQ people's homes across the US
Tom Atwood has captured lesbian, gay, bisexual, trans and queer people, who are both famous and unknown 
Despite leaps forward in civil rights, from the legalisation of same-sex marriage to adoption, the way that LGBTQ people are portrayed in pop-culture leaves a lot to be desired.
The worn out stereotypes of the token catty "gay best friend", bitchy fashionistas, hulking, deep-voiced butch women and trans people awkward in their bodies which are often seen on screen are hardly representative of all the colours of the LGBTQ rainbow.
By capturing LGBTQ people in their homes and surrounded by their most personal and revealing possessions, photographer Tom Atwood hopes to offer an alternative to these narratives. At the same time, he wanted an excuse to document beautiful living spaces.
Over 15 years, Tom Atwood shot over 350 people for the series Kings & Queens in Their Castles across 30 US states, which has since been turned into a book. They include around 100 of the most high-profile people who identify as LGBTQ - including actors Alan Cumming and George Takei - but also less famous folk. Over 200 of these are featured in the book.
The Independent spoke to Atwood to find out more about his expansive project
Kings & Queens in Their Castles - By Tom Atwood

Show all 42
Why did you want to capture LGBTQ people in their homes?
I felt there was a need for a serious photo series of the LGBTQ community. A lot of LGBTQ photography depicts scantily-clothed young urban subjects and seems to emphasise nudity and sexuality. I wanted to offer a different perspective. There was a need for a series highlighting our manifold personalities and backgrounds.
And I wanted to create a body of work that would strengthen the identity of and be a source of pride for the LGBTQ community, as well as feature role models. Also, I seek out subjects that sing to me. Many gay men and women have a flair for design and have crafted some of the most intriguing living spaces in this country, which appealed to me aesthetically. And I think you can tell a lot about a person from their home and how they live in it.
How did you select the people who appear in the book?
It really took hundreds of hours of reviewing photos. I tried to get a balance of ages, races, geographies, incomes and professions, and to spread these out across the book. I would compare them side by side, and narrow it down. With an eye towards interesting compositions and expressions.
How did you set up the photos? Did you ask your subjects to prepare anything for you before heading to their homes?
There really was no prep beforehand. Most of the time I would arrive at the door having never met subjects or seen their homes. I would try to shoot people in their natural contexts, the way they live in their homes on a typical day.
While you were shooting the photos, what were some of the most memorable moments?
Oh, there were so many. A rainbow appeared while shooting a subject in West Hollywood, CA [the LGBT hub of LA]. It was kind of a fitting location for that.
There were many moments of pets and other animals doing unexpected things. A goat stuck it's head out and kissed me in Vermont. There were certainly many touching moments, as well, such as when [actress] Meredith Baxter poured her sole out to me while sitting at her kitchen counter.
The people in the photos look very at ease, and at times lost in thought. How did you capture them like this?
I see photography as a social, interpersonal process — as an interaction between the personalities of the subjects and the photographer. Some people can be nervous about being photographed. Through a constant dialogue with my subjects, I try to ensure that they relax and don't have too much anxiety. I guess I'm able to engage in conversations on a wide variety of topics, so I was able to find things to talk to everyone about, allowing me to connect with them all.
How have people responded to the book? Are there any particularly touching responses that you would like to share?
In many ways it's harder in photography than in other visual art forms to develop a discernible style, and yet I'm often told that there is a definite visual look to these pictures — a point of view that is fresh.
I've also had many say they felt refreshed to see photography that doesn't shy away from beauty. Many have told me that they are able to connect with the subjects emotionally and that the subjects are very present in the photograph, and that people can almost hear these subjects speak or can listen to the music they might be playing in their homes. I've been told by a few critics that it is nice to see someone focus on a single subject matter for a long period of time — that this is rare in today's age of instant gratification. I also had a young student email me that the book inspired him to come out, and another to go into photography, which was touching.
Do you think that there is a problem with the way that LGBTQ people are currently portrayed in media?
I don't feel like the portrayal is alarmingly unrepresentative, but it does seem to skew younger and more urban. And with stereotypically gay professions. It would be nice to see folks of a broader variety of ages, geographies and professions represented. In entertainment, I think LGBTQ folks are also often portrayed in supporting or smaller roles — it would be great to see more lead LGBTQ characters.
What do you want to highlight with your book?
Today, in terms of the modern civil rights movement, it's helpful to highlight that LGBTQ folks are in many ways like everyone else, and as varied as society as a whole.
Yet on another level, there's a common LGBTQ sensibility that sets us apart that I wanted to recognise and celebrate. This sensibility shares an outlook with the sensibility of creative and cultural leaders — an awareness of difference, of other, of possibility — an avant-garde mindset. One fascinating phenomenon the series explores is just how many creative and cultural leaders are LGBTQ. Alternative sexuality or gender practices and extraordinary talent in arts and culture often seem to be intertwined.
Kings and Queens in Their Castles by Tom Atwood is out now
Join our new commenting forum
Join thought-provoking conversations, follow other Independent readers and see their replies