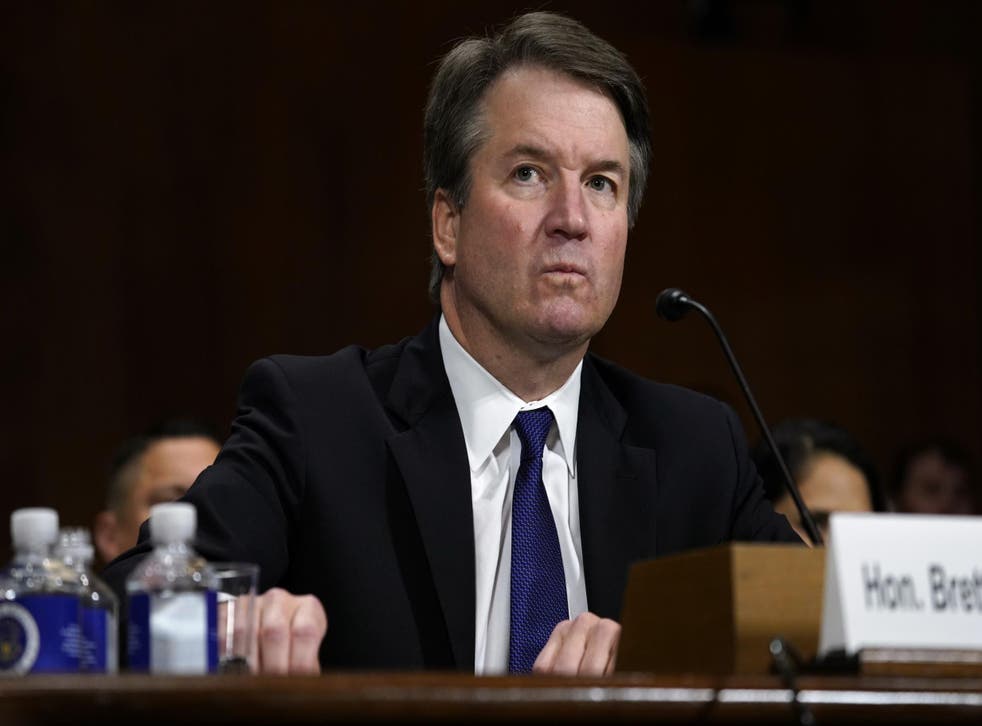 Cosmetics company to donate proceeds from 'F*** Kavanaugh' lipstick to anti-sexual assault organisations
The colour was described as 'calm, cool, and collected'
Chelsea Ritschel
in New York
Tuesday 02 October 2018 19:28 Comments
A cosmetics line is protesting Supreme Court nominee Brett Kavanaugh with a lipstick shade called "F*** Kavanaugh".
Lipslut, the cruelty-free vegan cosmetics company that also created the popular liquid lipstick shade "F*** Trump," released the newest shade - a maroon red - after watching the Kavanaugh hearing.
According to the brand's founder, Katie Sones, the thought process was to make a colour that juxtaposed Kavanaugh's temperamental behaviour during the hearing.
"We thought a 'calm, cool, and collected' shade would be fitting," she told Refinery29. "Imagine a cool-toned maroon.
"While watching the hearing and the events leading up to it, I got so upset seeing women's voices being ignored, doubted, and flat-out denied," Sones continued. "If the highest levels of government won't listen to us, who will? To me, this entire mess serves as a microcosm for how thousands of women's experiences and traumas are treated everyday - we had to act."
In addition to making a political statement regarding the sexual assault allegations against Kavanaugh, which he denies, the proceeds of the new £15 ($19.95) liquid lipstick will benefit a good cause.
From October 1 through the 7th, 100 per cent of the proceeds will go towards supporting anti-sexual assault organisations including RAINN, NO MORE, National Alliance to End Sexual Violence, and End the Backlog.
According to the product description, these are organisations "chosen by the people, as with every lipstick purchased comes an opportunity to vote."
In pictures: Chaos and fury at Brett Kavanaugh's confirmation hearing

Show all 21
The new shade is the brand's fourth political lipstick colour since it was founded in 2017, shortly after the 2016 presidential election when Scones was still a student at California Polytechnic State University.
With Lipslut's first colour, "F*** Trump," the brand was able to raise £75,312 ($100,000) for migrant families after announcing a commitment to donating 50 per cent of the profits to pro-immigrant organisations under its "Fight Zero Tolerance" campaign.
Brett Kavanaugh: the most important moments in Donald Trump Supreme Court nominee's hearing
You can preorder F*** Kavanaugh here.
Register for free to continue reading
Registration is a free and easy way to support our truly independent journalism
By registering, you will also enjoy limited access to Premium articles, exclusive newsletters, commenting, and virtual events with our leading journalists
Already have an account? sign in
Join our new commenting forum
Join thought-provoking conversations, follow other Independent readers and see their replies