From Soho to Vauxhall: The man behind London's first LGBTQ history tour
With a handful of LGBT milestones on the horizon, a group of activists in London has organised the capital's first queer tour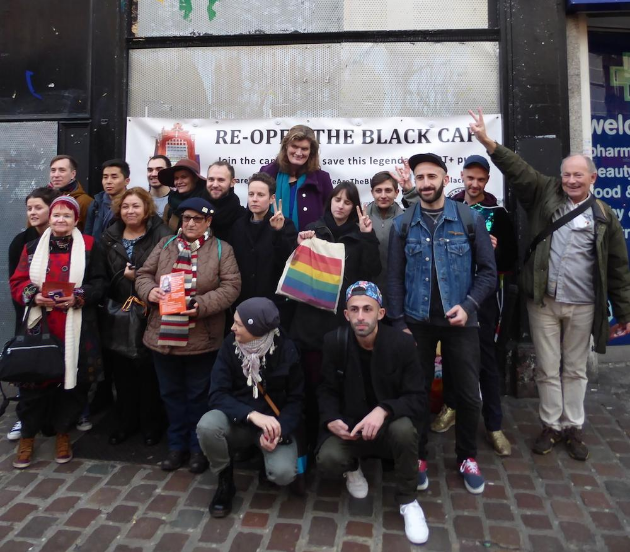 Since activist Dan Glass helped to set up London's first LGBT tour of London in late November, he's had many a proud moment. But a young boy who tagged along with is mum is one particularly close to his heart.
As the boy and his mother visited the sites on Queer Tours of London's A Mince Through Time in the capital, "she burst into tears", Glass recalls to The Independent.
"She hugged her son and pledged to continue to do everything she could to cherish, not just support, her queer son. There wasn't a dry eye in the house."
It's no coincidence that the tour was launched as queer spaces closed at an alarming rate in London. The Joiners Arms in Hackney, The Black Cap in Camden, First Out café in Tottenham Court Road, Soho's Candy Bar, and George and the Dragon in Shoreditch are among the venues to have closed, while the iconic Royal Vauxhall Tavern in the south is under threat. This is against a backdrop of cuts to HIV and LGBTQI (lesbian, gay, bisexual, trans, queer and intersex) mental health and domestic violence services.
Queer Tours of London: A Mince Through Time launch party - In pictures
Show all 16
Glass, a 33-year-old performer, human-rights activist and community education worker dreamed up the idea for a tour for the capital when he was having a cigarette with his boyfriend outside the Joiners Arms around two years ago, knowing that David Pollard – the pub's owner and their friend – would soon lose his business.
"We knew something deeper had to be done and we were sick of simply fire fighting," says Glass. "We wanted to bring a deeper sense of history and therefore belonging, affirmation, identity and ultimately empowerment to our community. Every street of London has a story to tell. The good the bad and the ugly."
"The tours serve three main purposes. To shine a light on London's rich LGBTQI history through creative, audacious and life-affirming interactive walking tours; give a better understanding our queer history to build for our queer future, and generate people power and financial support for London's queer campaigns."
The stops on the tour highlight the themes of power, sex and identity and spaces. Destinations include Harley Street to symbolise how being gay was considered a disease, and the Houses of Parliament in a nod to the anti-LGBTQI legislation of Section 28 which prohibited local authorities from "promoting" homosexuality as a "lifestyle."
The "Notorious Urinal" - a heavily-policed cottage spot in the early 20th century in central London – is also on the trail which is peppered with history including the "hankie code" used to flag sexual preferences as well as the "Dilly Boy" prostitutes of Piccadilly.
Historic anniversaries give the tour added importance, particularly as the capital has no museums, communities centres, arts venues, AIDs memorials, housing programmes or advertising policies, adds Glass.
2017 marks the 50th anniversary of the partial decriminalisation of homosexuality; the 50th anniversary of the Stonewall riots in New York - widely considered to have sparked the cohesive fight for LGBT rights - fall in 2019; while human rights group The Gay Liberation front celebrates its 50th anniversary in 2020.
The tour will kick off in February 2017 to mark LGBTQI history month, but the team gave a preview in late November - just months after 49 people were killed at a gay nightclub in Florida - to activists from countries with anti-gay and trans laws including Russia, and Uganda where such legislation is a hangover from colonial British rule.
"It was incredible to witness the sharing of history and current lives of Ugandan lesbians, young homeless Londoner's living with HIV+ and British international human-rights lawyers - discussing how we can all harness our history to move forward," says Glass.
Since the previews, Glass says the response to the tours has been "humongous". Looking to the future, he hopes that the trail will draw attention to how the fight for LGBTQI rights needs to continue, and how people who identify with these labels have only very recently gained mainstream acceptance in a handful of countries.
"Queer Tours helps uncover the root of our existence and challenges the institutions who try and take credit for us, known as pink-washing. Activism has never been about being comfortable but challenging the status quo and the 'roots' of our oppression."
Owing to how recent the events unravelled in the tour are, Glass aims for the tour to be accompanied by veteran activists, including those who marched in London first Pride parade in 1972 or witnesses of the 1999 bombing of the Admiral Duncan pub in Soho.
Not content with launching the capital's first queer tour, with the momentum gained from the tour, Glass hopes to campaign for advertising standards to see more gay and trans people in advertising, help the capital's homeless population.
"Watch out anyone who is trying to pull the wool over our eyes," he warns, "however much glitter you put in it!"
Join our commenting forum
Join thought-provoking conversations, follow other Independent readers and see their replies