London Marathon: What I learned from running on the hottest day in the race's history
From the incredible support of spectators to struggling with lacking water supplies, Sabrina Barr reflects on what it was like to run last year's London Marathon after just 10 weeks of training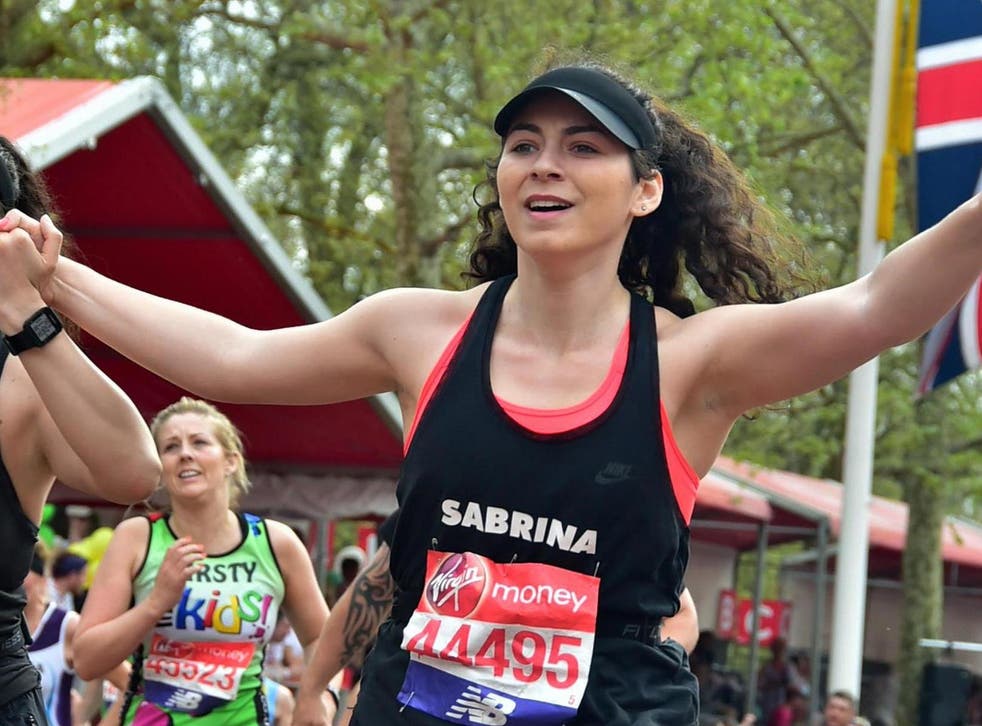 I can feel myself sweating from every pore in my body. My knees feel as though they have hundreds of pins sticking out of them. My back is slumped and my ankles are throbbing, although I know if I stop moving the pain will worsen. I can feel the overbearing sun reddening my skin, and every second I'm desperately trying to blink the sweat from my eyes. This is but a taste of what it was like to run the hottest London Marathon in history, when the temperature reached a record high of 24.1C.
The unrelenting glare and heat from the sun were obstacles many runners, myself included, had not anticipated being faced with, having done the bulk of our training during the colder months. Just three miles into the race, I spotted fellow participants lying on the side of the road, being tended to by medical professionals with no hope of carrying on. Of the 41,003 runners who started the race, 748 didn't cross the finish line.
Anyone who has never run a marathon would be forgiven for underestimating the intensity of the training that goes into preparing for such a physically and mentally demanding feat. Prior to running my first marathon, I had no idea the extent to which my body would be put through the wringer.
As a runner, whether you're an amateur or a seasoned athlete, you have to allow for the possibility of your body becoming bruised and battered throughout your training. You invest in an endless supply of bath salts, blister plasters, energy gels, sweat-wicking sportswear and trainers. You become oddly accustomed to the feeling of chafing under your armpits, swollen feet, lower back pain and the prospect of losing toenails. Something as small as a stubbed toe makes you immediately fearful that you're going to have to pull out of the race. Walking down a flight of stairs or sitting behind a desk for eight hours straight can make your body feel achy and inflamed like never before.
Love it or hate it (this feeling varies from person to person), for four months your life revolves around running. Gone are the days when you could laugh about functioning on five hours sleep due to your habitual night owl ways. Every minute of sleep is essential, as is every single item of food and drop of liquid you consume. You can't go a day without your trusted fruit-and-nut snack mix, and you find yourself having to reschedule numerous social arrangements to ensure your training isn't hindered. Every decision you make counts towards your goal of stepping over the finish line on The Mall, with the sound of Heather Small's "Proud" blasting from the speakers of the grandstand.
Having planned on commencing my carefully structured training schedule in the first week of January, my plans were halted when, two days before Christmas, I had to undergo an unexpected surgical procedure. While the operation was minor, I was unable to do any form of exercise for six weeks while I recovered. This reduced my marathon training from the recommended 16 weeks to just 10.
As a result, I was playing catch-up from the very beginning. My sister, with whom I had decided to run the marathon, had already been training for a month and a half when I started. That said, I had no choice but to get the miles in. Despite the lack of training, I had to prove to myself that my body was capable of going the distance.
At the end of my first week of training, I managed to run a staggering 12 miles – just one mile shy of a half marathon. While all the advice out there warned against trying to train for such an intense sporting activity in such a short amount of time, I was undeterred. A bump in the road was not going to hamper my aim of running a marathon with my sister, especially as we were doing it to raise money for North London Hospice, in our grandma's memory.
After weeks of running in what felt like sub-zero conditions, jogging in local 10k (6-mile) runs, half marathons and 20-mile races for endurance practise and to help raise funds for our chosen charity, the time soon came for my sister and I to run the London Marathon. It just so happened that our parents, who are experienced marathon runners, were also taking part. It was a family affair, and set to be a very memorable day.
When it came to race day, running in the sweltering heat was an unquestionably debilitating experience.
As is typical of marathons, the route is dotted with signs indicating how far you've run and how long you have until the next water station. However, high demand from hordes of parched runners led to several stations running out of water earlier than expected, leaving many competitors in desperate need of fluids. Had I not prepared by carrying a stash of energy gels and electrolyte tablets, I honestly don't know how I would have fared on the day.
On a couple of occasions, I increased my speed to reach a water station for a bottle, only to discover that supplies were running low. Despite being advised by organisers to only take one bottle at a time, many participants could be seen running with a bottle in each hand, for fear that they wouldn't be given any more for miles on end. Some would even forgo drinking water, so that they could empty the bottle down their backs.
Despite feeling as though I was going to melt into the road, my heart went out to those struggling to keep their heads up in elaborate running outfits, which included heavy looking rhino costumes, firefighter uniforms and even one person dressed as Big Ben. The lengths London Marathon runners go to raise money for worthy causes is truly astounding, especially in the tough conditions we were facing.
In pictures: London Marathon 2016

Show all 10
Despite the agony and exhaustion I was feeling, seeing spectators cheering me on helped me put one foot in front of the other during moments when I had started to doubt myself. Hearing a child screaming your name, as they gleefully reach out for a sweaty high-five, makes you forget about the agony you're feeling from head to toe. The generosity of strangers – many of whom offer sweets, orange slices, popsicles and water to runners – makes you truly value the significance of human connection. Thousands take to the streets to boost the morale of people they've never seen before, and will never lay eyes on again.
During last year's stifling race, individuals rushed out of their houses carrying buckets of ice to give to the runners. A fire brigade was ready on the side of the road with a hose to provide runners with a very welcome cooldown. One woman even asked me if I wanted her to pour a jug of cold water down my back, an offer which I very happily accepted.
As a Londoner born and bred, I'd say that if you ever want to witness the spirit of the capital, look no further than the connection forged between the runners and spectators on the day of the marathon. I've experienced it from both sides, and for me, it truly epitomises British camaraderie. The closest comparison I can make is to the excitement that brewed across the nation during the 2012 Olympics. That sense of togetherness and unity, from people of all different backgrounds, makes me feel proud to be a Londoner.
While I can now look back on the 2018 London Marathon with a sense of pride and relief, for others the race was a far more difficult and strenuous experience. Around 750 people put in the work for months beforehand, only for their dreams of crossing the finish line to be dashed at the final hurdle.
The most devastating casualty of the marathon was the loss of former MasterChef contestant Matt Campbell, who passed away after collapsing at 22½ miles. The 29-year-old's death struck a chord among the close-knit running community, particularly those who had been running the marathon alongside him that day. Exactly one week after the race, hundreds of runners arrived at the spot where Campbell had taken ill, in order to finish the last 3.7 miles of the route in his memory.
Doing the marathon and the #FinishForMatt run a week later made me realise that the impact of the London Marathon is so much greater than I'd realised. It's more than simply a race – it's a celebration of the extraordinary abilities of human beings and the support people give one other during their most trying moments. Uniting with strangers to commemorate the life of a fellow runner was the most poignant moment of my entire marathon experience.
Would I ever run the London Marathon again? I'd definitely be up for it, granted I'd be able to train for the full 16 weeks prior to race day. Taking on the 26.2-mile distance gives you a greater appreciation for your body, and helps you discover layers of mental strength that you never knew existed. While I look forward to participating again in the future, this year I'll be on the sidelines cheering on the 42,0000 runners taking part on Sunday 28 April. And for the first time, I'll be able to truly comprehend the highs and lows they experience during the race.
Register for free to continue reading
Registration is a free and easy way to support our truly independent journalism
By registering, you will also enjoy limited access to Premium articles, exclusive newsletters, commenting, and virtual events with our leading journalists
Already have an account? sign in
Register for free to continue reading
Registration is a free and easy way to support our truly independent journalism
By registering, you will also enjoy limited access to Premium articles, exclusive newsletters, commenting, and virtual events with our leading journalists
Already have an account? sign in
Join our new commenting forum
Join thought-provoking conversations, follow other Independent readers and see their replies